Impact Factor: 4.644
ISI Journal Citation Reports® 2012 Rankings: 1/82 (Health Care Sciences & Services); 1/67 (Health Policy & Services)
This email address is being protected from spambots. You need JavaScript enabled to view it. , Publisher
This email address is being protected from spambots. You need JavaScript enabled to view it. , Editor-in-Chief
This email address is being protected from spambots. You need JavaScript enabled to view it. , Assistant Managing Editor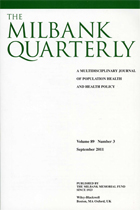 Continuously published since 1923, The Milbank Quarterly features peer-reviewed original research, policy review, and analysis from academics, clinicians, and policymakers. According to the Institute for Scientific Information, the Quarterly has either led or been in the top three for "impact factor" (based on citations of published articles) of seventy-six journals in Health Care Sciences & Services and of sixty-two journals in Health Policy & Services since 2003. The Quarterly's multidisciplinary approach and commitment to applying the best empirical research to practical policymaking offer in-depth assessments of the social, economic, historical, legal, and ethical dimensions of health and health care policy. For information regarding submission to The Milbank Quarterly, please see the author instructions and publication policies.
The Milbank Quarterly is published in March, June, September, and December on behalf of the Milbank Memorial Fund by John Wiley & Sons. Subscribers are entitled to access all full-text articles published since 1997 online on Wiley Online Library. Nonsubscribers may also view full-text articles on Wiley Online Library on a pay-per-view basis. In case of difficulty, please contact John Wiley & Sons' customer services department at This email address is being protected from spambots. You need JavaScript enabled to view it. .
All articles from The Milbank Quarterly published between 1923 and the most recent two-year period are available for no charge through libraries and institutions that subscribe to JSTOR's Arts & Sciences IV Collection; nonsubscribers also have several access options. In addition, all articles published between 1997 and the most recent one-year period are available free of charge to all on PubMed Central of the National Institutes of Health's National Library of Medicine.