When State Leaders and Regional Health Improvement Collaboratives Come Together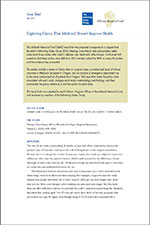 State agencies focused on health policy and regional health improvement collaboratives ought to be able to align their agendas. They both share a strong interest in improving population health—and are committed to population-based health reform, are trying to improve provider and health system performance, and are using insurance claims data to do it. So what happens when state leaders sit down and trade notes with representatives from their own state's local private sector health improvement collaborative? How do you turn a partnership that makes sense in theory to one that actually works for the community?
The Milbank Memorial Fund, with the help of the Network for Regional Health Improvement (NRHI), had a meeting earlier this year to find out. Teams from eight states gathered to share information and to work together on a state-level agenda aimed at health care measurement and improvement. Some important insights emerged.
Scroll down this page to read the issue brief summarizing the meeting and its findings.
Read Christopher Koller's View from Here blog post about the challenges of public-private partnerships.
Watch a brief video featuring Elizabeth Mitchell about the work being done between states and regional collaboratives:
Download