New RSG Projects for 2017: What's on the Minds of State Health Policymakers?
April 27, 2017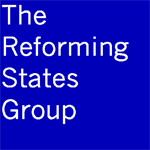 Every year, meetings of the Reforming States Group (RSG) bring together a bipartisan, voluntary group of state health policy leaders from the executive and legislative branches to share information and discuss topics of importance to them. From the discussions, several topics are selected by meeting participants for further exploration.
While changes to the Affordable Care Act and health reform were topics very much on the minds of policymakers, there were specific issues that policymakers were working on that will persist, regardless of insurance access. "We were interested to see that, while everyone is waiting to see what happens at the federal level, the day-to-day nuts and bolts of policymaking was still front and center for state policymakers," says Trina Gonzalez, program officer.
Here are some of the topics the RSG will be focusing on in 2017.
Criminal justice and its impact on population health
State and local leaders are interested in developing new strategies to address the health and human needs of individuals involved in the criminal justice system, particularly those with significant mental health and substance abuse conditions. With the growing recognition that jails and prisons have become the de facto "care system" for thousands of citizens with mental illnesses and substance use disorders, numerous jurisdictions have initiated interventions designed to reduce the large numbers of individuals who are cycling through the criminal justice system. Policymakers are looking for promising approaches and innovative cross-sector care delivery and financing models to serve individuals involved in the criminal justice system.
Behavioral health workforce development
The demand for behavioral health services is increasing, but the number and type of health care providers supporting people with behavorial health needs is not keeping pace with population needs. Policymakers are interested in strategies that will help to recruit and retain behavioral health specialists to support the treatment of those with mental health and substance use disorder conditions.
Hospitals and population health
Payment and delivery system reforms are creating clearer accountability for hospitals in their efforts to improve population health by requiring them to take a more prominent role in disease prevention, health promotion, and other population health initiatives. They are also required to report their community benefits to justify their tax-exempt status and report on these activities to the federal and some state governments, but it is not easy to get or interpret these data.  In addition, Certificate of Need programs are not keeping pace with new health care delivery and payment models.  As hospital networks expand, different requirements may apply for hospitals that operate in numerous jurisdictions, creating inconsistencies in state policies.
Aging
The population in the United States is aging rapidly, presenting numerous challenges for health care providers, caregivers, government administrators, and policymakers. As part of the RSG's multi-year commitment to the issue, the 2017 fall pre-conference will be dedicated to a topic related to aging and health policy.
For each topic, the Fund will staff a working group of RSG members, co-chaired by two of their peers, who will develop the topic and identify the best evidence and resources for the rest of the RSG. The work may culminate in a report, a briefing for RSG members, a special meeting, or some combination of the three. "This combination of evidence identification, RSG member guidance, and group discussion results in valuable insights to improve state health policymaking," Gonzalez says.