State Flexibility? How about a Real Partnership?
In the aftermath of the November elections, we at the Fund had a chance to speak in person to over 125 state health policy leaders as we held meetings of our Reforming States Group (RSG).  With all the talk of "increased state flexibility" in federal health policy, were state leaders relishing the prospect of  freedom from the shackles of restrictive federal standards—and eager to innovate and  reform their health care systems and help improve the health of the populations they serve?
Perhaps surprisingly—not so much.  Although there were the variety of opinions one might expect—many quite passionate—the overall tone was one of caution and a deep desire for real partnerships between federal and state agencies.
The RSG is one of the Fund's signature initiatives. Now over 25 years old, it remains the country's only bipartisan group of executive and legislative branch state health policy leaders. This year, individuals and delegations from 40 states and DC (plus officials from four countries and four county health officials) met in three different meetings to share pressing issues in their jurisdictions, learn more in several topic areas they had previously identified, and develop skills in using evidence and experience to advance effective population health policies.  The group is governed by a Steering Committee of peers that directs projects that emerge from the meetings.
There is a great realization for first-time RSG attendees. They discover how much they have in common with colleagues from different parts of the country. The mix of the participants' roles and party affiliations makes RSG meetings unlike other professional association meetings.  Adhering to the "Milbank Rules" that "what's said here, stays here,"  participants are free to speak candidly with one another—and the result is that conversations go deeper about the challenges of their work.
This year, the clear, if unanticipated, mandate arising from the November elections gave a special urgency to the meetings. What would a "repeal and replace" congressional Affordable Care Act (ACA) agenda mean for the states? What would happen in states that had expanded Medicaid? How about in states that had not? More fundamentally—what would states pursue with the increased flexibility promised by Congressional leadership and the incoming administration?
This last question was of particular interest to me. The ACA has been an experiment in federalism—working out the balance between national consistency and local variation. Individual mandate? Federal law? Medicaid expansion? The Supreme Court ruled this was a state option. Individual and small group underwriting rules?  Federal law but state enforcement. Essential health benefits? Choose from three options available in your local market. Terms of Medicaid expansion—lots of negotiation and clear white lines like work requirements. This balance—between consistency and variation, and federal and state authority—underlies much of US political history and has never been static. Now in health care the pendulum appears to be swinging towards more state-based variation.
It is early, but the state leaders in attendance were quite cautious about this shift. If increased flexibility meant quicker action and more open consideration of requests for waivers from existing Medicaid rules about how to cover and pay for services, Medicaid officials were all in. If it meant that benefit designs previously rejected by the Obama administration for Medicaid expansion would now be entertained, legislators in those states were interested. But if "flexibility" was a shorthand for a policy that gave more authority and responsibility to the states for Medicaid programs and commercial market underwriting rules and less federal money to carry out that authority,  fewer were interested in that trade.
In addition to providing health coverage for almost one in four non-elderly Americans, Medicaid pays for the bulk of long-term care services and supports in every state. Prospects for unanticipated outcomes with any sweeping and speedy federal policy change left RSG attendees nervous.  Caution was particularly high about forms of federal block grants or "per capita caps" for the program. States could be left with all the financial and social risks for meeting the needs of these populations and few of the planning, administrative, and regulatory tools for addressing them.
As identified by the RSG Steering Committee's newly released Letter to the New Administration, RSG participants affirmed that the state/federal relationship on health care should be characterized by a real partnership, not merely increased state flexibility. This partnership, I think, should be based on three principles.
Shared Goals. States are not just another group of stakeholders for the federal government, but have independent legal and political obligations to the public. States and the federal government need to reconcile their sometimes conflicting goals, particularly regarding health care for low income populations. The "per capita cap" discussion in Medicaid is a debate about how much Medicaid should cost and who should pay. Relegating these decisions to the states with a block grant from the federal government would result in greater variations in care for low-income and disabled populations than currently exist or than we accept for elderly populations.
Clear Roles and Responsibilities. Too often in health care, states and the federal government clash over their respective roles. In the extreme, for states, the federal government can be paternalistic and controlling, while to the federal government states often want money without accountability. These conflicts can't be avoided, but they can be minimized with well-written statutes, thoughtfully negotiated administrative rules, and functioning dispute resolution processes.
The state/federal partnership needs to function reliably day to day. Poorly coordinated decision-making and communication, unclear authority, delayed responses to queries, an emphasis on process over substance, and administrative incompetence on the part of either party can erode the confidence needed for a functioning partnership. In spite of public criticism of government efficacy, we get the competence we pay for.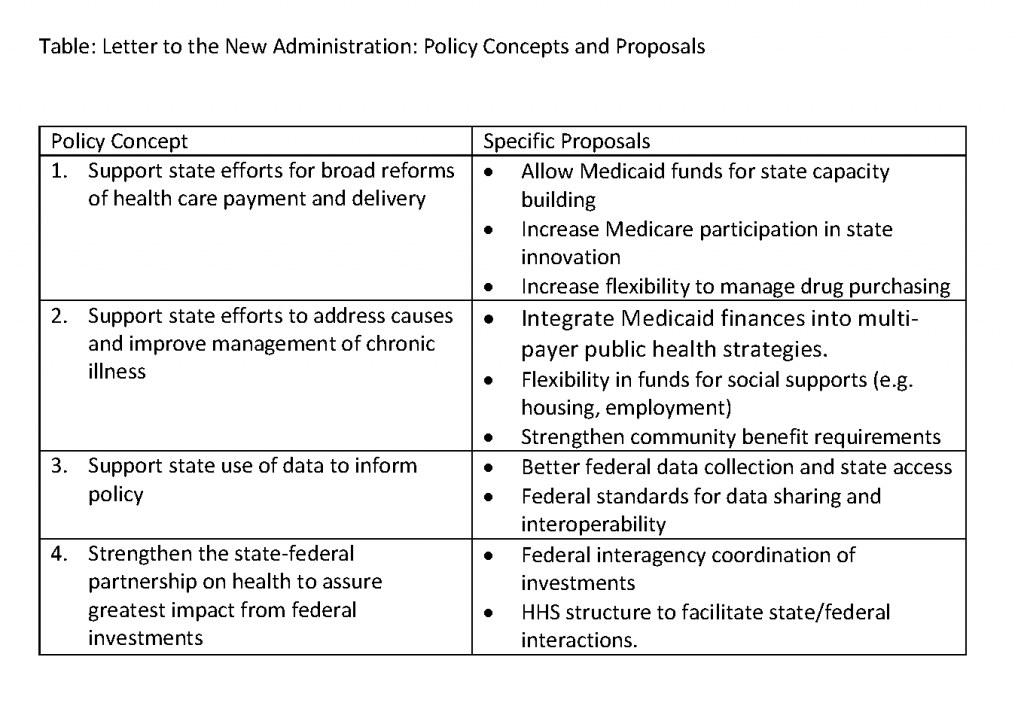 The Letter to the New Administration identifies ten policy proposals for the executive branch to work on with state officials to improve population health in the areas of payment and delivery system reform, chronic and preventive care, data sharing, and the state/federal partnership (see table).  While all these proposals generated discussion at the RSG meetings, as Congress debates "repeal and replace" state health care leaders are looking for a common vision for the goals of health policy for low-income populations in the US, consensus on the respective roles and responsibilities of the federal and state government in accomplishing those goals, and reliable partnerships with their federal counterparts. In the work to improve population health, states and federal government need one another. Assurances of "increased state flexibility" are not enough when the stability of state budgets and the well-being of citizens are at risk.