Scenario Planning
Although ICRAM created a team to create a vision for the future of academic medicine, this proved to be difficult, as the group often could not agree. They disagreed, for example, over the importance of business, particularly pharmaceutical companies, to academic medicine. Would business interests destroy or enhance academic medicine?
Because the group needed to break the deadlock, it decided on scenario planning, a creative way of thinking about both the future and the present. Indeed, scenario planning can be valuable in addressing conflict, dilemmas, and stakeholders' often divergent opinions and values 17 .
In the early 1970s, Royal Dutch Shell developed scenario planning, whose many roots include the work by Herman Kahn and the RAND Corporation for the American military. Scenario planning now is used widely by many nonprofit companies in both industrialized and nonindustrialized settings and even—as in South Africa—in whole countries. Shell defines scenarios as carefully crafted stories about the future embodying a wide variety of ideas that are integrated in a way that is both easy to understand and useful. Scenarios help link uncertainties about the future to decisions that must be made today.
Pierre Wack, one of the creators of scenario planning, described it in the Harvard Business Review as a process of "managerial assumption-smashing" 62 :
It is extremely difficult for managers to break out of their worldview while operating within it. When they are committed to a certain way of framing an issue, it is difficult for them to see solutions that lie outside this framework. By presenting other ways of seeing the world, decision scenarios allow managers to break out of a one-eyed view. Scenarios give managers something very precious: the ability to reperceive reality. (Translation by Anne Commons)
Shell developed scenario planning because its previous method of predicting and planning for one future had failed so often. Because predictions are almost always wrong, if planners work with one future rather than several, they will miss much of what will turn out to be important, particularly during times of discontinuous change, such as now. Indeed, scenario planning allowed Shell to prepare for the unexpected fall in the price of oil in the 1980s and helped it move from being the world's fourteenth-largest to its second-largest oil company.
Scenario planning is used in different ways and always by a group of people. The following are the basic components:
Identify people who can contribute a wide range of perspectives.
Conduct comprehensive interviews or run a workshop to find out from the participants the big changes they see coming in society, economics, politics, technology, and the like.
Have the group identify patterns.
Draw out the best ideas from the group.
Have the group sketch rough pictures of the future based on these ideas.
Elaborate on the scenarios and turn them into stories.
Finally, offer the scenarios to several groups to use to think about different futures and what should be done now to prepare for them.
ICRAM used these methods with members of the group from different parts of academic medicine and from many different, including developing, countries.
It is important to remember that scenarios are not predictions or forecasts. Rather, they are plausible stories about the future that enhance thinking, conversation, and strategic planning. To be useful, the stories should be imaginative, flexible, engaging, and global. Finally, they should not be confined to one optimistic and one pessimistic view of the future.


---
Five Scenarios
The ICRAM group decided on a time span of 20 years, although some of their scenarios were more futuristic than others. We decided to write down the scenarios as if they had happened in the past in order to show better how they might happen in the future. We have not presented the scenarios in any particular order, and we emphasize that they reflect how we think the world might look, not how we want it to look. Table 3 contains a summary of the scenarios.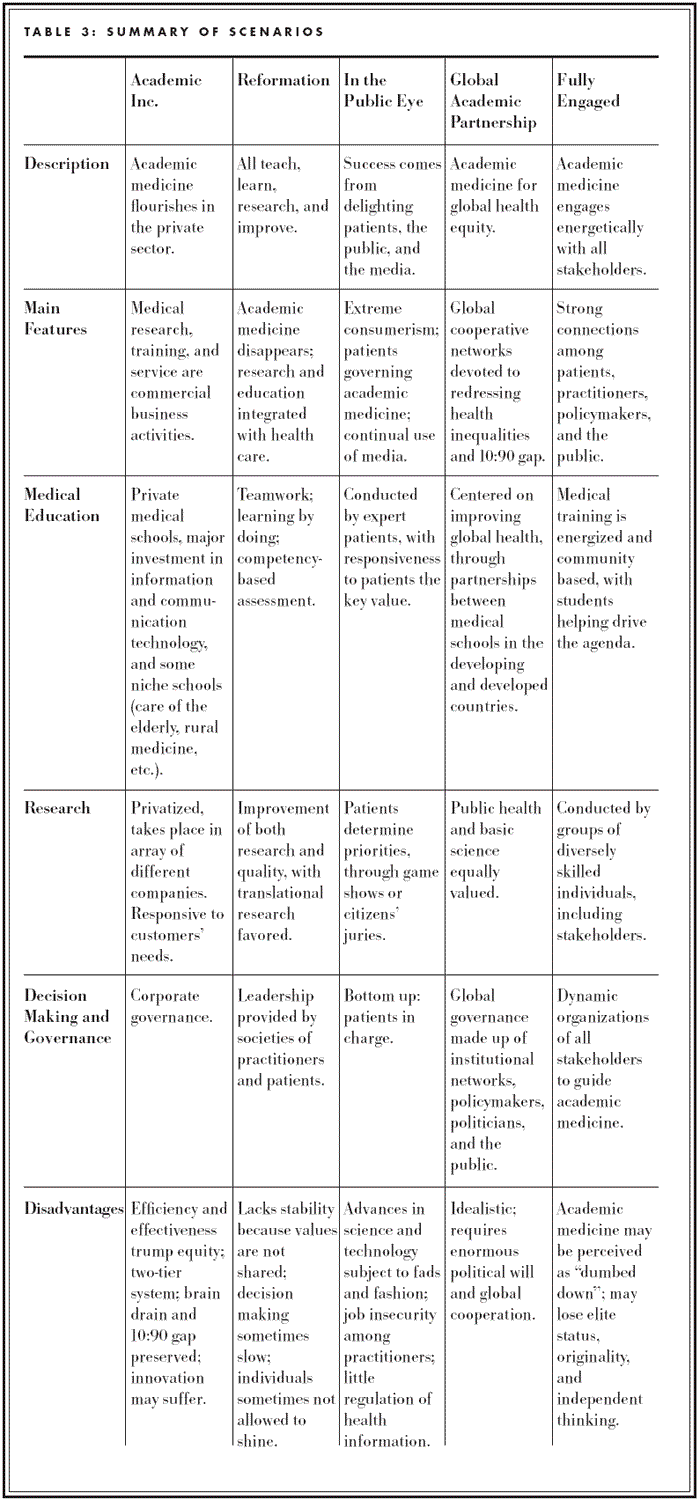 Academic Inc.: "Academic Medicine Flourishes in the Private Sector"
Slowly but surely the public sector around the world realized that it could not support the cost of academic medicine. Because medical students earn a lot of money during their professional lifetime, why shouldn't they pay for their education? And if researchers are doing something valuable, then shouldn't they be able to find a market for their product, assuming that sometimes the public sector would pay them?
The movement of academic medicine almost entirely into the private sector started when more and more medical schools became private, beginning with the most prestigious schools. In an increasingly global market, these schools could charge high fees, pay their staff well, and upgrade their facilities. They also invested a great deal in information and communication technology, bringing state-of-the-art learning to their students. It meant, too, that the schools could offer courses to students far away from their geographical base. As these schools developed, they expanded internationally, sometimes forming alliances with other prestigious schools but also taking over the weaker schools. Soon the best schools were operating on all five continents. In the branches in developing countries, the medical student bodies tended to be made up of students from both the developed world and a quota from the developing countries.
Competition was intense and was based on both cost and quality. Although those schools that managed to improve quality while reducing costs—usually through the clever use of technology—flourished, a great many medical schools disappeared. The number of students, however, grew, and the competition for talent was intense, with schools offering generous scholarships to poor but bright students and becoming ever more sophisticated at finding high-quality students in deprived populations.
As in other intensely competitive markets, medical schools competed also by occupying niches. That is, the schools offered very different kinds of courses, such as specializing in older students, basic science, rural medicine, surgical skills, and training doctors for poor communities (in both the country where the medical school was based and in lower- and middle-income countries). Sometimes the students' fees were paid by governments, local communities, or the military in order to produce physicians who met their needs. Many students attended schools in countries other than their own. Some schools owned companies that produced and sold goods and services, whereas others were subsidiaries or departments of global corporations (e.g., McDonald's Hamburger University).
Health research was carried out almost entirely in the private sector, but in a wide range of organizations: pharmaceutical companies, medical schools, biotechnology companies, small companies offering a huge range of services, and charities. These companies were founded not only by researchers but also by patients, practitioners, and others. Many of the companies founded by academics offered complex and innovative health services. As in all businesses, to be successful these companies had to be highly responsive to the needs of their customers, including patients and governments. Those that were innovative, flexible, responsive, and relentlessly cost conscious flourished, but many of them "failed." Little stigma was, however, attached to "failure." Indeed, as in Silicon Valley, California, at the end of the twentieth century, the experience of "failure" was seen by many as an important qualification in a leader.
The injection of more competitive pressure and the business model into academic medicine made it not only more efficient but also more effective: research was much more relevant, and the "know-do" gap between the development of new ideas and their introduction into practice was dramatically shortened. Basic science was still well funded because both governments and investors recognized the potentially high returns. Research on the health needs of poor and marginal populations also improved because public-sector bodies concentrated their resources on these problems, leaving the problems of the wealthier to the market.
On the negative side, applying the business model to academic medicine meant that efficiency and effectiveness trumped equity. Academic Inc. resulted in a two-tier system, with the rich finding it easy to pursue a career in academic medicine and the poor finding it hard to enter the profession, despite the generous scholarships available to some. In addition, much more attention continued to be paid to the health problems of wealthier people and countries, and the brain drain from poor to rich countries accelerated. Innovation also suffered. Private academic medicine enjoyed less lead time and had more direct and immediate accountability to its shareholders than it had when it was publicly funded.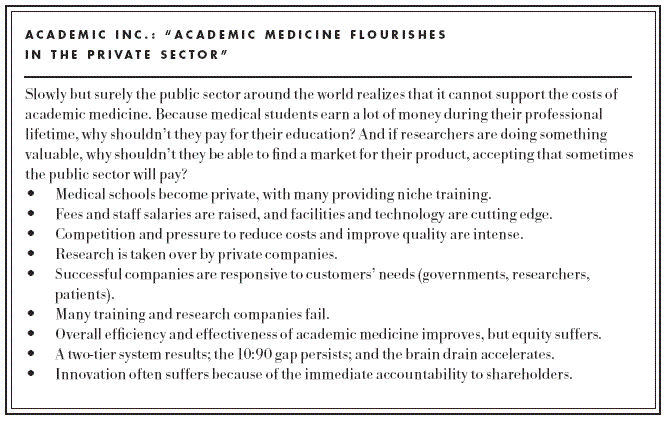 Reformation: "All Teach, Learn, Research, and Improve"
Twenty years ago there was increasing concern about the gap between academic medicine and practice because important research results were not being implemented, too much research was irrelevant, students were bored, and practitioners stopped learning. In some medical communities the response was not to try to strengthen academic medicine and make it more responsive but to abolish it and instead to bring teaching, learning, researching, and improving into the mainstream of health care. This innovative response, though not initially welcomed, proved to be highly successful and was copied everywhere. The century of academic medicine's estrangement ended. Professors disappeared. The entity known as "academic medicine" was gone. Its destruction was like that of the monasteries, and so this development became known as the "reformation of academic medicine."
Teaching, learning, researching, and quality improvement all began to take place in the practice setting, and they were everybody's business. The fiction that a single person could be competent simultaneously in practice, teaching, research, and improvement was disproved. Instead, it was teams that had to have all these competencies, not individuals, and substantial investments were made to get teams to work well and to communicate to a degree rarely before seen in health care.
The teams were supported by advanced technology that provided online learning, decision support, answers to questions that arose during practice, and access to research results. Patients did much of the teaching and research, and all the teams included patients as well as practitioners, students, professional researchers, and other health professionals.
Research was built around the questions that arose when doctors (and other health professionals) and patients consulted together. The questions were collected by the National Question Answering Service, which provided the answers using databanks of systematic reviews when possible. The service also organized research to answer questions that were frequently asked to which answers could be found later. Teams of different sizes and skills were assembled to conduct research. Some of the researchers were permanently in practice, but others, particularly basic researchers, were resident in research institutions and joined the teams as needed.
Some research was driven by discoveries made in basic science rather than questions that arose during practice; the fact that practitioners and researchers were used to working together in teams facilitated this "translational" research.
The teams also switched back and forth from research to quality improvement for both individuals and "the system," ensuring that new research reached practice. Studies reporting the results of quality improvement projects were published just as frequently as research studies were, and highly efficient information systems ensured that practitioners learned relevant information quickly, unlike the old days when practitioners were deluged with research results, most of which were not relevant to them.
Intellectual leadership in health care was provided by specialist societies, which included, as equal members, patients, researchers, and health professionals other than doctors. In most countries these specialist societies were gathered together into an academy or institute of health care, and an international academy was created that was much more than a talking shop, as it had a strong influence on world leaders.
Health students started their training by spending six months in institutions that taught them how to learn. The learning professionals who staffed these institutions were available to all the practice teams. Students then learned through their attachment to practice teams, starting with a period in general practice. Some students specialized early, with some becoming, for example, competent cardiologists within five years. Becoming an independent professional depended not on university degrees or exams but on a demonstration of competencies determined by a national body dominated by patients that used the most up-to-date methods of assessment.
Learning was by doing, and the divisions of undergraduate, specialist, and continuing education disappeared, as did the divisions among teaching, learning, researching, and quality improvement.
One problem with this reformation model was that it lacked stability because it required shared values and beliefs, which not all teams held. The need for local consensus meant that decision making could be slow. It was hard for brilliant and charismatic individuals to shine as leaders and thinkers owing to the team-based approach and the fact that the career path was much less structured, with none of the traditional arrangements like tenure and the protection of academic freedom. One result was that such individuals eschewed careers in health care, research, and teaching. Especially in developing countries, the lack of an academic medicine structure meant that there were fewer opportunities to influence medical research and training.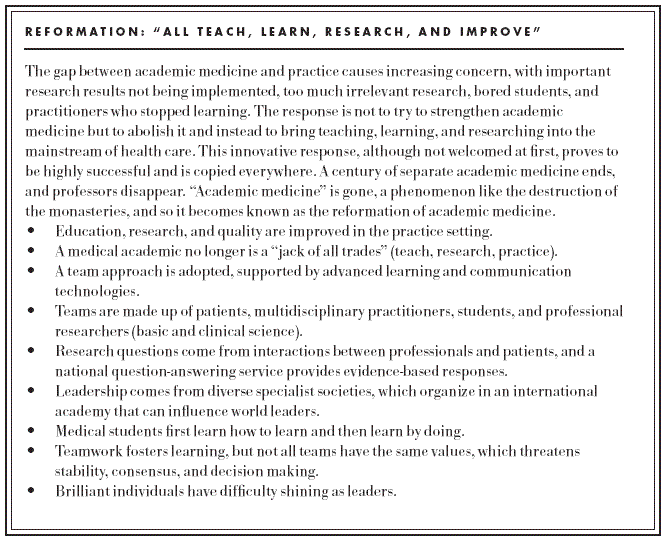 In the Public Eye: "Success Comes from Delighting Patients and the Public and Using the Media"
Academic medicine was slow to recognize the rise of global media, "celebrity culture," and the use of public relations (or spin) to drive the political process, but once it did acknowledge how the world had changed, it responded dramatically. Whereas once it had been suspicious of the media and public appeal and rather patronizing to patients, academic medicine realized that to succeed, it had to impress and satisfy patients and the public and learn how to use the media. The most successful academics were those who were very responsive to patients and the public, capturing their imaginations and appearing regularly on their television screens. Some medical academics became as well known as film and rock stars and were feted by politicians.
All academic institutions became dominated by public citizens and patients, and in all institutions, the public and media relations department became the most important one. Money, from both public and private sources, followed "interest," which referred to what interested the public and was often determined through game and "reality" shows on television. Academic medicine learned from sports, and large prizes were awarded to those who won academic competitions. Although some academics were horrified by these developments, others remembered how John Harrison had been stimulated to solve the problem of calculating longitude by the promise of a large prize.
Not all decisions regarding research priorities and the allocation of funds were made in the glare of television cameras. Although all decisions put the public interest first and were made by the representatives of the public, some still were made by more sedate and evidence-driven bodies like citizens' juries, in which randomly selected patients and members of the public were presented with detailed evidence by "experts."
Medical training was conducted in the public eye as well, with students receiving much of their training from expert patients. The agenda for training was set predominantly by the public and patients, and responsiveness to patients was the most prominent characteristic of successful doctors and students.
There was much greater diversity in the form and size of academic institutions than there had been at the beginning of the millennium. Both huge public and private universities and smaller institutions were often built around one charismatic individual. Competition among the institutions was intense, particularly for "celebrity" teachers and researchers. Only those institutions that could attract and keep the public's attention could survive.
In the developing countries, the academic health community was linked to strong consumer movements, such as those focused on HIV/AIDS, and the leading nongovernmental organizations (NGOs) established their own medical schools. These ensured that the public voice would be powerful, that training would be tailored to local needs, and that the group for field-testing new research advances would be committed.
On the negative side, medical academics felt more anxious about their job security and ability to succeed. Even celebrity academics worried that their time in the spotlight was short-lived. Advances in science, medicine, and technology were shaped by popular appeal and thus were subject to fads and fashion. Some patients struggled with their newfound status as governors, and health information was often not regulated.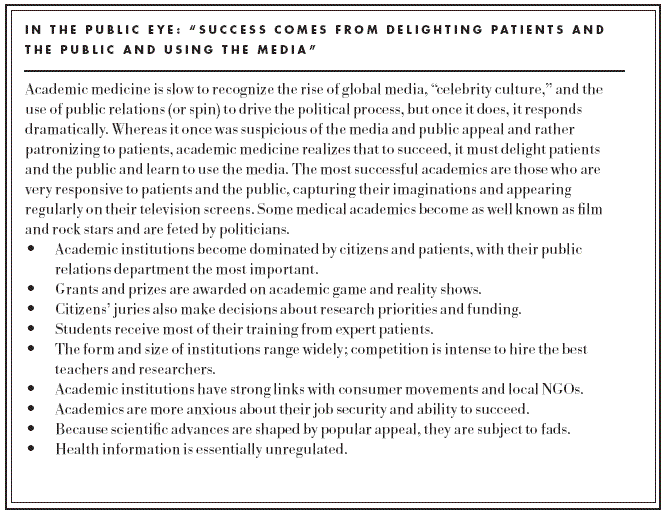 GAP (Global Academic Partnership): "Academic Medicine for Global Health Equity"
In 2005 the world began to find the growing global gap between the rich and poor to be unacceptable. This concern was driven partly by the media and global travel, bringing the plight of the poor in front of the eyes of the rich, but it also was driven by anxieties about global security. Terrorism was seen as fueled by the obscene gap between rich and poor. Global policymakers also understood better—particularly after the report by the Commission on Macroeconomics and Health—that investments in health produced some of the richest returns in economic and social development. Indeed, health care was a "must have," not a "nice to have."
Money flowed into health in the poor world, and governments required that these investments be accompanied by learning, research, planning, and evaluation. The primary concern of much of academic medicine was improving global health, particularly by concentrating on the health problems of the 90 percent who had previously received only 10 percent of health care resources (the 90:10 gap). Academics became excited by this kind of work, not only because it was intellectually exciting and highly personally rewarding, but also because it was where prestige was most likely to be found. The result was that it was impossible for an academic institution to be a world leader without a substantial investment in global health and extensive links around the world.
The view and scope of academic medicine broadened to human rights, justice, economics, and the environment, recognizing these as the major drivers of health. This broader view meant that academic medicine (renamed "global health innovation" in 2012) became the main institution concerned with the rights of those who would be alive 50 years from now, a group that previously had had nobody to speak for them. But at the same time, basic science remained important because of its contribution to global problems like finding vaccines and new treatments for malaria, AIDS, and emerging diseases like RaSReV (rapidly spread respiratory virus), which appeared in 2010 and killed millions in a global pandemic.
Academic medicine, in partnership with governments (and, where corruption was prevalent, with NGOs), became a major driver toward achieving the millennium's development goals. The G-8 governments (the world's richest eight countries plus Russia) had signed an accord that prohibited the recruitment of academic health professionals from the developing world. Medical schools and research institutions formed networks linked to local NGOs made up of developing and developed countries and forming links among developing countries. In one network, the universities of industrialized countries gave 10 percent of their faculty members' research time to address the problems of the developing world. Some institutions formed pairs of developing and developed country institutions; some merged; and researchers, teachers, and students moved regularly between both settings. The net flow was to the developing world, with the 90:10 divide beginning to correct itself surprisingly rapidly. Big investments in information and communication technology meant that those in the developing countries had the same access to information and modern learning methods as did those in the developed world.
The networks of institutions formed a global governance structure, with substantial input from politicians, practitioners, policymakers, the public, NGOs, and patients. Academic medicine moved from being marginal to central in global affairs, and medical academics, particularly those with experience in both the Southern and the Northern Hemispheres, became global leaders. It was a development that happened naturally because of their broad interests in human rights, justice, and the environment.
The GAP scenario for academic medicine was idealistic and sometimes struggled to realize its full potential—despite the best intentions of its architects and practitioners—because it required enormous political will and global cooperation. Too often, nations would revert to narrow self-interest. Academics, as well, often longed for the comforts of the developed world and sometimes became exhausted from their extensive traveling and the enormous problems of the developing world.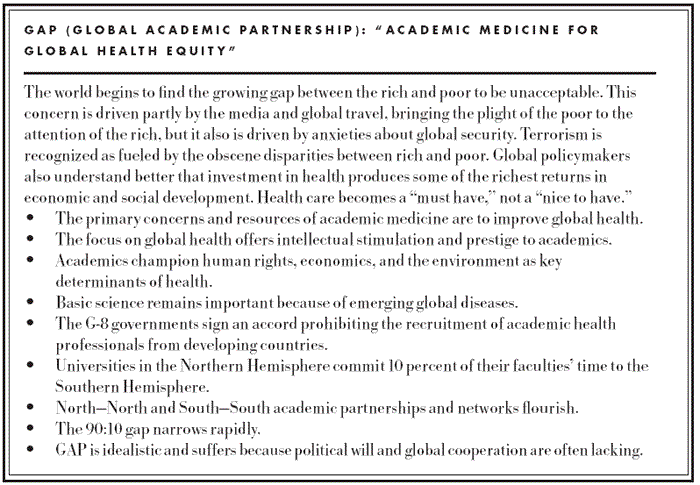 Fully Engaged: "Academic Medicine Engages Energetically with all Stakeholders"
Early in the new millennium, academic medicine became concerned that most of its relationships with its stakeholders were poor. The public had little or no understanding of what academic medicine was or why it mattered. To many, its very name implied irrelevance. Patients often felt patronized by academics, and many practitioners, including doctors, were not convinced of the value of academic medicine. Policymakers found that academics did not understand their problems and that the studies they produced came too late to be useful. Some of the leading academics did, however, have good relationships with politicians, who recognized that biotechnology might be very important to the creation of future wealth, but the public profile of academic medicine was both low and clouded.
Most medical academics admitted that they were doing a poor job of relating to stakeholders and that it thus was not surprising that they were misunderstood, underappreciated, and seen as largely irrelevant. This, they thought, was particularly unfortunate, as the ability of the system of health care to discover, think, study, learn, and evaluate had never been more important.
The community thus decided that it had to do better, and across the globe medical academics devised ways of becoming fully engaged with their stakeholders. In many countries this meant the creation of new organizations, and in others it required the transformation of existing ones. Fifty prestigious universities in developed countries with medical faculties partnered with at least one university in a developing country to help stop the "brain drain" and to replace it with a "brain gain" through incentive programs that provided resources for training and research, academic recognition, travel funds, and family support. Everywhere, medical academics had to learn how to communicate with the public, patients, and practitioners. They had to be more sensitive to the perception of their being elitist and patronizing and acknowledge the messiness of public discourse. They also had to be much cleverer in handling the media, telling them not only about their successes but also sharing their uncertainties and problems.
But communication on its own was not enough. Academic medicine had to bring its stakeholders inside the fold. The governance of academic institutions included patients, the public, and practitioners. Sometimes the president of an academy was not a distinguished researcher but a prominent patient. The medical academics discovered that their arguments were taken much more seriously when advanced clearly by a patient rather than by themselves. Patients became involved not only in peer reviews of grants and studies but also in the prioritizing, designing, and conducting of research. Medical students became the main drivers of medical education rather than simply its consumers. They insisted on rearranging the curriculum to ensure that they acquired and demonstrated competence in self-assessment of the crucial skills needed by doctors in today's society.
Slowly but surely, medical academics became not a group apart but a highly diverse group of people with a broad set of skills and backgrounds. They were at the center of a vibrant community of patients, members of the public, practitioners of all stripes, policymakers, members of the media, marketing experts, and politicians, all of whom were interested in learning, studying, researching, and thinking about health care.
But some academics found the change uncomfortable and were not convinced of its value. Critics talked of "dumbing down" and popularization. They worried that in abandoning its elitism, academic medicine had lost its ability to be truly original and speak independently.
For most, however, academic medicine was much more fun than it used to be. The number of applications to medical schools increased. Health services invested more in evaluating what they did and paid more attention to the results. More funds flowed into basic research, and the connections among the many different groups involved in research improved, with the result that intellectual fiefdoms were breached.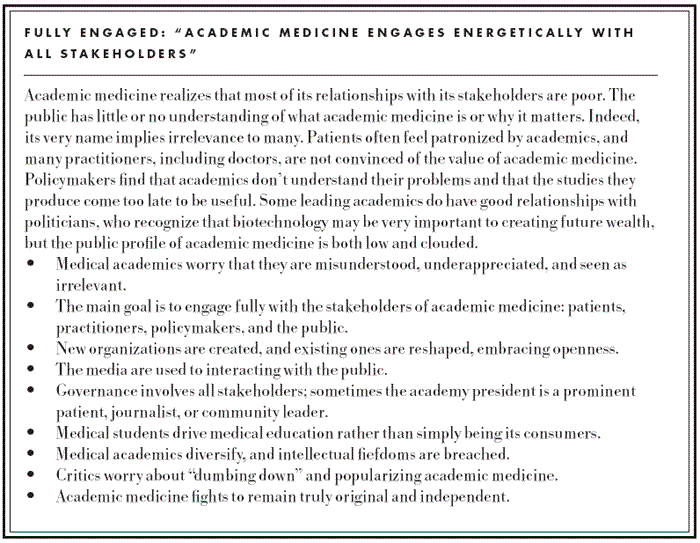 ---
Using the Scenarios
These scenarios are tools, not ends in themselves. We want them to be used, not simply read. They are aids to learning, understanding, discussing, and planning and are best used by groups. They should be considered as a set, but those who want to use the scenarios should feel free to develop them in any way that they want. They also may need to be adapted to the particular social, economic, and political conditions of different regional and national settings.
Testing Assumptions
One use of scenarios is to test assumptions. Those who think about the future of academic medicine will have assumptions about the future, and often they are so ingrained that they are not even recognized. And people's assumptions differ. Discussions about scenarios can draw them out and explore them.
Many people, for example, probably assume that something called "academic medicine" will probably continue, along with the paraphernalia of professors, departments, degrees, medical schools, and academic centers. But the reformation scenario tells a story of academic medicine that has disappeared. Practice, research, teaching, learning, and improvement have become indivisible. Is this a plausible story? How could it happen? What would the consequences be? These are just some of the questions that a group might address, and even if they concluded that the scenario was implausible, their assumptions would have been revealed, shared, and tested.
Another assumption might be that academic medicine, particularly the training of medical students, will always take place mainly in the public sector. But according to the Academic Inc. scenario, this might not to be the case. What would the implications be for national health services of such a scenario? Would such developments inevitably be accompanied by the privatization of health services and the disappearance of universal coverage? Is it necessarily inevitable that academic medicine will continue to be a public-sector activity? If the private sector became more active, what would the role of the public sector be?
At the very least, discussing the scenarios can expose assumptions, but it should also allow them to be tested and their implications to be explored.
Recognizing Uncertainty
One of the main functions of scenarios is to expose uncertainty. Even though many of us make confident statements about the future, particularly the near future, we cannot really know what it will bring. Weeks before the Berlin Wall came down in 1989, the Economist was confident that such a development was years away. In a book on unemployment and health in the mid-1980s, one of us worried about the implications of a "leisure society," which at the time seemed to be arriving soon. Machines would replace employment; they would not give people endless new tasks. Now, though, such an idea seems ludicrous.
Anyone tempted to dismiss a scenario as "impossible" should be careful. The "impossible" can happen very quickly, and given a little more time, the "impossible" may be almost certain to arrive. Scenarios can look forward to any length of time in the future, but restricting them to the "inevitabilities" of the next year or two must be balanced with extending them to the "fantasies" of 50 years from now.
Widening Perspectives
Scenarios should help widen perspectives. For example, much of the thinking about the future of academic medicine is currently nationally bound. People forget the implications of globalization and the international influence of the Internet. The GAP scenario imagines a future in which the national has become much less important than the global. The rich are no longer cut off from the problems of the poor. In the world of Academic Inc., the national picture might be hugely influenced by the arrival of global medical schools.
At a recent meeting to discuss whether three academic institutions should form strategic partnerships, somebody wondered how the partnerships, which were largely driven by immediate economic necessity, might fit into the future of academic medicine. Nobody had considered this question; instead, managers had concentrated on solving the immediate problem. Although discussion of the scenarios might have distracted them from the immediate problem, the time spent considering how the partnerships might look in each of the scenarios probably would have been well spent. The discussion might, for example, have exposed the largely hidden assumption that "bigger institutions were more likely to survive." But is that true?
Addressing Dilemmas and Conflicts
A potentially great advantage of talking about the future is that it may enable us to talk about current conflicts that may be so emotionally charged that they are hard to discuss. Indeed, to some extent, these scenarios grew out of an emotionally charged debate in academic medicine over the role of big business, particularly the pharmaceutical companies. Several people had strong views on whether such involvement was "good" or "bad," and the discussion ended. The scenarios describe a time in which the role of big business might be very different and so make the discussion easier. Big business would probably be very prominent in the world of Academic Inc. but probably much less important in the world of reformation, although it is possible to imagine ways in which business might be very involved in such a world. This kind of thinking should lead to a better understanding of the different possible roles for business, and that understanding might be helpful in easing discussion about the current role of business.
Deepening Understanding
Figures 1 through 3 show how the scenarios can be used to consider particular aspects of academic medicine, both in the future and at the present. How, for example, will the public be involved in academic medicine? Figure 1 suggests that in all the scenarios, although the public currently has little involvement in academic medicine, this is likely to increase. Not everybody might agree, but the figures and the scenarios encourage discussion. They also raise the question of whether one scenario should have the public less involved than now, with academic medicine becoming more elitist. But such a scenario seems implausible. The analysis suggests that instead, it is the current position that is uncomfortable, that the leaders of academic medicine should be thinking more about ways of involving the public in academic medicine.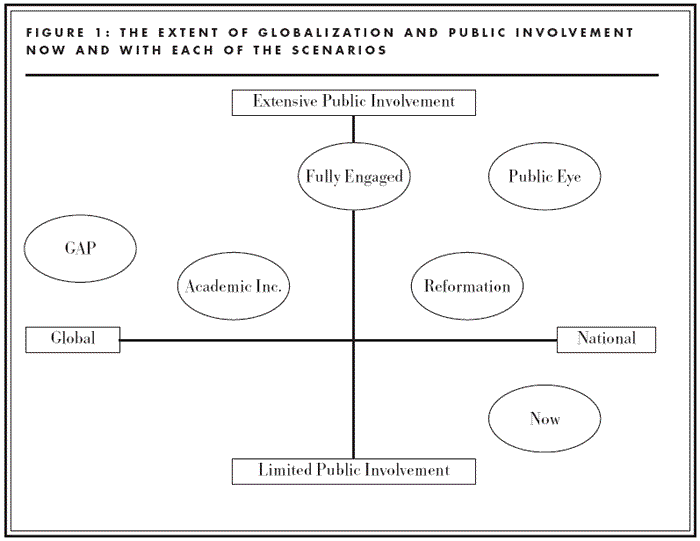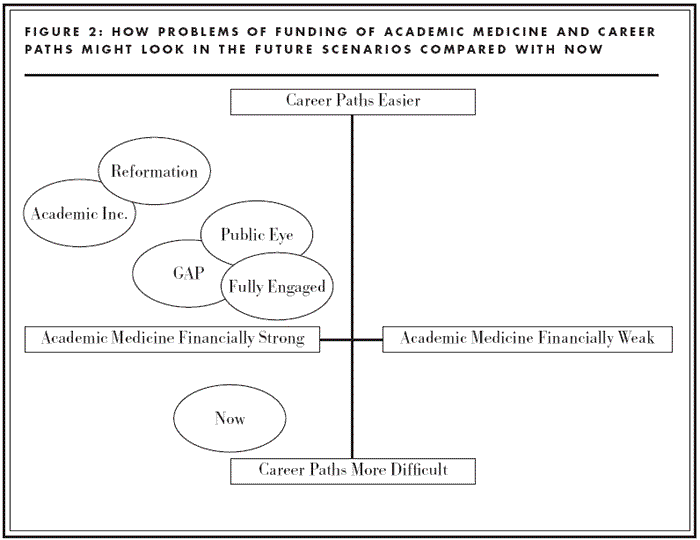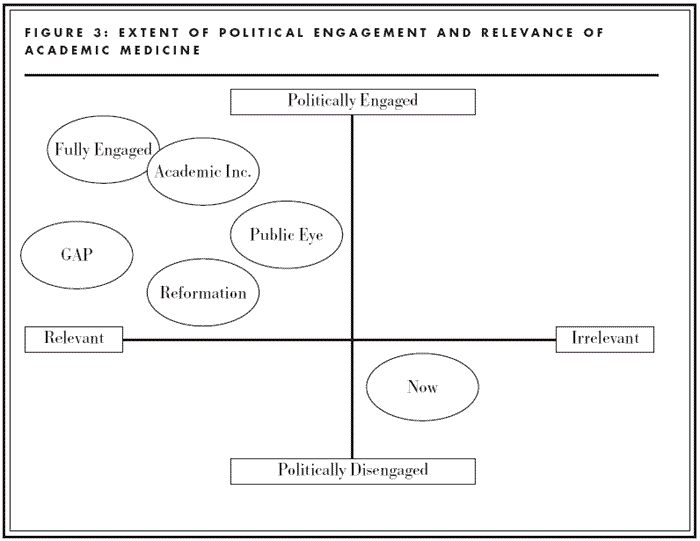 Exploring Strategic Questions
These scenarios are intended to encourage broad, long-term, and strategic thinking, and they can be used to address particular strategic questions. For example, what might happen to primary care research, and how might it best be promoted? These are questions that the international leaders of primary care are currently considering. The next few paragraphs illustrate how the scenarios might help with these two strategic questions and also how they can help with other such questions.
Most countries conduct little primary care research, as they lack funding and capacity, and primary care research often has little prestige. Even in those countries where such research is established, it still must struggle to compete with other areas of research, like genomics. Primary care research also is an area that is more culturally bound than many others.
The Academic Inc. scenario may not encourage primary care research. There is little money to be made from it, and the fact that it is culturally bound might make it difficult for the global medical schools to undertake. To flourish in such a world, the leaders of primary care might need to work hard on the business case for such research and to consider how businesses could promote research and learning in primary care. These efforts are likely to be useful whichever way the world develops.
Primary care might be much more likely to flourish in the world of reformation. Most of health care is primary care rather than secondary care, and so closer links between service and academia would be good for academic primary care. The leaders of primary care might do well strategically to promote links between service and academia, rather than emphasize the academic nature of primary care research in order to encourage greater respect from the scientific community.
The public eye scenario might be difficult for primary care research to advance, because it is not glamorous and cannot easily be promoted on television. But could the leaders of primary care research find ways to "glamorize" their discipline? Again, a discussion about this might be useful whichever way the world moves.
In the GAP scenario, primary care research would probably have to be strongly emphasized, because primary care is affordable and can be made available to everybody in a way that other, more expensive forms of care cannot. Although primary care research is often culturally bound, the leaders of such research might respond by forming international organizations and forming links with those promoting international development (which has actually happened).
If the world moves in the direction of the fully engaged scenario, then it will be important for primary care researchers to invest resources in reaching out to all its stakeholders: politicians, patients, the public, practitioners, and policymakers. Primary care has a great deal to offer all these constituencies, and whatever the future holds, it almost certainly makes sense for researchers to build these links.
Contemplating these scenarios will not solve the problems of primary care researchers, but it should help generate strategic options and final decisions of which paths to take.


---
Searching for Common Features: Lessons from the Scenarios
Scenarios often are used to search for common features that can lead to strategic paths that are likely to be useful no matter how the world develops. The preceding five scenarios share the following features:
In all the scenarios, academic medicine puts more effort into relating to its stakeholders—the public, patients, practitioners, politicians, and policymakers—which may necessitate the creation of new institutions that involve all these groups.
Academic institutions must be more globally minded.
Teaching, researching, improving, leading, and providing service will continue to be important, but expecting individuals to be competent in all of these will become increasingly impractical.
Although teamwork will become more important, individuals also must be allowed to shine and flourish.
Competition among academic institutions is likely to increase and to become more international.
In all the scenarios, academic institutions need to become more "businesslike" and more adept at using the media.
Teaching and learning will become even more important, with one reason being that dissatisfied students may go elsewhere. Learning will be lifelong and depend heavily on information technology.
It will be even more important to combine research, both basic and applied, with implementation and improvement. The gap between knowledge and practice will become increasingly intolerable.
The range of types of academic institutions is likely to become more diverse, with medical schools or academic centers being just one of these types.
The thinking and skills of academic medicine must become broader, combining with and learning from other disciplines like economics, law, ecology, and humanities.
Thinking about the future will become both increasingly important and increasingly difficult for academic institutions.
Our main hope for these scenarios is that other groups may find them useful in thinking about both the present and the future of academic medicine. Importantly we have deliberately not drawn conclusions from these scenarios; instead, we have derived lessons from imagining what will be important whichever way the world goes. In other words, these are "lower common denominator" lessons that might form the basis for strategic planning across specific regional and national settings. The next steps are to share the scenarios widely, invite critical commentary and reaction, and begin a dialogue about action and strategies for the future of academic medicine. We hope the scenarios will initiate a collective dialogue about future innovative decision making. We do not seek agreement but, rather, broader thinking.


---
Notes
1Academy of Medical Sciences, The tenure track clinician scientist: A new career pathway to promote recruitment in clinical academic medicine, The Savill Report (London: Academy of Medical Sciences, 2000).
2Academy of Medical Sciences, Clinical Academic Medicine in Jeopardy: Recommendations for Change (London: Academy of Medical Sciences, 2002).
3Academy of Medical Sciences, From Laboratory to Clinic—Translating Medical Science into Patient Benefit (London: Academy of Medical Sciences, 2003).
4Academy of Medical Sciences, Strengthening Clinical Research (London: Academy of Medical Sciences, 2003).
5American Association of Medical Colleges, Educating Doctors to Provide High Quality Medical Care: A Vision for Medical Education in the United States (Washington, DC: AAMC, 2003).
6Commonwealth Fund Task Force on Academic Heath Centers, Envisioning the Future of Academic Health Centers, Final Report, February 2003.
7Institute of Medicine of the National Academies, Academic Health Centers: Leading Change in the 21st Century (Washington, DC: Institute of Medicine of the National Academies, 2003).
8Strategic Learning and Research Committee, Department of Health, Developing and sustaining a world class workforce of educators and researchers in health and social care, 9–20 (London: Department of Health, 2004).
9Academic medicine: Resuscitation in progress, CMAJ 170 (2004):309.
10Z.A. Bhutta, Practising just medicine in an unjust world, BMJ 327 (2003):1000–1.
11J.A. Rottingen, P. Thorsby, C. Seem, and K.M. Gautvik, Medical research at Norwegian universities (in Norwegian), Tidsskrift for Den Norske Laegeforening 118, no. 15 (1998):2339–43.
12J. Clark and P. Tugwell, Who cares about academic medicine?