The RAI and RAI-HC have been able to maintain their position because of the grassroots support by care managers and because of the government's funding of research studies, which have conferred a quasi-official status on the instruments. Care managers say that the RAI's advantage lies in the "triggers," which act as links between the assessment and care guidelines in specific domains. These links facilitate the setting of care goals and the monitoring of care. In contrast, when any of the other instruments is used, care managers must intuitively derive these key aspects from the assessment itself.8 Some care managers with a non-health care background prefer the RAI because it provides them with basic knowledge about the medical aspects of care. These factors have contributed to the continuing popularity of the RAI, which is shown by the impressive sales of the RAI manuals.9
Despite this impressive record, however, it remains unclear whether the RAIs are actually being used appropriately. Most care managers are generally inexperienced, and their time is filled with billing and other administrative responsibilities. Even those using the RAI or the RAI-HC are not all assessing on a regular basis, as prescribed, or exploiting the protocols' full potential by integrating the results into their care plans. The vast majority of local governments lack the infrastructure that would enable them to audit the assessment forms and care plans. Moreover, even the few municipalities that have started monitoring have found their task complicated by the different care-planning instruments used by different providers.
LESSONS FOR THE FUTURE
Will this "bottom-up" approach—of waiting for providers to recognize the advantages of the RAIs—eventually succeed? Since a "top-down" approach, in which the government would have mandated RAI use, failed in Japan, this is the only option. On the positive side, no provider can complain that the RAI has been imposed by fiat: those who use the RAI are true believers in its merits and have adopted the RAI despite pressure from professional organizations to use their instruments instead. The RAI advocates' efforts to develop user-friendly manuals and software and to organize seminars to promote its use at the grassroots level have focused on enhancing the instrument's clinical utility rather than emphasizing its research and policy potential.
On the negative side, because RAI use is not mandated, data generated tend to be hard to collect, incomplete, and difficult to analyze. At present, there is very little awareness of the need to evaluate the quality of care based on individual data. The development of the database that does exist has largely been financed by royalties from the sales of RAI manuals. Whether the Japan interRAI Committee can continue to support such activities is uncertain, as the sales of the manuals are reaching the saturation point.
Reflecting on what might have been done better, we now wonder whether it would have been possible to cooperate with the government in developing the assessment form and algorithm for determining eligibility levels. If MDS items had been used in the assessment form, they would have been embedded in the LTCI and integrated with care planning. This might have been possible if interRAI had adopted a more flexible attitude toward the copyright issue, because the government's concern lay in maintaining a free hand in negotiation rather than actually making substantive revisions. Cooperating with the government would have been difficult, however, because power in Japan is concentrated in the hands of bureaucrats who not only have the administrative responsibility of implementing policy, including contracting out policy-related research, but who also play a key political role in drafting new legislation, lobbying for support among politicians and arbitrating among the various interest groups. In the case of the LTCI, the major party that had to be placated was the social welfare lobby, so that when it protested about the "over-medicalized" nature of the RAIs, the government agreed to contract out the design of the assessment form and eligibility-grouping algorithm to the social welfare lobby's own research group. Adherence to scientific standards was a lesser concern.
This issue will be revisited in the near future because there is renewed interest in RUG-III. Once again, this interest arises from the need to reform hospital payment mechanisms. The new LTCI program's goal of containing health care costs through rationalizing LTC has not been fully realized because most hospitals have opted to remain under the old health insurance system and have not switched to LTCI. Thus, pressure is mounting to introduce case mix-based payment to hospitals providing LTC and subacute care. In fiscal year 2001, a government grant, under the auspices of the Health Insurance Federation, has been given to undertake a RUG-III validation study in eight hospitals, including a rehabilitation unit (Kenporen 2002). The fact that payment can be linked to quality audit is attractive to policymakers. InterRAI will now have to make a strategic decision about whether to allow the use of its items for the proposed case-mix classification in subacute and long-term care financed by health insurance.
NOTES
1This trend started in 1973, when the decision was made to waive copayments for elderly citizens.
2This includes 12 items on medical procedures such as stoma care, catheters, and so on, which were added under pressure from the Japan Medical Association.
3Individuals can purchase services directly from providers without delegating the task to a care manager, but should they opt to do so, they must pay the full cost first and get reimbursed later for the 90 percent covered by the LTCI, besides having to deal with the complicated process. Consequently, virtually all choose to obtain their services through a care manager.
4A comparative international study showed that Japanese LTC facilities had among the highest ratios of low-care cases, regardless of the criteria used to define "low-care" (Ikegami, Morris, and Fries 1997).
5One aspect of the LTCI not given sufficient consideration at that time, however, is now acting as a check on such behavior: clients are able to choose or change their care manager whenever they wish. Thus, for example, a client wishing visiting nurse service would choose a care manager based in a visiting nurse agency.
6HIT had been the contractor for government-funded RAI research and seminars since 1993. On April 1, 2002, it changed its name to the Hokkaido Intellectual Tank.
7All of those who pass the examination for care managers must participate in a 32-hour seminar that is held in each prefecture. This includes a workshop about the care planning instrument of their choice.
8The only other instrument that has a similar triggering mechanism is that of the Visiting Nurse Association, which borrows many elements from the RAI-HC.
9As of July 2002, the MDS 2.1 manual had sold 32,058 copies; the MDS-HC 2.0 had sold 61,515; the Case Studies I (published February 2000) 11,320; and the Case Studies II (published November 2000) 5,020.
REFERENCES
Campbell, J.C., and N. Ikegami. 2000. Long-Term Care Insurance Comes to Japan. Health Affairs 2000 19(3):26–39.
Ikegami, N. 1997. Public Long-Term Care Insurance in Japan. Journal of the American Medical Association 278(16):1310–4.
Ikegami, N. 2001. Ageing and the Future: Population Ageing and Impact on the Organisation, Delivery and Financing of Long-Term Care: An Innovative Approach from Japan. Available at http://www.chera.ca/program.html.
Ikegami, N., and J.C. Campbell. 1999. Health Care Reform in Japan: The Virtues of Muddling Through. Health Affairs 18(3):56–75.
Ikegami, N., B.E. Fries, Y. Takagi, S. Ikeda, and T. Ibe. 1994. Applying RUG-III in Japanese Long-Term Care Facilities. Gerontologist 32:51–7.
Ikegami, N., J.N. Morris, and B.E. Fries. 1997. Low-care Cases in Long-Term Care Settings: Variations among Nations. Age and Ageing 26(suppl. 2):67–72.
Kenporen. 2002. Study on the Payment Mechanism for Subacute and Long-Term Inpatients' Care (in Japanese). Tokyo.
Organisation for Economic Co-operation and Development (OECD). 2001. Health Data File. Paris.
Takagi, Y. 1995: Payment Methods and Care for the Aged: Validity of Reimbursement by RUG-III (in Japanese). Byoin 54(5):466–71.
Yamauchi, K., N. Ikegami, et al. 1998. Eligibility Classification for Long-Term Care Insurance (in Japanese). Byoinkanri 35(3):185–96.


---

The Challenge of Dependency in a Changing Society: New Tools for a New Era at the Health Care–Social Care Interface in Spain
Elaine Duncan and Enrique Castellón
EXECUTIVE SUMMARY
In Spain, the growth of the elderly population and the resultant increase in the number of dependent persons has attracted much political attention, but, to date, policymakers have focused mainly on the pressing issue of pensions. Until recently, the tradition of families caring for their own elderly members meant that facilities for dependent persons were neither widely desired nor widely available but the social changes that create demand for such services (such as larger numbers of women joining the workforce) have unfortunately coincided in Spain with the current demographic shift, leaving the country extremely unprepared.
The sudden need to plan, set up, and monitor these new formal services in a sector with a paucity of information on needs, costs, and quality led to several experiments with the use of the Resident Assessment Instrument for nursing homes (RAI-NH) and the Resource Utilizations Groups (RUGs) in the early 1990s, but because Spain is divided into 17 politically autonomous regions these early experiments were uncoordinated local efforts. In addition, the urgent need for information led to the RAI's being sold in some regions as an information system rather than as a combined clinical, management, and research tool, a move that proved to be a tactical error, as the RAI failed to gain the support of key clinical staff. RAI advocates also learned that mandating the use of the instrument as a quick-fix solution is a mistake, in that grudging cooperation does not generate the sort of consistent, quality information and care planning the RAI is intended to promote.
Nevertheless, the modest results of these early experiences have served to demonstrate the potential of the RAI methodology. Moreover, the fact that some regions now have RAI data highlights the lack of comparable information in others, creating a dynamic in which the need for and benefits of a more informed approach are increasingly obvious to all concerned.
Since 1998, representatives of all regions and of the national government have participated in discussions about implementing RAI instruments nationwide; such plans have been more warmly received by health-sector representatives than by those from the social care sector, for whom the use of standardized assessment instruments and comprehensive information systems is a less-familiar concept. In addition, the pressure on personnel and resources in this traditionally underfunded area has led to caution regarding the implementation of a complex and possibly burdensome new system.
Because of these concerns, the national project is not yet under way, but several regional governments have moved ahead, investing in training and software and joining forces with other regions more experienced in the use of the RAI in a coordinated effort involving the RAI-NH, as well as the RAI instruments for home care (RAI-HC) and mental health (RAI-MH). Experience to date suggests that the keys to successful implementation are (1) gaining grassroots support by promoting the use of RAI as a clinical tool and (2) using an incremental approach when introducing RAI evaluations and care planning into facilities so that staff do not find themselves overwhelmed.
On the policy front, proposals for a new law on dependency were due to be formulated by mid-2002, but have not yet been circulated; RAI instruments may have an important role to play in defining degrees of dependency for eligibility and co-financing purposes, as well as in controlling quality in the long-term care sector.
INTRODUCTION
In 2000 Spain had a population of 40.5 million distributed throughout 17 regions, called Autonomous Communities. Six and a half million citizens were aged over 65; 775,000 lived alone, and, of these, 170,000 suffered from some degree of dependency (SEGG 2000). The growth of the elderly population has been rapid: between 1960 and 1998 the percentage of the population aged over 65 rose from 8.7 percent to 16.3 percent, generating a considerable deficit in resources.
In Spain, health care is free for all at the point of use and funded from the General Budget. Total health resources amount to 7.1 percent of gross domestic product, and public-sector health resources represent 5.4 percent of GDP (as compared to the European Union mean of 8 percent and 6.1 percent, respectively, in 1998). This public health care budget has been entirely decentralized as of 2002.
Responsibility for personal social services is completely decentralized. Regional governments manage and fund these services on a means-tested basis. Public financing is scarce, however: only 30 percent of the total expenditure on personal social services is publicly funded.
As might be expected, the current situation in Spain in the area of health and social care for dependent persons is intimately bound up with the rapid growth of the elderly population (Morán 1999). Although until recently attention has mostly focused on the impact of these changes on pensions, the mounting costs generated in other areas of this sector are now becoming a cause for concern. There is much debate about increasing health care expenditures and, to a lesser extent, about the costs of long-term care. It has been estimated that annual health care costs for those 35 to 44 years old average 120,000 pesetas (about US$630) whereas those for people aged 65–74 average four times as much. True, the health expenditure generated by a sick elderly person is not necessarily greater than that generated by a sick younger person, but as the burden of ill health is skewed heavily toward the elderly population, the elderly as a group incur very high health care costs, which must be taken into account and planned for in an aging society.
Of the 7.1 percent of Spain's GDP that is spent on health care, 40 percent is spent on the elderly. In this respect, the situation is positive for the elderly, given that they receive a higher proportion of a comparable total (adjusting for income) than in other developed nations. In addition, older people are exempt from existing copayment arrangements, principally with regard to the cost of prescription drugs.
For the 170,000 dependent persons currently living alone, formal long-term care—whether public or private—is very scarce. Public-sector long-term care is especially limited, accounting for only 4 percent of all home care and 40 percent of nursing home beds.
Social care and health care services are closely linked, but placements are not always appropriate. Where health resources are scarce, elderly persons may not always gain access to optimum care, even if their medical conditions might benefit from active management in a specialist unit. Others who might be more appropriately cared for in a community setting may find themselves marooned in hospital beds, awaiting the availability of suitable accommodation. Obviously neither of these scenarios represents an adequate use of health and social care resources, nor is the system beneficial to elderly people; both under- and overtreatment in the acute hospital sector need to be addressed if provision of care for elderly persons is to be adapted to their needs and equitably distributed.
Aging and the Need for Social Care
In Spain's Social Care System, there is an important information gap that relates to, and is to some extent the cause of, the absence of debate on these issues and the ongoing, excessive faith in the ready availability informal care. As has been said, the debate on pensions has obscured the whole area of care provision and other costs related to aging. The usefulness of the information that does exist is further compromised by the lack of comparability between the studies that have been done, which have used different methodologies.
Most of the work in this field in Spain classifies individuals according to functional capacity, either by the number and nature of the activities they cannot carry out or by different scales, such as those developed by Katz or Lawton. Such information is insufficient for service-planning purposes because it does not take into account current support systems (formal or informal), economic need, or many other factors. To date, only one study, based on multivariate analysis, has permitted a more rigorous, "ad hoc" classification of elderly individuals.
Almost no information exists at national level; what there is derives from National Health Surveys (MSC 1995, 1999) which have not been systematically analyzed. Further information on disabilities is also available from the National Survey on Impairment, Disability and Handicap (INE 1999) and from another survey, Informal Support for Older People, conducted in 1994 (CIS 1996), which classifies dependent persons according to those activities for which they require help. Of greater interest is the Survey on Loneliness in Older People (CIS 1999), which collected data from 2,500 individuals regarding the degree of help they required for twelve different activities.
Some interesting information emerges from all these data. In Spain, 65.9 percent of those aged over 65 are independent; 20.8 percent are dependent only for instrumental activities of daily living (IADLs) and 13.4 percent are dependent for both IADLs and basic activities of daily living (ADLs). This tells us nothing, however, about the different types of help required by people within the same level of dependency. Nevertheless, it is known that age, poor health status, and a low educational level are all positively associated with dependency.
Social Care and Nursing Homes
In Spain, the three institutions associated with social care are (in order of importance) the family, the private sector, and the state. The bulk of long-term care provided in the home setting is delivered by family members, usually by offspring and especially by women. Eighty percent of dependent persons receive only this type of informal care. Formal care in institutions, including both public and private day care and residential care, and without any type of informal support, is only available for about 6 percent of dependent persons. Publicly funded home care, with or without additional informal support, reaches only 100,000 persons out of a total of 2.15 million disabled persons. Finally, about 260,000 people rely on private home care.
Interestingly, dependent persons living in their own homes occasionally use daycare centers, which provide some respite for stretched family caregivers. It is not possible to identify precisely how many of the scant 7,103 existing spaces are public and how many are private, but in any event it is clear that provision is minimal.
Overall, there is no countrywide information on the proportion of nursing home residents who are dependent in ADLs, although extrapolation from small, local studies suggests a figure of about 75 percent.
Two types of nursing homes placements are available in Spain: private placements, whose cost is borne entirely by the user, and publicly funded placements, for which central state funding or financing from regional or local authorities covers part of the cost. All elderly persons in Spain receive a pension (the minimum pension is 42,000 pesetas [US$224] per month; the average is 82,000 pesetas [US$436] per month), and all nursing home residents are required to contribute about 70 percent of their pension to the cost of their care. Publicly co-financed beds may be in state-run facilities or in privately run facilities with beds contracted by the state. From the point of view of the user, funding and services are the same in either case. The state determines who has priority for access, which is mostly based on the economic and family circumstances of the applicant. Whether or not they have children, persons who live alone receive top priority, with the degree of severity of their physical and mental problems also receiving due weight. Entrance criteria, however, vary by region: in some areas poor economic circumstances carry a lot of weight, so that persons who are less dependent but very poor receive higher priority for publicly funded nursing home beds than do more dependent persons who are slightly better off economically. It might be thought that this would cause strange anomalies, but in practice these rarely happen: public provision is so scarce that virtually all persons who finally make it to the top of the waiting list for a publicly funded bed are not only poor but also very dependent.
Beyond the elderly and the physically dependent, persons with mental health problems are another key group presenting a complex mix of health and social care needs. Again, quality information at a national level is lacking, and in the current climate of closure of long-term care institutions and the corresponding shift toward a range of community-based services, there is an urgent need for such information if these services are to address the key needs of this vulnerable group.
The current paucity of relevant information not only affects the ability to plan and predict demand but also has implications for the running of residential and community-based facilities for quality management. Consumers (potential users and their families) also lack adequate information on the current availability and quality of resources—or even knowledge of their existence. Media scares and scandals arise with a certain regularity, focusing on horror stories occurring within a sector that is characterized by lack of transparency.
Finally, available data allow us to affirm that the free market—that is, private provision with no state financing or state-determined access criteria—accounts for 61 percent of total current nursing home beds, with the remaining 39 percent publicly co-financed either in state-run facilities or facilities with state contracts.
In summary, the current situation is characterized by a severe deficit in resources and an excessive reliance on informal care, particularly with respect to care of the elderly. This reliance will prove less and less workable over the next few years, as social changes—smaller families, increased family dispersion, ever smaller flats and houses, greater participation in the workforce by women—create an increasingly difficult situation for the 78 percent of disabled people who until now have relied exclusively on informal care. A situation in which only 6 percent of dependent persons live in nursing homes, public or private, and only 7 percent receive any sort of help from public services is unsustainable, and central and regional governments must undertake a considerable increase in the provision of formal home and residential care, as well as develop incentives to ensure such care is properly regulated. At present, there is no national strategy that adequately addresses all the dimensions of the current crisis in care for elderly and dependent persons. To date, efforts at improvement in services for the elderly have tended to be incremental, avoiding breaks with tradition, and although the need to tackle the situation afresh is clear to many, the process of change is only just beginning.
FIRST STEPS TOWARD RAI IMPLEMENTATION
Interest in the use of the Resident Assessment Instrument (RAI) family of assessment instruments has arisen in Spain within this context. The changes and difficulties that have sparked this interest have occurred throughout the country, but because Spain is divided into 17 Autonomous Communities, each with its own regional government, different regions originally began trying out the RAI in different ways. Different Autonomous Communities have until recently had differing degrees of responsibility devolved from the central government: some were entirely responsible for running their own health services and thus had a great deal of freedom in setting priorities and investing in new technologies or programs, whereas others remained tied to the older, centralized health service structure, the INSALUD. These differences, as well as historic differences in wealth, levels of service provision, and budget share, have led different regions to begin tackling their sociodemographic problems from different starting points.
During the early 1990s, three regions tried out instruments based on the Minimum Data Set (MDS) at the service level, and a few research studies were carried out elsewhere. These early experiments occurred independently, in parallel rather than as part of a coordinated effort. The next sections describe the three main initiatives; these case studies are then followed by a discussion of how these separate activities are now beginning to act synergistically to influence policy at the national level.
Galicia
Galicia is a geographically isolated region in northwestern Spain with a population of approximately 2.7 million. Although not the poorest region in the country, it is an underdeveloped area with little industry; many Galicians earn their living through fishing and small-scale agriculture. For a long time, many young people have left Galicia in search of employment elsewhere, leaving families depleted of their younger members. Many of those who leave, however, return to Galicia on retirement to spend their last years in their native land, further increasing the proportion of elderly people in Galician society. In 1996 the proportion of those over age 65 had reached 18.3 percent in Galicia, compared to a national average of 15.6 percent.
The central government transferred full responsibility for the running of the health service to Galicia in 1992. A structural reorganization following the reelection of the Partido Popular in the regional government elections in late 1993 resulted in the merging of the regional Ministry of Health with the Ministry of Social Services—potentially a landmark event. Historically, professionals and policymakers in both sectors had struggled to provide seamless, coordinated care in a situation with two separate organizational and financial structures, but the merging of budgets and responsibilities under one regional government minister had the potential to greatly facilitate the coordination of activities and financing and to streamline the transfer of personnel or funds across the healthcare-social services divide. Although the Galician health service (SERGAS) and the General Directorate of Social Services continued to exist as separate entities, proposals to create a new coordinating unit, the Programa de Atencion Sociosanitaria (PASOS) underlined the political intent to create better-integrated services. After prolonged discussion and preparation, the new unit finally came into being in February 1996. Its mission was to design, develop, and manage
a model of coordination of social/health care in Galicia and its practical application. In addition, the department will function as a coordination unit . . . with regard to the elderly, palliative care, mental health, and handicapped persons. PASOS will also be responsible for the definition and overseeing of specific social/health care programs leading to a more integrated service with continuity of care between social services and health services. (Diario Oficial de Galicia 1996, 1998; Plan Estratéxico 1999)
Some in Spain disagree with the merging of health and social services in this way. Critics express concern that the creation of the espacio sociosanitario ("sociohealth space") underplays the health needs of dependent persons, shifting the focus from health care (expensive) to social care (less expensive) and that such mergers shunt dependent persons, in particular the elderly, into a second-class care network, denying them access to the more medicalized care their conditions might warrant. Debate continues as to whether the espacio sociosanitario really exists or whether health and social needs can be met perfectly well without the need for additional client categories, with the dangers such classification might bring.
These considerations notwithstanding, the new PASOS team in Galicia believed that the potential benefits of such a merger were clear. Keen to get going, the team asked itself key questions, such as, "Who are our clients?" "Where are we at?" "What are the strengths and weaknesses in the current system?" Immediately, the team encountered its first obstacle: nobody knew the answers.
As all the contributors to this Milbank Memorial Fund study of RAI implementation internationally point out, information systems are a key area to be addressed in the complex arena of long-term care delivery. As in the acute care arena, LTC providers and policymakers need basic data on the number, distribution, and turnover of clients as well as information on their diagnoses or problems in order to plan and distribute current services, observe trends, and project future needs and costs. Unlike acute care, however, LTC has not traditionally pursued this kind of strategic approach, because LTC has grown from a multiplicity of charitable roots rather than a system of state-funded entitlements.
The fact that care has been given by such a wide range of independent providers—beginning with the huge amount of care provided by families, moving through the considerable provision offered by religious and charitable organizations and on to means-tested social service provision for the needy and private provision for the better-off—has meant that, historically, LTC delivery has not taken place within any sort of overall framework but has instead occurred on an ad hoc basis according to the criteria of the provider(s) in question. In Spain, specific facilities or organizations might have their own systems for prioritizing or delivering care, but at a national or regional level no overall strategy or unified criteria were in place. Even state-run nursing homes, despite the huge amount of health care they provide, remain within the realm of social services and so have missed out on health service strategic planning initiatives and information technology (IT) development. Mental health services have similarly missed out, because for a long time they did not form part of mainstream health service provision in Spain but were governed under separate arrangements. Thus, at the time PASOS came into existence, the ever-underfunded Directorate of Social Services in Galicia, whose ethos had traditionally centered on simply providing what help it could to the most needy, had not evolved to a point where the need for a more strategic approach was generally accepted, and no overall clinical information system was in place. The culture change needed to develop such a system was to prove a great challenge, and the lessons learned in this transformation are highly illuminating.
Faced with this situation, policymakers in PASOS and the new, joint regional ministry decided that setting up an information system for LTC facilities was a priority; of the various systems available, they chose to adopt the RAI for nursing homes (RAI-NH) (Calvo et al. 1999).
Thus, the launching of RAI instruments has come about using a different approach to that used elsewhere. In many countries, RAI instruments have first been adopted as research tools in a university department or through the initiative of clinicians, whereas in Galicia they were mandated by managers. Such an institutional approach has obvious dangers: although the needs and priorities of clients are the legitimate end of policy decisions, the link between client needs and policy decisions can easily get lost as management priorities take over and client needs are pushed into the background. In the case of Galicia, the "top-down" approach to RAI implementation has had both positive and negative effects, as will be discussed later in this study.
The PASOS team brought in an outside consulting firm to provide "train the trainers" courses and materials; at the same time, there was a need to develop basic software to enable data to be keyed in at the facilities and stored in a central database. Two unfortunate things occurred at this point.
The first involved a misapprehension of the extent of the RAI-NH instrument. The consulting firm had provided a rather idiosyncratic version of the RAI-NH—a Spanish translation of the RAI-NH 1.0 quarterly form. All concerned apparently thought that the term "quarterly" meant that the 300 items on this form represented only one-quarter of the items included in the full version. This mistake (the quarterly form actually contains about 60 percent of the items in the full version) led the team to reject the idea of introducing the full RAI-NH, which in their minds contained upward of 1,200 items, as too herculean a task, and it opted instead to introduce only the quarterly form, with corresponding software based only on these items.
The second decision—one that, in retrospect, proved prejudicial—involved the way in which the RAI was "sold" to LTC facilities. Although the perceived need for an information system was what had led policymakers to get behind the RAI, this kind of rationale is not nearly so important to those professionals—nurses and care assistants—who are closest to the residents and therefore most crucial to an MDS-based system's successful implementation. The clinical applications of the RAI—its value as a multidimensional geriatric assessment tool and as an aid to care planning—make it highly marketable to these professionals, but Galician policymakers did not emphasize these aspects of the RAI when introducing it. As a result, nurses and other caregivers saw it as little more than a data-collection exercise, with all the negative connotations that this carries. Traditionally, clinical staff, who are trained to give priority to direct patient care, dislike the administrative parts of their jobs. Generally, they see paperwork of any sort as unimportant, time-consuming, "not my job," and, in some cases, as an unwanted means of control by administrators.
Thus, although staff training in the use of the RAI included information about the instrument's clinical, care-planning applications, no one provided either suitable software or even any sort of paper-based system for care plan development. This omission created the widespread notion that the RAI was essentially an information system for others' use. Policymakers were not, at that time, interested in whether clinical staff used the data they collected in their daily work; what they wanted were the data, and they failed to appreciate the strategic need to achieve staff "buy-in" in order to obtain this result. The Galician government mandated use of the RAI by all private providers with nursing home beds contracted by the state and in 1998 made this a statutory obligation for publicly run facilities, as well (the RAI has initially been introduced to the latter facilities as a "recommendation"). The fact that the mandate would not, by itself, ensure timely, accurate data collection was not understood or was pushed aside. As frequently occurs in bureaucratic systems, the need to actively develop cooperation and shared goals with those further down the ladder was not taken into account, as this runs counter to the facile notion of a smooth "chain of command."
In these early years RAI implementation was slow and difficult. Clinical staff's struggle to come to grips with the system via the intermediaries from the consulting firm, language difficulties associated with working with translated materials developed elsewhere, and insufficient information led to misunderstandings and hampered progress. Elections at the national level resulted in key people moving away to other posts; suddenly the PASOS program, initially set up on a modest scale but with high hopes and a view to expansion, found itself marooned in the no-man's-land between health and social services with an unclear role, few "teeth," a minimal budget, and a skeleton staff.
Nevertheless, the team persevered, organizing the training of facility staff and providing IT setup help. But this was not enough to overcome the huge barriers that existed to the use of assessment instruments and computers in nursing homes. The initial error regarding the meaning of "quarterly" went unchallenged for years (with facility staff holding the mythic "full version" of the RAI in horrified awe as an instrument of the devil whose implementation must be resisted at all costs); inputting data using the uninspiring, homespun software was a chore; and the erratic and reluctant manner in which facilities collected and transmitted data meant that the potential of the system was in no way being exploited. Added to this, any strategies to improve the acceptance of the RAI and, in turn, the regularity and quality of data collection were difficult to implement, because nursing homes continued to be the exclusive responsibility of the General Directorate of Social Services; without its key support, little could be achieved. Unfortunately, continued ambivalence within the historically independent realm of social services regarding the purpose of and need for the newfangled information system (and, indeed, the newfangled PASOS program) meant that unequivocal support was not forthcoming; facilities thus received a mixed message, and little progress was made.
Faced with something of a stalemate, the PASOS group decided to turn its attention to the area of home care, hopeful that collaboration with health services via the more forward-thinking Directorate of Primary Care would be more fruitful. Because nursing homes in Spain represent only a very small part of overall care provision for dependent persons, the need to provide a more formal assessment, care planning, and information gathering system for the home care setting is ever more urgent. In 1998, work along these lines began with the translation of the RAI for home care (RAI-HC) into Spanish and a spate of training courses for community-based nurses. Again, however, the limited authority of PASOS meant that implementation required the collaboration of the Subdirectorate of Primary Care. Although initially there had been interest, as time went on enthusiasm for the project waned, personnel and priorities changed, and the initiative floundered. Political rhetoric about the desirability of home care was not matched by a corresponding level of investment and political commitment; the construction of nursing homes has continued apace and the structural and attitudinal changes necessary for developing home care as a viable alternative have not yet been seriously tackled.
Nevertheless, new developments at the national level were just around the corner, and the groundwork that had been done on the RAI-NH and RAI-HC in Galicia was to be put to good use.
Cataluña
Cataluña (also spelled Catalonia) is a modern, industrialized region in northeastern Spain with a population of about 6 million; 16 percent of Cataluña's people are over the age of 65. Situated on the French border, it is perhaps the most "European" of Spanish regions and one of the richest parts of Spain. Like Galicia, Cataluña is one of the historically independent Autonomous Communities, and the region has full responsibility for running its own health service.
Because of the different historical financing structure of the Cataluña health service, interest in the RAI on the part of the Administration focused mainly on the Resource Utilization Groups (RUGs). A strong infrastructure composed of multiple insurance-based health service providers meant that when universal heath care provision became the norm throughout Spain, the model adopted in Cataluña was essentially one in which the state contracted out services to multiple providers. In such a situation, the need to organize appropriate reimbursement systems is a key issue, and one of considerable complexity. Although providers are interested in the care planning and quality control aspects of the RAI instruments, these applications have not so far been a priority area for the Cataluña health services.
The creation in 1986 of the Vida als Anys ([Adding] Life to Years) program was a key move in the transformation of long-term care, integrating health and social services for the sick elderly, the chronically sick and those in need of terminal care (Programa Vida als Anys 1998; Salvá et al. 2000). The program was co-financed by the General Directorate of Health Service Economic Resources (DGRESS) and the Catalan Institute of Social Services and Assistance (ICASS), with both entities under the jurisdiction of the Department of Health. This modelo sociosanitario, nevertheless, was still distracted by the need to differentiate between the "health" component (since Spanish citizens have the universal right to free health care, at the point of access) and the "social" component (since those who receive social services can be charged according to their means). Given this complex situation, providers indulged in various forms of gaming (e.g., admitting a disproportion of light-care cases). In an attempt to redress this imbalance, rationalize admission criteria, and restore equity, policymakers made the decision in the early 1990s to adopt a case mix-based payment system. Policymakers looked to the United States for inspiration and, given the limited applicability of Diagnosis Related Groups (DRGs) outside the acute sector, chose to follow the lead of the U.S. Health Care Financing Administration (HCFA) and considered using the RUGs for medium- and long-stay patients.
By 1995, initial trials with early versions of the RUGs were being abandoned in favor of the more detailed RUG-III classification, but despite progress in the collection and analysis of RUG-III data, Cataluña has not yet implemented a casemix-based payment system. A RUG-III cost validation study, applying real Catalonian times and salary scales, is currently under way, but RUG-III is still regarded as a complementary tool (adjustment tool) for payment.
Since 1994, regular cross-sectional studies of the clinical and management applications of the RAI have been performed in both long- and medium-stay units, and detailed information on the clinical characteristics of these populations (on the facility level and in the aggregate) has been fed back to providers (SCS 1996). In 1999, Cataluña mandated use of the RAI-NH 1.0 (in an early Spanish translation), and providers have access to annual reports containing epidemiological data on clinical characteristics, outcomes, and comparisons between health care areas.
Despite these efforts, the strong tradition of contracting out services to private providers, which so characterizes health services in Cataluña, has impeded progress toward universal implementation of the RAI. For example, whereas policymakers elsewhere have earmarked public funding to facilitate training, assist in software development, and so on, this approach has won few followers in Cataluña, where care providers have largely been left to fend for themselves when setting up assessment instrument-based initiatives. Because of this, policymakers are not in a position to insist on the use of any one particular instrument or information system in a sector characterized by economic fragility, and although it is accepted that the RAI is the most developed technology in this area, adoption of the full MDS with all its components (RAPs, care planning, quality indicators [QIs], etc.) is seen as a gradual process. Individual providers continue to decide for themselves if and when to expand beyond the minimum requisite MDS 1.0 data.
Around 1997, the RAI-CAT (RAI Cataluña) group formed, in response to providers' interest, as a means of promoting the wider application of RAI methodology. Even so, the RUG system's potential to function as a stepping stone to the wider application of the RAI in care planning and quality control has not been fully exploited. To date, progress has been modest, and it will remain so until policymakers make a firmer investment in "marketing" the RAI effectively.
Madrid
Madrid, Spain's capital, is a densely populated city with about 3 million inhabitants in the city proper and a total of 5 million in the Autonomous Community of greater Madrid. Persons over the age of 65 make up 13.5 percent of the population. Until 2002, health services for the Madrid area were not devolved but were still run by INSALUD, while personal social services, as in the rest of Spain, are funded and organized by the regional government of greater Madrid.
In the Madrid area, the use of the RAI system initially arose as part of a quality initiative on the part of the Regional Social Welfare Service (Servicio Regional de Bienestar Social, or SRBS). SRBS officials, conscious of how far services were being stretched as demographic changes kicked in and also aware of the increasing demand by consumers and their families for quality care, began to develop a plan to address quality issues in facilities for the elderly (SRBS, no date). Part of this initiative centered on identifying appropriate staffing levels and, therefore, on the need to classify residents according to functional levels and associated workloads. To aid in this, the SRBS introduced the RUG-I system (based on the MDS) in 1996, and developed supporting software. Researchers classified residents in 19 of 25 facilities run by the SRBS according to the RUG-I case mix system and observed some interesting things, in particular, that the case mix of a facility bore no relation to the type of facility it supposedly was. Facilities designated "nursing homes" had the same proportion of light cases as those designated "residential homes." Unfortunately, this interesting initial effort using an MDS-based tool was put aside as leadership and priorities changed, and the IT network set up to transmit data around the system fell into disuse.
In 1998, a new initiative using the MDS began in Madrid, again via the SRBS, but this time with a highly clinical slant (Burgueño et al. 2001). The SRBS devised an ambitious project with a strong focus on the training of clinical staff, the development of suitable forms to be used by care assistants to record care processes, and "before" and "after" studies using the MDS quality indicators to assess the impact of the new, multidisciplinary way of working. Knowledge of the RAI methodology was to become a requirement for staff and incorporated into job descriptions; incentives were to be devised; and new care-assistant coordinators, who would be responsible for overseeing all the documentation and the application of the care plans, were to be designated. Ten facilities were selected to pilot the use of RAI, and one particular center was designated for full implementation of the new plan.
A year and a half into the new project, all concerned were reeling from the impact. Although staff in the principal pilot center perceived the RAI system as beneficial for residents in terms of the increase in multidisciplinary working and the systematic evaluation of residents' needs and problems, it had proved impossible for staff to keep up with the new initiative in all its facets, and a sense of confusion and disarray prevailed. Record keeping was inadequate, and staff were unable to carry out evaluations at the required intervals. As a result, an "assess and file" approach to the MDS developed without the required follow-through to the use of the RAPs and the drawing up of care plans. Evaluations were carried out "in bulk" and in a rushed manner, and RAI-type integrated care planning did not mesh well with the facilities' traditional, task-based approach. "Too much too soon" seemed to be the prevailing opinion. In response to this, the SRBS slowed down the initiative, but further managerial reshufflings meant that key people were no longer available to oversee the project, and so yet another RAI initiative was put aside.
Other Efforts
Meanwhile, other projects in Spain were exploring various uses of MDS-based systems. For example, the Autnomous Communities of Valencia, Madrid, and Cataluña undertook a joint project to validate RUG-III against the PLAISIR system developed in France. (Carrillo et al. 1996; Tilquin 1993). In Asturias, a RAI research group formed. And in the Canary Islands clinical geriatricians tried out RUG-III as a means of differentiating different levels of care (Alastuey et al. 2000).
NATIONAL DEVELOPMENTS
The story so far has been a tale of disconnected, sporadic, and at times benighted projects in different parts of Spain, but these initial efforts did serve a purpose (Calvo et al. 1999): the seeds had been sown. In 1998, as a result of a conference in Santiago on the RAI system, at which an Italian interRAI fellow, Roberto Bernabei, had spoken, a meeting took place between Bernabei and representatives from the Ministry of Health, the PASOS program, and those working with RAI in Cataluña (PVAA). Despite the setbacks, those with firsthand experience believed that the RAI system had potential in Spain as a means of unifying criteria, developing compatible information for use within the LTC sector, and, ultimately, improving quality of care. The meeting's participants therefore decided to join forces and try to create a national project with a licensing agreement to be signed on the use of RAI instruments covering the whole of Spain (rather than separate regional agreements). At that time the PASOS group was in the best position to produce a set of official translations of the RAI family of instruments, and it was agreed that PASOS should be the lead group in Spain for this purpose. The expectation, however, was that once this phase was completed, the central government would adopt the project and coordinate the distribution and implementation policy.
This was the beginning of a more fruitful phase. The direct connection that had been established with the interRAI group meant that the need to work through consulting-firm intermediaries was eliminated. Work began on the translation of the most recent versions of four interRAI instruments (NH, MH [mental health], PAC [postacute care], and HC). Pieces of the puzzle began to fall into place as the full MDS 2.0 became available and the function of its different elements (RUG-III, QIs, RAPs) as well as the interrelationships between the various RAI instruments became clear.
The RAI-España project progressed as the idea was put forward in various official forums in which representatives of all regions, not just those currently working with RAI, participated. In a country just breaking free from a 40-year tradition of strong central government control, however, achieving a balance between national and regional decision making continues to be a challenge, and reaching agreements can be a lengthy process. Certain regions value their hard-won autonomy so very highly that any perceived imposition by the central government is not well received; on the other hand, the relative newness of the regional government setup means that those involved have had limited experience in how to successfully negotiate collaboration between regions.
In addition, the fact that the RAI instruments are designed for use with persons who have both health and social care needs means that it is important for professionals from both health and social care disciplines to be involved. So that both sectors would develop a sense of "ownership" of the RAI-España project, the Ministry of Health and the Ministry of Work and Social Affairs sought a joint agreement with interRAI. By late 2000, the agreement had not been signed, but some progress had been made: the Comision de Aseguramiento y Planificacion Sanitaria had put forward a proposal on the nationwide adoption of RAI methodology to regional representatives, and the plenary session of the Consejo Interterritorial had ratified the proposal on December 18, 2000. Discussions had also taken place regarding the use of the RAI/MDS as the basis for a national database analogous to the acute care sector's DRG database.
Since then, however, an important change has occurred. The old INSALUD (the centrally run national health service) was dissolved in January 2002, and all regions are now responsible for their own health services. Because of this structural change there have been many changes of personnel in the Ministry of Health in Madrid, and the RAI-España project has suffered. The possibility of a national agreement coordinated by the central ministry has receded, and it now looks as though each region will have to sign up for the RAI project individually. In view of this, the Galician ministry has taken the lead by formalizing an agreement with interRAI for the Galician region. All this serves to highlight the difficulties of progressing with long-term projects such as RAI in a constantly changing political environment.
Meanwhile, on the grassroots level, clinicians, facility managers, and local management teams in many regions have demonstrated interest in the RAI. In Cantabria, a new combined Directorate of Health and Social Services for dependent persons has been set up and has organized staff training with a view to the implementation of the RAI-NH and RAI-MH in all relevant facilities. Plans to launch the RAI-NH are also under way in Aragon. In Madrid, the SRBS is studying the possibility of using RAI data to set up a single-point-of-entry system. Interest in the RAI-HC also increased, with Galicia undertaking a large-scale, population-based needs assessment that used this instrument to look at care needs and their distribution among the noninstitutionalized elderly. And Cataluña, Castilla Leon, and Galicia have joined forces to finance support software for the RAI-MH.
Pending the full-scale adoption of the RAI-España project at the central level, the PASOS program was acting as the main coordinating center for much of this activity. Training continued to be a priority, and, to meet the growing need throughout Spain, it developed and piloted a new distance-learning course in 2001. On the IT front, once the RAI translations were completed, attention turned to the need to incorporate the instruments into updated, user-friendly software—both to support the Galician initiative and to facilitate the rollout of MDS-based systems in other regions. This software was developed, and the software company formalized a contract with interRAI to produce and distribute RAI-NH software commercially. Data sets (dating back several years) for Galicia and Cataluña are now available, and, even allowing for the fact that neither is based on the full MDS, it is possible to observe certain trends.
Nevertheless, the challenge remained of introducing the full instrument so that all the investment in training and IT could be taken advantage of. And on this front, too, an important setback has occurred. Following regional elections in Galicia in September 2001, health and social services again separated into two ministries; the PASOS program and the RAI database came under the auspices of the health ministry, while residential facilities for the elderly were placed under the social service ministry. Coordination has been difficult, and work using the RAI-NH in residential facilities has stopped and started. It is possible, however, that this situation may undergo another reversal within the next few years.
Despite these recent setbacks, the RAI continues to make progress in Spain. Professionals and managers increasingly perceive the need for tools such as the RAI family of instruments at the health care-social care interface, and they appreciate the benefits of a common language to the complex and rapidly expanding area of LTC provision.
The early work with the RAI has undoubtedly had an impact on this progress. Though some projects have proceeded slowly, and some have been aborted, the experience gained has been valuable, and the pioneer groups have certainly raised awareness of the issue of multidimensional assessment and information systems at the health care-social care interface. As with other forms of cultural change, there was an initial phase of sporadic activity by "mad enthusiasts" whose work was initially dismissed but gradually gained ground and aroused interest. In 2002, the annual Health Care Management and Cost Evaluation Conference sponsored by Madrid's SIGNO Foundation for the first time included a symposium devoted entirely to classification systems for the medium- and long-stay sector. A number of key people were invited and presented RAI-related projects. RAI technology now forms part of the National School of Health Studies' management curriculum for the LTC sector. Several postgraduate nursing courses now include units on the RAI and multidimensional assessment. Without the experience and expertise gained in the early phase, none of this activity could take place.
At a management level, the fact that there are now people around who can say, "We've been using this, and what we've found is this" makes MDS-based assessment an attractive proposition for regions starting to set up information systems in the LTC sector—much more attractive, that is, than alternative systems with which no one has any experience. Understandably, managers can feel nervous when faced with the prospect of instigating major organizational change; they may perceive the need, but they worry about the unforeseen consequences of their actions. Where time spans are lengthy and budgets are large, these anxieties increase, so the experience of others "who've been there" is of paramount interest. That these experiences have not been entirely positive does not matter—managers know and accept that few projects are unqualified successes, but they do feel better when they have some idea of what to expect. Equally, the fact that the RAI is being introduced in many other European countries as well as being used in the United States increases its appeal, because policymakers familiar with acute-sector DRGs immediately grasp the advantages of using a data system that is internationally recognized and internationally compatible.
All the same, it can probably be said that, to date, the main impact of RAI data on policymaking and policymakers in Spain relates not to the content of the MDS data but to the simple fact that the data exist. So far, Spanish clinicians, managers, and researchers have made little use of any of the information, and if there has been any improvement at all in the lives of elderly persons attributable to the implementation of MDS-based assessment, that improvement remains to be defined and documented. What is undoubtedly true, however, is that the advent of the RAI has produced an irreversible shift in perspective among those responsible for service planning and provision. We now speak of a "before" and an "after" in long-term care, and before and after are defined in relation to the RAI. For the first time, the "content" of nursing homes can be described in a standardized format, with facts and figures; graphs can be drawn of RUG-III weightings, and quality indicators can be derived. This may only be true in a small number of facilities, the data may be out of date, and the coding may even be wrong, but in a certain sense this does not matter: the implications of the system are profound, and in many senses a point of no return has been crossed. Progress may be erratic and unnecessary duplication of work may continue to occur as new regions pass through the initial phases of RAI roll-out, but although it is possible to procrastinate by "reinventing the wheel," it is not possible to uninvent the wheel.
LESSONS LEARNED
Experience and hindsight always reveal many things that could have been done differently, and the implementation of RAI in our setting is no exception. Among the many lessons that can be learnt from the Spanish experience, three in particular can be highlighted:
The need to promote the RAI as a clinical system rather than an information system
The need to be clear about the nature of the task and the resources to see it through, and to be realistic about how much clinical staff can be expected to take on within a given period of time
The realization that an institutional mandate does not obviate the need to gain and maintain grassroots support
Each of these lessons is worthy of being discussed in detail.
The RAI as a Clinical System
Much as it may frustrate those responsible for setting up and running information systems, clinical staff often fail to be enthused by them. This is true for several reasons, some "good" and some "bad" but all relevant. It is important to identify and address cultural obstacles, not just ignore them.
Even when explaining the system to managers and policymakers, who it might seem would focus especially on the information system, quality assurance, and financing applications of the RAI, it is important to get the "clinical relevance" point across very clearly. Otherwise this message will be lost when these people, in turn, set about implementing the system in their facilities. A single unfortunately worded memo communicating the imminent installation of new computers to support the "new information system and data-processing package" can be enough to antagonize and lose the support of a considerable number of key people, who will then have to be wooed back if the system is to have any chance of success.
That said, this clinical emphasis does not mean that one can forget about the data-handling aspects of the system. The need for good quality software and ongoing IT support should also be priorities, as these, too, are fundamental to success. After all, mayors do not feature mundane matters such as domestic water supplies when promoting their cities, but that does not mean that it doesn't matter if the water system doesn't work properly. It just shouldn't be made an issue of.
Clarity and Realism
All new initiatives require resources, but it is often very difficult to secure adequate funding and staffing in an arena full of multiple, competing priorities. This can lead to a heroic approach by a team convinced of the importance of a new project and eager to get it under way at all costs. Optimistic slogans such as "The important thing is to get started," "We'll manage somehow," and "Once they see the usefulness of it, it will be easier to get the money" may dominate people's thinking and obscure the realities of the situation.
Certainly, charismatic managers may on occasion pull off remarkable feats with short-term, high-profile initiatives using this "wing and a prayer" philosophy—for example, mobilizing the good will of hundreds of professionals in dramatic drives to cut the hip replacement waiting list by 50 percent in two months or to vaccinate thousands of schoolchildren against meningitis in a week. But such an approach is much less viable for long-term projects such as RAI implementation.
Setting up a complex information system-cum-multidisciplinary clinical working method in a sector previously accustomed to neither is a big, time-consuming task, and the benefits will not be felt until it is well under way. Until clinical staff overcome cultural barriers and become familiar with the new system, they will not feel comfortable with it nor reap the rewards in their daily work; until data sets begin to span a reasonable period of time and trends can be distinguished from blips, managers and researchers cannot make full use of the data. Services and staffing ratios cannot be changed overnight even with a pile of colorful graphs to back up the case, and residents cannot be uprooted from facilities simply because data suggest it would be more rational for them to be placed elsewhere. In short, it's a long haul, and it is important to be clear about this and about the resources that will be needed to give the project a fighting chance.
The three main tasks for which time, funding, and expertise are needed are (1) translating the instruments and manuals and keeping up with the appearance of new versions, (2) training staff in a rolling cycle of training programs that keeps up with staff turnover, and (3) developing software and instituting ongoing IT support for facilities.
Where clinical staff are concerned, be patient as they attempt to come to grips with the new system. Consider an incremental approach: although assessments are supposed to be carried out at three-month intervals, six-month intervals may be more realistic to begin with. Focusing on new admissions is another way of getting started, as is setting a specified number of evaluations to be carried out per month until, gradually, all residents have been assessed. The same goes for RAI/RAP-based care planning. Until staff become accustomed to using the table of triggers, the RAPs, and the manual, they are likely to find this very time-consuming. Expecting detailed care plans to be drawn up for all residents immediately on completion of every assessment is therefore unrealistic. Setting a more modest objective ("Attempt to write a multidisciplinary RAP-based care plan for one new resident per week") allows staff to try out (and perhaps even enjoy!) the new system, and it enables them to gain a sense of achievement as they master the process and meet the objective. Once the process is under way, things can be stepped up. Certain tasks, however, should perhaps not be done incrementally: the sinister accumulation of boxes and boxes of completed MDS forms—with no one free to input the data and no software set up for the task—is anxiety-provoking and serves no useful purpose, so aim to introduce support software into facilities at the same time that the forms are introduced.
Grassroots Support
There are advantages and disadvantages to mandating the RAI instruments. If there is no mandate, then, as Ikegami and Nishiyama comment in their case study in this report, providers cannot complain that the instrument has been imposed from above. Implementation may be difficult, but it is more "genuine." Granted, a national government initiative mandating the use of the RAI may seem highly desirable to researchers, managers, or program coordinators battling to persuade unwilling or skeptical professionals to participate in a system whose merits they are highly convinced of. But, mandate or no mandate, clinical staff and facility managers must also be sufficiently convinced of the benefit to themselves of adopting the system, or the initiative will fail. If the system is mandated, they will of course "feed the beast" from time to time, but the arbitrary and cynical ticking of boxes that this generates is of little value to anyone and is potentially so misleading as to be dangerous.
Equally, if government mandates are being considered, it is important to be careful about what is actually mandated. If collecting MDS data is made compulsory but this new responsibility is not incorporated into the contracts of the relevant staff (with all the usual trade-union negotiations that such moves imply), this can place facility managers in an impossible situation. On the one hand, they will find themselves with a statutory obligation to send in data at regular intervals; on the other, they will have no means of obliging care staff to document their activities in such a way that MDS assessments can be accurately completed.
THE FUTURE
Future strategies for addressing the issue of dependency are currently being debated in two important forums in Spain: in Parliament, via a cross-party commission, and within the framework of the Toledo Pact, a highly regarded structure that acts as a meeting point for government, trade unions, and representatives of the business community. Recommendations regarding measures to be promoted in Spain were due to be formulated by summer 2002 (although by spring 2003 they have not yet been circulated), and it seems clear that these measures should include an outline for suitable legislation to be incorporated into a new law on dependency. Taking into account experiences to date, the new legislation will have to offer some type of protection or coverage against the risk of becoming dependent that is applicable to all citizens, guarantees the constitutional principle of equal access for equal need, and, at the same time, is economically sustainable.
The new legislation will have to provide an updated conceptual framework regarding the definition of dependency and its different gradations, with special attention to a person's ability to manage different aspects of daily life. Of particular importance in Spain is the delineation of areas of responsibility (economic and operational) in both a vertical sense (national government versus regional government versus local authorities) and a horizontal sense within any of these three levels (e.g., the finance department versus the health service versus the social services agency).
Those drawing up the legislation will also have to specify the services to be included and to define the eligibility criteria for those services, as well as to set out the means of accrediting nursing homes and other centers for dependent persons, including accreditation criteria and quality-control regulatory mechanisms. All of these things are impossible without an appropriate instrument. The RAI is a likely candidate because it fulfills a variety of functions. It confers the ability to assign users to categories requiring different levels of care and different levels of resources—a key task when determining eligibility and suitable placement—and the quality indicators can be used in conjunction with other measures for accreditation purposes (albeit only with reference to the clinical aspects of facilities).
The RAI's attractiveness also grows out of the increasing familiarity with the MDS among professionals and policymakers throughout Spain, and from the fact that it can be mounted on a range of current IT platforms and easily linked to existing clinical and administrative IT systems. The fact that the RAI system comprises a whole family of instruments allows for coverage of a wide spectrum of dependent persons in a range of settings and makes it particularly attractive to managers. Not only nursing homes but also home care, mental health care, and, with the advent of new additions to the RAI family, palliative care and assisted living facilities are all included, thus avoiding the need to learn about and implement many separate systems, each with its own criteria, coding norms, and quirks. Again, the ability to derive quality indicators from the same system has obvious appeal from a management perspective, both at the regional and the facility level.
Beyond eligibility, service allocation, and quality control, another key area is the very practical issue of financing. Spain has traditionally tended to fund almost all health care services with public money drawn from the general budget. There is very little private participation—e.g., only 7 percent of total drug expenditure—despite the fact that about 8 percent of Spain's people choose to subscribe to private health insurance as an alternative to the public provision (to which they nevertheless remain entitled). In the area of social or personal care, however, there is more of a culture of shared costs, and a problem therefore arises regarding the care of dependent persons. Often, a dependent person's condition includes a significant medical component, and this mixed situation raises questions about who should bear the costs of care. What is not in doubt, however, is the idea that protection should be universal, with no citizen left unprotected.
Universal public funding of all services for all degrees of dependency does not seem viable in the current climate of ever-rising health care costs. Given this reality, the most likely scenario is one in which full public funding will be reserved for situations of very high dependency, with the bulk of demand being covered by some mix of public and private financing. It will nevertheless be difficult to put this idea into practice, because it is unlikely that individuals will decide to take out insurance against dependency unless mechanisms are put in place that oblige them to do so. With Spain's strong tradition of state provision in health care, and given the cultural tendency to live in the present and postpone planning for the future, the average Spanish citizen is inclined to take the view that when the problem arises, if it arises, something will turn up. In this respect the government has an important task ahead of it, although cross-party agreements, in particular if they have the support of social agencies, would facilitate matters considerably.
Spain could therefore end up with a two-stranded system of coverage: full public funding drawn from general taxation of care for persons with a very high level of dependency and mixed funding, along the lines recommended by the Organization for Economic Cooperation and Development (OECD), for persons with lower levels of dependency, with voluntary or obligatory private subscriptions making up the difference. Included in the category of high dependency would be those who require continuous and long-term ADL support (necessitating residential care) and/or who have concurrent chronic medical conditions. The RAI's power to help decision makers distinguish among levels of dependency is of key importance: the application of RUG-III groupings allows levels of dependency to be clearly identified in a systematic manner, separating out the high-dependency cases worthy of full public funding from the rest. Because the relative costs associated with each resident can also be defined, formulas for copayment that accurately reflect the costs incurred can be devised where required. For persons not classified as high dependency, the voluntary or obligatory insurance scheme would then come into play, bearing the corresponding proportion of the cost and making services free at the point of use for the insured.
Implicit in all the above is the fact that a law on dependency passed by the Spanish Parliament would provide a perfect opportunity to legally mandate the use of instruments allowing us to describe, plan, and manage the vast range of activities involved in caring for dependent persons. From long-term political decision making, through management and coordination of services in both the public and private sphere, right down to the day-to-day work of actually delivering care, the RAI's range of evaluation instruments offers a set of fundamental tools to aid us in this challenging area.
The system's ability to contribute to a tangible improvement in the quality of care and quality of life of dependent persons is always going to be the bottom line, and the benefits that professionals and their clients experience—whether directly or indirectly—as a result of RAI implementation will be the ultimate test of the system's utility. These benefits may come in the form of a more timely, truly needs-based allocation of services; a more sensitive and equitable set of eligibility criteria; or an improvement in the quality of day-to-day clinical care, but without such benefits the system cannot truly be said to have met its objective. We have not yet reached a point in Spain where the benefits can be assessed, but the RAI's potential to make a positive contribution is increasingly appreciated, and experiences in other countries point toward the important changes that can be brought about. For these reasons, implementation efforts continue in Spain, and we need to keep a close watch on future developments.
REFERENCES
Alastuey Jiménez, C. E. Corujo Rodríguez, E. Núñez González, D.G. Pérez Hernández, S. Rodríguez Moreno, and M. Socorro Monzón. 2000. Grupos de uso de recursos (RUG III) y niveles asistenciales en Geriatría. Revista Española de Geriatria y Gerontologia 35(3):127–36
Burgueño Torijano, A.A., M.P. Rodríguez de Velasco, P. Ramos Cordero, and A.L. Hernando. 2001. Evaluación del pilotaje de implantación del RAI en las residencias públicas de la Comunidad de Madrid. Agathos 1:30–7.
Calvo López, L., J.R. Gómez Fernández, I. Gómez Tato, R. Mateo Rodríguez, M.J. Rubio Vidal, and M.P. Salinas Buján. 1999. Conjunto Mínimo Básico de Datos Sociosanitarios. Administración Sanitaria 3(11):95–107.
Carrillo, E., A. García-Altés, S. Peiró, E. Portella, C. Mediano, B.E. Fries, F. Martínez, A. Burgueño, E. Vallés, M. Estrem, and J.L. Martínez Zahonero. 1996. Sistema de clasificación de pacientes en centros de media y larga estancia: los Resource Utilization Groups Versión III. Validación en España. Revista de Enfermeria Gerontologica 6:276–84.
Centro de Investigaciones Sociologicas (CIS). 1996. Apoyo informal a las personas mayores (2° fase), CIS 2117. Revista Española de Investigaciones Sociológicas 73:293–7.
Centro de Investigaciones Sociologicas (CIS). 1999. La Soledad en las Personas Mayores, CIS 2279. Datos de opinion CIS (1999), no. 2.
Diario Oficial de Galicia. 1996. Decreto 63/1996. Santiago de Compostela: Xunta de Galicia.
Diario Oficial de Galicia. 1998. Decreto 48/1998. Santiago de Compostela: Xunta de Galicia.
Instituto Nacional de Estadística (INE). 1999. Encuesta sobre discapacidades, deficiencias y minusvalías. Madrid.
Ministerio de Sanidad y Consumo (MSC). 1995. Encuesta nacional de salud de España 1993. Madrid.
Ministerio de Sanidad y Consumo (MSC). 1999. Encuesta nacional de salud de España 1997. Madrid.
Morán Aláez, E. 1999. Estimación de la población dependiente y de sus características sociodemográficas. Madrid: IMSERSO.
Plan Estratéxico, Programa de Atención Sociosanitario, Conselleria de Sanidade e Servicios Sociais. 1999. Santiago de Compostela: Xunta de Galicia.
Programa Vida als Anys. 1998. Valoració Funcional Multidimensional en Població Atesa en Serveis Sociosanitaris a Catalunya: El conjunt Mínim de Dades Sociosànitaries (Resultats de enquesta de 1996–1997). Barcelona.
Salvá, A., D. Llevadot, S. Llobet, F. Martínez, M. Miró, E. Vallés, and M.A. Viedma. 2000. La Atención Geriátrica en Cataluña. Año Gerontológico 2000. Barcelona: Doima.
Servei Català de la Salut (SCS). 1996. Característiques Clinicoassistencials dels Pacients Internats en Centres Sociosanitaris de Catalunya. 1st ed. Barcelona: Generalitat de Catalunya, Departament de Sanitat i Seguretat Social.
Servicio Regional de Bienestar Social (SRBS). No date. Informe Sobre La Situación Actual del Programa de Mejora de la Calidad en los Centros Dependientes del Servicio Regional de Bienestar Social de la Comunidad de Madrid. Internal report (personal communication).
Sociedad Española de Geriatría y Gerontología (SEGG). 2000. Análisis de necesidades y recursos de la atención a las personas mayores en España. Madrid: Edimsa.
Tilquin, C. 1993. PLAISIR: Planifications Informatisée des soins infirmiers requis—Guide de l'usager. Montreal: Equipe de Recherche Operationelle en Santé.
Further Reading
Casado Marín, D., and G. López Casasnovas. 2001. Vejez, Dependencia y Cuidados de Larga Duración. Barcelona: Fundación La Caixa.
Casado Vicente, V., F. Sevilla Pérez, and J. Elola Somoza. 1998. El Plan de Salud del Ministerio de Sanidad y Consumo. Medicina Clínica 110(7):265–74.
Martin-Moreno, J.M., J.M. Ribera-Casado, A. Kalache, F. Rodríguez Artalejo, F. Bermejo, S. Grisolía, D. Roter, J. Damián, L. Rodríguez Mañas, A.J. Cruz-Jentoft, et al. 2001. Informe global del grupo de investigadores e el área de envejecimiento del encuentro Mahón-2000. Revista Española de Geriatria y Gerontologia 36(suppl. 3):45–8.
Puga, M.D. 2002. Dependencia y necesidades asistenciales de los mayores en España. Una previsión a 2010. Madrid: Fundación Pfizer.
Stone, R.I. 2000. Long-Term Care for the Elderly with Disabilities: Current Policy, Emerging Trends, and Implications for the Twenty-First Century. Available at http://www.milbank.org/reports/0008stone/index.html. New York: Milbank Memorial Fund.
World Health Organization and Milbank Memorial Fund. 2000. Towards an International Consensus on Policy for Long-Term Care of the Aging. Geneva and New York.


---

A Thread from Many Strands: Assessment, the InterRAI MDS System, and Health and Social Care Policy in England and Wales
G. Iain Carpenter and David Challis
EXECUTIVE SUMMARY
The role of the interRAI MDS assessment system in the England and Wales has developed within the evolving pattern of health and social care for older people over the past 15 years. It is clear that it will have a significant and likely growing presence and influence.
In the United Kingdom, health care is provided free to all and funded through general taxation via the National Health Service, a central government responsibility, while personal social services (or social care) are means tested, managed, and funded (albeit predominantly through central taxation) by local government.
Current U.K. policy in health and social care of older people had its roots in policy developments in the 1980s and early 1990s. Health care provision was separated into "providers" and "purchasers" with the aim of improving efficiency and accountability for expenditure. Social services were required to be provided following a formal assessment of need.
Legislation was introduced to clarify the responsibilities of health and local authorities for provision of long-term community- and institution-based care of older people. At the same time, traditional long-term hospital-based geriatric medicine services were reduced. The principal criterion for determining responsibility for care was that health care should be an NHS responsibility and free at the point of delivery. By contrast, social care, which includes non-nursing support with activities of daily living, should remain the responsibility of Social Services and therefore subject to means testing, along with the "hotel" costs of long-term care. By and large the separation between health and social care became one of acute and long-term care responsibility.
The change of government in 1997 brought a further round of developments, and policy related to quality of care and more efficient use of hospital and community care services was further refined. The government introduced mechanisms for integrating health and social care and this was made a policy priority. Growing pressures on hospital beds focused attention on more efficient use of hospital, rehabilitation, and long-term care. Issues such as avoidable admission to and delayed discharge from hospital, appropriate settings, provision of rehabilitation, and improved assessment of need were highlighted. Services intended to provide a greater range of care between hospital, primary, and nursing home care have been developed—termed "intermediate care"—and the National Service Framework for Older People setting national standards for care of older people was published in 2001. The latter outlined a requirement for a Single Assessment Process (SAP) to provide valid, reliable, comparable assessment of need across health and social care settings. New statutory bodies have been created to regulate the standards of care and use of public resources across public, private, and independent social and health care organizations. The practical field-level requirements of the former and the information requirements of the latter provide fertile ground for the wider implementation of the MDS assessment systems.
With respect to community-based care, a review of currently used assessment instruments and an evaluation of the use of standardized assessment for monitoring outcomes of care both found that the interRAI MDS system provided by far the best coverage of the domains of potential care needs and measures of performance at individual and aggregate levels. Social workers who had not had a tradition of standardized assessment felt, however, that the MDS approach risked being too lengthy, was "too clinical" and did not record individual preferences and priorities. Lessons from this have fed into training, the government's Single Assessment Process, and some local modification of presentation of the MDS while maintaining its integrity.
In nursing home care, the government response to the Royal Commission on Long Term Care (1999) required health authorities to pay for nursing costs in nursing homes, defined as the Registered Nurse Contribution to Care (RNCC). A project funded by the Joseph Rowntree Foundation demonstrated that Resource Utilization Groups (RUGs), which are embedded within the MDS-RAI, could reliably differentiate residents who received different amounts of registered general nursing care time.
These strands of policy and interRAI MDS assessment system research have come together in a unifying thread under the auspices of interRAI-UK, a national charity established by the Joseph Rowntree Foundation, the Norwich Union insurance company, and interRAI. The coordinating focus of interRAI-UK has supported the development of high-quality computer software and the dissemination and implementation of the MDS-RAI and MDS-HC in England and Wales. The MDS is listed in Department of Health (DoH) guidance on the Single Assessment Process and is steadily being introduced by a number of providers of community-based and long-term care. The layout and presentation of the MDS assessment forms and software have been modified in response to DoH requirements and the concerns of assessors. Forms are being actively marketed by licensed suppliers. Changes in the organization and funding of health care with an emphasis on devolving responsibility for commissioning health care to newly configured local health care organizations and new requirements for closer integration of health and social care of older people are only now settling down. "What happens next" will determine the extent of the role of the interRAI MDS assessment systems. It is already clear, however, that they will have a significant and likely growing presence and influence in England and Wales.
INTRODUCTION
Writing in The Lancet more than 50 years ago, Marjory Warren expressed concern about the poor quality of assessment and the lack of rehabilitation of older people and stated that the key factors for successful care included individual patient assessment, patient involvement, and promoting independence (Warren 1946).
More recently, assessment has become a key part of the agenda for improving the quality of care for older people. Assessment entered the formal arena of public policy in the United Kingdom in the National Health Service and Community Care Act 1990, following the release of the white paper Caring for People (Cm849 1989), which made good-quality assessment and care management the cornerstones of care. The white paper viewed assessment as the key function for ensuring that people's needs are met in the most appropriate and cost-effective manner and in the right place.
The emphasis on the importance of assessment continued through the 1990s, with the focus on multidisciplinary assessment (Department of Health 1997). Key areas identified in The NHS Plan (Cm4818-I 2000) were the prevention of hospitalization and excessive lengths of stay through provision of preadmission and rehabilitation care, along with the development of a unified Single Assessment Process (SAP). The National Service Framework for Older People (Department of Health 2001) specifically details the domains and form of the SAP, whose aims are to ensure a more standardized assessment process across all areas and agencies, to raise standards in assessment practice, and to assess older people's needs "in the round" (Department of Health 2001, paragraph 2.27).
The need to improve quality to ensure that a person receives the right response at the right time has underlain a range of reforms in the United Kingdom—and assessment is at the very heart of quality of care. This case study has three focuses: First, it briefly summarizes policy developments in the United Kingdom and, more lately, in England. Second, it discusses some of the key developments in standardized assessment based on the Minimum Data Set (MDS). Third, it considers some of the processes through which national standardized assessment has been developed and looks at the potential contribution of the MDS to improved care for frail older people.
BACKGROUND
In 1999 the United Kingdom's population stood at about 59.5 million, distributed through England (49.7 million), Wales (2.9 million), Scotland (5.1 million), and Northern Ireland (1.7 million). Sixteen percent of the population was aged over 64, and 3.3 percent over 84 (Office of National Statistics 2001). This represented a 5.8 percent increase in the number of those over 64 and an 18.7 percent increase in those over 84 since 1980. By 2021, the United Kingdom will have 31 percent more people over 64 than in 1999 and 40 percent more who are over 84.
The United Kingdom, through the National Health Service (NHS), provides all its citizens with free health care, funded through general taxation. Health care is a central government responsibility, while personal social services (PSS) are means-tested, managed, and funded by local governments (albeit predominantly through central taxation). In 1998-99 the total NHS expenditure was £54 billion, or approximately 6.8 percent of gross domestic product (OECD 2001). Forty percent of the current Hospital and Community Health Services expenditure is spent on people over the age of 65. Expenditure on PSS in 2001 was £10.8 billion, of which nearly half was spent on the elderly. Much of the NHS expenditure goes to hospital care, and almost two-thirds of general and acute hospital beds are used by people over the age of 65.
In common with many other industrialized nations, the United Kingdom faces increasing pressure on health care and social care services brought about by the growing population of older people. This has led the government to examine ways of improving monitoring and delivery of services to meet their needs. The past 20 years have seen many developments in health care and social care services, and recent years have seen a range of policy initiatives that, together with the publication of the National Service Framework for Older People (Department of Health 2001), are intended to set the environment, core standards, and operational processes for more effective care of older people. For example, The NHS Plan (Cm4818-I 2000) sets out four key areas for improving services to older people (assuring standards of care, extending access to services, promoting independence in old age, and ensuring fairness in funding) as well as proposing the development of closer relationships between health care and social care. The Department of Health's Modernising Social Services document (Cm4169 1998) covers similar themes of independence, improved protection for vulnerable people, and the development of higher standards.
The National Service Framework for Older People summarizes the implementation of these changes through six related areas of activity:
Assuring standards of care
Extending access to services
Ensuring fairer funding
Developing services that promote independence
Helping older people to stay healthy
Developing more effective links between health care and social services and other services (such as housing) as well as partnerships between charitable organizations and the private sector
Below, we describe the evolution of these themes in long-term care policy and then identify the strands of interRAI MDS activities that relate to this process and can contribute to its improvement.
"Market Economy" Reforms, 1980–90
In the late 1980s the United Kingdom implemented major reforms in both health care and community care to dramatically alter the structure and functioning of those services. In both areas, policy changes incorporated market economy aspects, although the policies themselves had separate origins.
Health Care Services
The central government in the 1980s was concerned with the pursuit of efficiency in public services, and it viewed the district health authorities as potentially inefficient providers of health care services. Health care reforms were announced in a white paper of 1989 entitled Working for Patients (Cm555 1989). A critical principle underlying the changes proposed in the white paper was the separation of the responsibilities of those who commissioned care (the "purchasers") and those who provided care (the "providers"). District health authorities in England and Wales and equivalent boards in Scotland and Northern Ireland would commission from hospitals and community-based service providers the services that were required to meet the health care needs of their populations. They would become "purchasers." General practitioners (GPs) whose patient lists and practices were larger than a certain size would also become "purchasers" for some aspects of health care. "Provider" units (community- and hospital-based services) became self-governing "trusts," with contractual arrangements with both district health authorities and general practices. This created an "internal market" within the National Health Service for the provision of health care.
Community Care Services
During the 1980s, despite official commitment to a policy of increasing community care in people's own homes, the rate of growth of such services declined relative to the population structure. This was because of a move to increase the involvement of the private and voluntary sectors in the provision of long-term residential and nursing home care, with funding supplied not through health or social service agencies but through the social security system. Funding was allocated purely according to financial need rather than physical need. The social security budget was not constrained in the same way that social service and health authority budgets were, so it was easier for people to be admitted to long-term institutional care than to be maintained in the community. The result was that between 1980 and 1989 there was an unprecedented explosion, from £10 million to £1 billion, in public-sector expenditures on placements in residential and nursing homes in the nonstatutory sector (Cm849 1989) and, correspondingly, that there was less pressure on health care and social service agencies to invest in community care.
Following the completion of a report by a government adviser (Griffiths 1988), the central government in 1989 published a new policy document entitled Caring for People (Cm849 1989). The document identified six objectives for community care services, including an explicit statement about maintaining the ability of people to live in their own homes. Formal assessment of need and case management were to be the basis for the allocation of resources and improvement in the quality of care. Social service departments became the funding organizations for community and long-term care, with the lead responsibility for assessing the needs of individuals prior to service delivery. These arrangements were fully implemented in 1993.
Further Reforms, 1990–2000
With the moves to improve clarity and equity of access to health care and social care services, local health and social care authorities developed assessment systems and criteria for access that were frequently locally developed without systematic evidence for their validity or the reliability of the processes. The result was a high variability of assessment tools, which had poor comparability and little capacity to generate standardized information that could be used for the management of services at individual or aggregated levels.
In 1995, the government issued further guidance on the responsibilities for funding long-term community- and institution-based care, continuing the effort to promote home care and to help ensure that where admission to institutional care was necessary, it would be provided by private and not-for-profit agencies rather than by the NHS or Social Services facilities (Department of Health 1995). This guidance restated the need to establish clear agreements between the health and social service authorities covering their respective responsibilities for arranging funding of care. It stressed the need for cooperation and coordination between agencies and the introduction of a good quality, sensitive procedure for managing care arrangements in order to effectively meet individuals' needs. It also gave details of the principles to be applied in defining services, including specialist medical and nursing assessment, post-acute rehabilitation, and long-term continuing care in the hospital, people's own homes, residential homes, and nursing homes. The guidance required the setting of clear criteria for providing these services and for determining whether the NHS or Social Services would be responsible for funding them. The principal criterion for determining this responsibility was that health care should be an NHS responsibility (and therefore free at the point of delivery), while social care, including non-nursing support with activities of daily living (ADLs) should remain the responsibility of Social Services and therefore continue to be subject to means-testing, as should the "hotel" costs of long-term care.
Besides ending the contractual arrangements of the NHS's "internal market," a series of policy initiatives of the government elected in 1997 have taken the process of refining policy related to the quality of care and the more efficient use of hospital and community care services a step further. As demand for hospital beds has mounted, attention has increasingly focused on the efficient use of hospital, rehabilitation, and long-term care resources. This focus has highlighted issues such as avoidable hospital admissions and delayed discharges as well as that of determining the appropriate settings for assessment for and provision of rehabilitation.
The government has also created incentives to promote closer links between health and social services, giving them a new ability to pool budgets and to share the development and management of services for older people. New styles of service, termed intermediate care, between, on the one hand, primary health care at home, and, on the other, secondary health care in hospitals, community support services, and long-term institutional care have also been developed. Intermediate care services meet all the following criteria:
They are targeted at people who would otherwise face unnecessarily prolonged hospital stays or inappropriate admission to acute inpatient care facilities, long-term residential care facilities, or NHS inpatient continuing care facilities.
They are provided on the basis of a comprehensive assessment, resulting in a structured individual care plan that involves active therapy, treatment, or opportunity for recovery.
They have a planned outcome of maximizing independence and, typically, enabling patients/users to resume living at home.
They are time-limited, normally running no longer than six weeks and frequently as little as one or two weeks or less.
They are provided by cross-professional teams using a single assessment framework, a single set of professional records, and shared protocols.
The government has also provided clarification of responsibilities for funding the health (NHS) component of long-term institutional care, committing itself to developing means for determining which aspects of continuing care require the professional skills of registered nurses (the Registered Nurse Contribution to Care, or RNCC; see below). The key policy documents associated with these initiatives are The NHS Plan (Cm4818-I 2000), and Modernising Social Services (Cm4169 1998).
The most recent part of these policy developments is covered in the National Service Framework for Older People (Department of Health 2001). This document, the fourth in a series of National Service Frameworks (NSFs) for health care services, sets standards to be met in providing older people with services in eight areas (rooting out age discrimination, person-centered care, intermediate care, general hospital care, strokes, falls, mental health, and health promotion). A core component of the standard for person-centered care is the requirement for a Single Assessment Process (SAP). The aim of the SAP is to ensure that
A more standardized assessment process is in place across all areas and agencies
Standards of assessment practice are raised
Older people's needs are assessed in a comprehensive manner
Demand for a more standardized approach to assessment arose from the evident variability of the assessment process in practice (Stewart et al. 1999) and the need to develop more equitable, effective, and efficient services. Since so much of the modernization process in community-based and long-term care hinges on the provision of the right care in the right place at the right time, the family of MDS-based assessment instruments has a potentially important contribution to make.
THE MDS INSTRUMENTS AND U.K. HEALTH POLICY
Research indicates that the MDS can make a major difference in four theme areas that are central to policy implementation: the need for a standard approach to community-based assessment, assessment in long-term care and its relationship with quality assurance, effective estimation of resource use, and the relationship of the Single Assessment Process to the allocation and reimbursement of the Registered Nurse Contribution to Care in long-term care settings.
Theme 1: Assessment in the Community
An analysis of assessment instruments in use in the United Kingdom (Challis et al. 1996; Stewart et al. 1999) highlighted the wide variation in assessment practices, including the widespread omission of important domains and the lack of comparability and standardization. In 1997 the Department of Health commissioned a series of research and development projects under the general banner of Outcomes of Social Care for Adults. One of the projects was a study that tested the routine use of standardized assessment for measuring the outcomes of social care. This two-year, randomized, controlled trial compared the use of the Minimum Data Set Home Care (MDS-HC) by social workers in their everyday practice as opposed to that of the current care assessment (CCA) they ordinarily used in their work. A total of 420 people, 210 in each of two Social Services Departments (SSD1 and SSD2), were randomized to assessment by social workers using the MDS-HC or their CCA.
The study found that social workers' responses to the MDS-HC depended on the organization of the social services department. In SSD1 the CCA was nonstandardized and was completed largely using free text. These social workers were less happy using the MDS-HC than those in SSD2, whose CCA was much more structured. Forty-five to 55 percent of outcome items were missing from SSD1's CCA, while only 15 to 35 percent were missing from the CCA used by SSD2. This compared with less than 5 percent of items missing from the MDS-HC assessments. Aggregated outcome scales for ADLs, instrumental activities of daily living (IADLs; including activities such as housework, cooking meals, and using transportation), and cognitive function scales could be completed for fewer than half of the CCAs in SSD1, for 45 to 95 percent of the CCAs in SSD2, and for more than 95 percent in MDS-HC assessments. When free-text assessment records were coded in the SSD1's CCAs, the results suggested that some problems were likely being missed because their incidence appeared to be lower in the CCA assessments than in the MDS-HC assessments. If a problem was identified in a CCA reassessment but there had been no record of that problem's presence or absence in the initial assessment, one could not know whether the problem was truly absent at the initial assessment or it simply had not been recorded.
The study also compared the outcome scales of the MDS-HC and the CCAs against established gold-standard assessment instruments for particular domains, including physical and cognitive function and depression. The outcome scales of the MDS-HC correlated well with those of the gold-standard instruments, with the exception of the depression scale, where the correlation was less strong. An evaluation of the MDS-HC and the CCAs against nine criteria for determining the ability of the instruments to measure outcomes of social care found that the SSD1's CCA met no test criteria; the SSD2's CCA met three; and the MDS-HC met eight. These criteria were as follows:
Can the assessment data be computerized?
Are the outcome indicators present in the assessment?
Are the outcome indicators valid and reliable?
Can the assessment instrument monitor change in a population over time?
Can the assessment instrument monitor change in individuals over time?
Can the assessment instrument identify different subpopulations?
Can the assessment instrument produce timely information?
Is information showing change or outcome readily available to assessors and managers?
Is the assessment instrument usable by assessors?
The MDS-HC demonstrated important benefits of standardized assessment. It included valid, informative outcome scales; could compare populations over time; and showed changes in individuals over time as well as the impact of those changes on informal caregivers. The MDS-HC level of care case-mix system based on MI-Choice algorithm (Fries et al. 2002), gave clear information at a macro level on the differences in outcome among people with differing levels of disability. The MDS-HC also demonstrated clear relationships between client characteristics, the services provided, and the burden on informal caregivers. These would be helpful in providing assessment-related criteria for eligibility for different levels of service provision.
Interviews with the social workers suggested that, overall, structured assessment forms were preferred but that they also wanted to be able to include free-text descriptions in their assessments. All the social workers found the MDS-HC to be health-oriented, but those from SSD2 were more positive about the inclusion of health items in the social care assessment. Generally, the social workers thought that nearly all the areas covered in the MDS-HC were relevant to community care, although there was no agreement on which areas were not. There seemed to be little difference between the time it took to complete an MDS-HC assessment and that required to complete the CCA, although assessors did complain that it seemed to take too long to complete the MDS-HC. The social workers saw that they explored more areas using the MDS-HC and that the resulting assessment interview was a more formal process, but some voiced concern that using the standardized responses alone did not produce a reliable record of needs and that the resulting assessments were difficult to interpret. Many also wanted to be able to omit sections that were clearly not relevant to the clients they were assessing.
The study's findings carried some clear messages regarding the MDS-HC's adoption. Some items, because of their medical nature, were difficult for social workers to complete. Social workers wanted the ability to do some free-text assessment, which would allow them more flexibility in describing clients' and informal caregivers' circumstances, feelings, and preferences. Despite these drawbacks, however, the study revealed that social workers found little about the MDS-HC that was irrelevant and little that was missing. And, despite the fact that social workers, on first seeing the MDS-HC, often thought that it would take too long to complete, the study did not show this to be a major problem.
Though social workers in SSD1 expressed concern that the structured responses to the assessment items might not give a reliable picture of the client, the correlation of responses to the MDS-HC with the responses to the gold-standard instruments suggests that this was not so. The social workers' anxiety about this may have been due to the fact that they were unaccustomed to using standardized assessment items, a conclusion reinforced by the fact that these anxieties were less frequently reported in SSD2, where the CCA contains some standardized items.
The view that the MDS-HC was too "health-oriented" needs exploration. Because the MDS-HC is designed to identify difficulties and to recommend intervention to remedy underlying problems or to provide support where these cannot be remedied, an important social care element may be missing. This factor has to do with the relationship between the client's disability (resulting from chronic, nonremediable conditions) and compensatory care responses. After all, social care needs may be defined as "need shortfalls," and one of the focuses of social care is to close the gap between needs resulting from nonremediable disability and the existing support for those needs (e.g., the current compensatory inputs of agencies and family caregivers). Effective assessment for long-term community-based care must evaluate three interlocking systems: the individual person, the informal care system (including the family), and the formal care system. The study showed that the MDS was most effective in evaluating the first of these and could tackle the second to some extent, but did not record specifically the shortfall between formal services and nonremediable disability.
Some social workers found it difficult to get a clear overall picture of their clients from the MDS-HC assessment forms used in the study. They all found the form easier to use with practice and would likely find it easier to interpret if the layout of the form were improved and with more experience in its use. Some saw the MDS as overly structured and not "person-centered" enough to allow nuanced responses reflecting the feelings and preferences of the person being assessed. This appears to be a factor in social workers' resistance to adopting the instrument. It is a matter of debate, however, whether this might not be a simple issue of training, which would enable staff to clearly separate the content of assessment from the form or style in which information is gathered. A further factor behind social workers' resistance may be that at the time of the study social workers throughout the United Kingdom felt burdened by workload, by funding constraints, and by the rapidly evolving policy changes. (These pressures are still affecting the profession today.)
Theme 2: Assessment in Long-Term Care Settings
In the early 1990s, the assessment of long-term care settings had not yet received much attention in the United Kingdom. In 1995, the Joseph Rowntree Foundation commissioned a study to examine approaches to assessment that could form the basis of a national standard instrument for nursing and residential homes for older people. The requirements for such an instrument included the following:
It should be usable and acceptable on a national basis yet permit some local variation.
It should be approved and recognized by both the health care and the social service professions.
It should value and encourage the independence of the user (i.e., the person assessed).
It should "weight" the characteristics of an individual assessed by the system so as to identify the particular skill mix needed for that person's care and the costs of providing care staff.
It should place a value on the individual's personal needs and take broader social care needs, not just physical care, into account.
It should be applicable to a range of settings, from residential homes to full nursing care and hospital settings.
It should have the potential to be incorporated into a computer software package.
It should be comprehensive and have easily understood guidelines for implementation.
The study produced a published monograph (Challis et al. 1996) that proved of great interest to a very wide audience. It reviewed the role of assessment and looked at a number of key issues in long-term care, including the prevalence of problems in residential and nursing homes, quality assurance, indicators of outcome and quality of life, and the importance of rehabilitation beyond hospital care. The review of assessment approaches and their use in other countries led to a detailed analysis of the origins, content, and potential use of the Minimum Data Set/Resident Assessment Instrument (MDS/RAI). The monograph's concluding recommendation that the MDS/RAI should be further evaluated in the United Kingdom was based on the fact that it had been developed according to scientific principles, that it contained standardized assessment items and links to care planning, and that it was integrated with the Resource Utilization Group (RUG) case-mix system (Fries et al. 1994).
A follow-up study for the Joseph Rowntree Foundation examined the MDS/RAI's training requirements and its acceptability to nursing and residential home care staff. The study determined the minimum training and follow-up requirements for implementation and suggested that a reasonable and satisfactory approach would consist of one training day with a follow-up session two weeks later to discuss experience in use. This recommendation was incorporated into the UK Long Term Resident Assessment Instrument Manual (MDS/RAI UK; see Challis et al. 2000).
A number of nursing home providers have field-tested the MDS/RAI. Effective training and follow-up assistance have been critical to such projects. One major chain found that the anxieties about and criticisms of the instrument encountered in the early stages of it study were replaced by manifest enthusiasm following the training, and that staff were then disappointed when the "experimental" use of the MDS ended and they had to return to older, less satisfactory methods. The chain's managers generally thought that the project had been very successful and felt that the MDS/RAI would be of great benefit for assessing residents, examining case mixes, and improving care-planning procedures in their homes.
Theme 3: Measuring the Cost of Care
With the development of the internal market, contracts for care and costing of care became important issues. Specific attempts were made, primarily with regard to hospital-based services, to develop case-mix measures that could be used for costing. In the early 1990s, National Casemix Office (NCMO) embarked on a research and development program to produce a resource-use case-mix grouping system for use in the development of contracts for hospital care. The American Diagnosis Related Groups (DRGs) system was considered the best starting point for this exercise. After a preliminary examination of DRGs, the NCMO began consultation exercises with the medical profession to explore the potential for adopting DRGs for use in the United Kingdom, albeit with some modifications to accommodate U.K. practice. At a meeting of the Royal College of Physicians in London, the NCMO presented DRGs for medical services to a group including specialists in geriatric medicine. The response of the geriatricians was that diagnosis, procedure, age, and gender could not usefully predict hospital lengths of stay of older people. For this reason, a working group under the leadership of Iain Carpenter formed to explore alternatives that would be more relevant than DRGs to older hospital inpatients with nonsurgical conditions.
The working group first examined a variety of acuity systems that were currently in use and found that Resource Utilization Groups (RUGs) seemed to be an effective and useful way of classifying elderly patients who require more than just acute medical care. The working group saw that the RUGs provided a common language in an area where such a language was much needed but had been difficult to develop. The group felt that the RUGs could help direct resources (whether staffing or cash) appropriately. It recommended to the National Casemix Office that
The RUG classification system be examined in detail and that it should be seen in practice
The progress and final report of the Dutch RUG validation project should be examined
A RUG evaluation project should be considered in the United Kingdom
As a consequence, the NCMO commissioned a study to validate RUGs in the United Kingdom. The project involved the assessment of 2,000 patients in 29 hospitals distributed through six health districts in England and Wales. During the course of the study many nursing and therapy staff expressed concern that they were being subjected to time-and-motion studies that might affect their employment and that a system as objective as the RUGs—with assessment items confined to tick boxes and numbers—could not truly define the care time requirements of older people. The study confirmed, however, that the RUGs did indeed explain variations in the allotment of nursing time in the care of elderly patients in acute rehabilitation and long-stay wards and that it could therefore form the basis for a resource-use case-mix system (Carpenter et al. 1995).
A number of issues had to be addressed, however, before the RUGs could be considered usable in these settings. These issues included
Establishing that nursing staff could reasonably complete the RUG questionnaire for hospital patients on a routine basis
Devising the system in such a way that the per diem cost of care, which is the basis of the RUGs, could be used to calculate the cost of an episode of care
Determining if and how the RUGs could be widely implemented
A second study, conducted in three hospitals, found that fortnightly RUG assessments would give a reasonable picture of the cost of care time for an inpatient over a whole episode. The study also proposed a way in which the RUGs could be used for costing contracts for care with purchasers (Carpenter et al. 1997).
The change in government in 1997, however, brought with it a commitment to end the purchaser-provider, "free market" system of contracting for hospital services, and consequently the costing of care on the basis of case-mix systems such as the RUGs was moved to a back burner.
More recently, the use of the RUGs (in the form of the Resource Utilization Groups, Version III, or RUG-III) has reemerged in policy discussion, with the development of the reimbursement of the Registered Nursing Care Contribution of people admitted to nursing homes in England. A project funded by the Joseph Rowntree Foundation demonstrated a simple reimbursement model for these people, matching the three levels of care identified by the Department of Health—high, medium, and low (see below)—to reimbursement levels.
Theme 4: Recent Policy Developments
The MDS assessment method has contributed to Department of Health policy development in two specific areas: the development of the Single Assessment Process (SAP) as recommended in the National Service Framework for Older People (Department of Health 2001) and the development of a means of determining an appropriate level of reimbursement for the Registered Nursing Care Contribution to care of people admitted to nursing homes.
The MDS-HC and the Single Assessment Process
The Department of Health (DoH) established a national assessment working group (NAWG) to advise on policy guidelines for the SAP. The NAWG was unable to identify any existing assessment tool that adequately covered all the domains and subdomains specified for the SAP in the National Service Framework for Older People that was sufficiently person-centered and that met other requirements. The DoH did, however, specify criteria that had to be met by any SAP and also specified a series of steps to be followed by local agencies in coming to an agreement on an SAP for local use. In addition, the department specified levels of assessment and developed rigorous criteria against which local agencies should evaluate current or proposed approaches to assessment in order to help them identify changes they might need to make to ensure that their assessment systems would comply with DoH requirements. The specified levels of assessment were as follows:
Contact assessment (including the collection of basic personal information), which would cover the basic details of a presenting problem, which might be simple and require no further action other than providing treatment for the specific problem. To be included in this assessment were the nature and duration of the problem, the importance of the problem to the person assessed, and a brief exploration of whether there were any other issues or recent life-events that might be relevant, including the views of caregivers.
Overview assessment, which would cover a broad range of domains, though not necessarily all the domains that would be expected in an in-depth or comprehensive assessment.
In-depth assessment, which would cover all the NSF domains and could be used for developing adequate care plans for people who would be able to manage in their own homes with appropriate treatment and support.
Comprehensive old age assessment, which would be essential for all old people likely to be admitted to nursing or residential care homes.
The key attributes of the SAP as specified in the guidance were as follows:
A person-centered approach in which the older person seeking care would experience a single assessment process—one in which information about problems would be given only once, professionals would work together in the best interests of the older person, the older person's views and wishes would be central to the assessment process, the assessment would build a well-rounded picture of the person's problems and circumstances, and the depth and detail of the assessment would be proportionate to the person's needs
A standardized approach that would be supported by an agreed-on evidence base; would build on good practice; would be useful to practitioners; would enable professionals to see, trust, and accept one another; would produce standardized information in a single summary record; would facilitate the sharing of this case information among professionals; and would generate information for strategic planning and performance monitoring
An outcome-centered approach that would evaluate assessment information and translate it into appropriate and effective care plans and services; would allow for monitoring of change with respect to the older person's health, independence, and quality of life; and would identify the person's potential for rehabilitation
In addition, the DoH provided extensive guidance on joint working arrangements, information requirements, and staff development.
NAWG reviews of summary descriptions of the instruments are posted on the Department of Health's Web site (http://www.doh.gov.uk/scg/sap/toolsandscales). Each instrument has some recommended characteristics. Many aspects of the guidance directly correspond to and have a great deal in common with the MDS-HC, and the guidance recapitulates characteristics required of the SAP. The principal perceived weaknesses of the MDS-HC have to do with its apparent lack of sensitivity to biographical detail and to the preferences and feelings of the people being assessed. The need to know how people feel about the difficulties that they face—and the need to accurately record what those difficulties are—is the core difference between the "social care" and "medical" models of assessment, care planning, and care delivery. This difference was evidenced in the MDS-HC study described above and remains an incompletely resolved tension in the development of the Single Assessment Process. Because the champions of the various recommended instruments will address these key factors, it is likely that within the next few years there will be a significant convergence of assessment instrument characteristics.
Between 1998 and 2001, interRAI used its extensive assessment database to explore evidence-based methods of identifying the key components of the MDS-HC that could be used for screening and relating assessment to eligibility for different levels of community care. These efforts, conducted primarily at the Hebrew Rehabilitation Center for the Aged in Boston and at the University of Michigan, produced a self-reliance algorithm, a screener, and a screener supplement that have a statistical basis.
Proponents of the MDS believe that the specified levels of assessment in the SAP can be broadly matched to the MDS system by using the self-reliance and MI-Choice level-of-care algorithms for contact and overview assessments, the MDS screener for the overview assessment, the screener and supplement for the in-depth assessment, and the full MDS-HC (with the subsequent referrals and actions) for the comprehensive assessment. The triggering linkages between these MDS algorithms permit logical links between the levels although local contextual work is required to further validate these (Figure 1).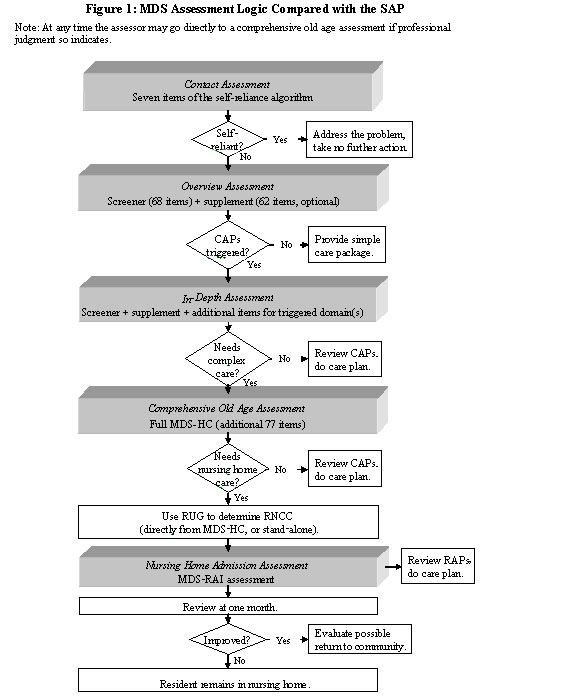 Determination of the Registered Nurse Care Contribution to Long-Term Care
The Royal Commission on Long Term Care, whose formation had been announced in December 1997, reported its findings in March 1999 (Cm4192-I), recommending that the full costs of nursing home care should be funded out of general taxation. The report triggered a national debate on the ethical, moral, and financial aspects of funding long-term care of older people. As a result, different policies emerged in different part of the United Kingdom. Scotland accepted the commission's recommendations, but in England, the Department of Health decided that while the health care component (defined as that care requiring registered nursing care) should be funded, the social care component ("hotel" costs and assistance with activities of daily living) should remain a means-tested benefit.
A group within the Department of Health has been addressing the difficult task of identifying those characteristics of people being admitted to nursing homes that require the attention of a registered nurse—that is, the Registered Nurse Care Contribution (RNCC). Appropriate RNCC reimbursement should be determinable from information obtained in the final stages of the Single Assessment Process immediately prior to admission to a home, with reviews to be conducted at three months and annually thereafter, or when there is a significant change in the resident's condition.
The Joseph Rowntree Foundation commissioned a study, conducted in four nursing homes in England, to determine whether components of the MDS assessment system could be used for this task. The study found that the amount of time spent on direct (hands-on) care and indirect care (care planning, discussion with professionals and relatives) was very different for residents in specific clinical groups in the MDS-based RUG-III case-mix system. There were also large differences between the time provided to residents by registered nurses and by care assistants. The study identified three groups of residents: those with complex problems who were receiving significant care from registered nurses, a larger group (sharing common characteristics) that appeared to receive a basic level of nursing care, and a group that appeared to have minimal requirements for registered nurse care (Carpenter and Perry 2002). DoH cited this research during consultations that led to the recommendation that the reimbursement system categorize residents into three groups: those with high, medium, and low levels of need. The recommended reimbursement for each of these levels directly reflects the time identified in the Rowntree Foundation-funded study. Ongoing work at the University of Kent and the University of Northumbria is further exploring the relationship between RNCC and the RUG-III system.
RECENT POLICY DEVELOPMENTS AND THE MDS
To what extent, then, might the MDS family of instruments contribute to these policy developments, particularly with respect to the Single Assessment Process? In answering this question, it is helpful to look at the broader literature of interagency and professional collaboration for some pointers, since the successful implementation of the Single Assessment Process will largely depend on how well agencies and professionals coordinate their work.
Coordination and collaboration between health care and social service agencies are difficult to achieve and therefore matters of longstanding concern. Coordination is, however, critical to achieving greater rationality in the provision of care, and the introduction of standardized assessment aims at increasing such coordination. The turbulence of the institutional environment and the relative uncertainty that exists during a period of change—particularly about the roles of staff—can greatly affect the success of an implementation. It is likely that externally mandated interrelationships, such as that required by present policies for health and social care services, can make coordination and collaboration both desirable and rational. Exchange relationships and reliance on shared resources can also induce collaboration (Schmidt and Kochan 1977). Where established organizational practices are in place (and where there is a tradition of inertia), imposing an externally developed form of assessment may be a more acceptable approach to change than trying to reshape existing processes from within.
In the current context, the mandate to implement the SAP, the potential for mutual benefits, and even the uncertainty of the situation all create opportunities for agencies to coordinate their efforts and for professionals to form exchange relationships. On the other hand, it remains to be seen whether trust between professionals—a key ingredient of collaboration—is sufficient for success. Furthermore, it is unclear whether turf battles—for example, over who controls which domains of assessment—will occur or how serious this "domain defensiveness" (Challis et al. 1988) might be, and thus whether it might lead to the reassertion of older defined boundaries. Levine and White (1961) suggest that effective implementation requires domain consensus over areas of responsibility and therefore considerable agreement among professionals on their respective roles (see also Van de Ven 1976). The guidance on the Single Assessment Process issued by the Department of Health specifies 12 steps that should be taken in preparing for implementation, eight of them having to do with staffing and service interrelationships.
Can assessment instruments help prevent territorial issues from arising, permit the negotiation of new roles, and contribute to the building of new exchange relationships and trust in an environment where change is mandated? This question is of real importance. It must be remembered that these instruments are new to practitioners, and that practitioners' perceptions regarding the unfamiliarity and complexity of some instruments, and perhaps the MDS in particular, risks derailing the very real benefits that should follow from the introduction of the Single Assessment Process.
Proponents of the system regard the MDS instruments as tools that can link assessment for hospital care, community-based care, and nursing home care. The MDS approach could ensure that assessment is uniform, that its core content is transferable across settings and agencies, and that assessment accurately and appropriately identifies needs. The built-in links to care planning and the integral scales and algorithms make available aggregated patient and service outcome information that can contribute to the monitoring of care standards, outcomes, and funding allocations across agencies. Certainly, a range of stakeholders could benefit from the widespread implementation of the MDS approach. The information generated could contribute to performance monitoring at a national level. It could provide the basis for more detailed standards against which regulators could monitor services. At the agency level, the data could be used for better resource allocation and more effective management strategies, while at a sub-unit level, such as a community-based team, the information could contribute to enhancing practice, local monitoring, and quality.
One interesting development has been the establishment of interRAI-UK as a national charity to facilitate research, dissemination, and implementation of the MDS system. The group represents a pragmatic confederation between Norwich Union, a large insurance company with concerns about the effective allocation of long-term care insurance resources; the Joseph Rowntree Foundation, a charity with a long track record of supporting research and development in the long-term care of older people; and researchers with concerns for the development of long-term care policy and practice. The overlap of interests is remarkable and offers an interesting model for the development of long-term care assessment. InterRAI-UK aims to support the continuing development of the components of the MDS system, as well as training, information technology implementation, and data analysis, to ensure that the instruments meet policy requirements as these mature over time.
The introduction of more standardized approaches to assessment represents a major change of direction for local health care and social service agencies in the United Kingdom. This change is, of course, entirely congruent with the general pursuit of practice that is more evidence-based. It is likely that as policy and practice develop in the United Kingdom, the MDS will be one of a number of assessment instruments in use. If the benefits are to be greater than the costs of using these instruments, there will need to be a regime of continuous improvement both in the instruments themselves and in the ways that information from them is employed. Practitioners will continue to use the instruments only if they derive benefits from them, both in their day-to-day work with older people and in their broader decision making based on information derived from the aggregated assessments. Similarly, managers will be able to persuade their staffs to use the instruments only if they can provide them with evidence of better practice and enhanced information. The significant challenge is to ensure that the needs of all the users of standardized assessment, at all organizational levels, are met so as to provide them with the appropriate incentives for their continued use.
Finally, why have we titled this study "A Thread from Many Strands"? The research literature on the care of older people has consistently shown the importance of assessment, and better assessment is the underlying theme that links the policy strands that we have described in this paper. It seems that the Single Assessment Process could be the thread that will be woven from these strands, and the MDS assessment system can make a major contribution to each. We must be cautious, though. This thread, though it may get woven, may also unravel. The rate and scale of change in U.K. policy, as described in the postscript, below, could prove its undoing.
POSTSCRIPT
Developments in U.K. policy on assessment and long-term care continue apace. The structure of the NHS changed dramatically in April 2002 with the removal of local and regional executive layers. There are now fewer health authorities, and newly created Primary Care Trusts (PCTs) have a pivotal role.
The PCTs are intended to be the cornerstone of the NHS, providing the vital links between the NHS executive and GP practices and coordinating the demand for and supply of acute hospital services. They are responsible for the health of the people in their areas, bringing health and social care closer together and developing integrated services for patients. By 2004 the PCTs will control 75 percent of the total NHS budget, with the aim of ensuring that resources meet local needs. They will undertake many of the functions previously exercised by health authorities—for example, commissioning health services and investing in primary and community care. The PCTs will ultimately have the responsibility for implementing the Single Assessment Process.
The Commission for Health Improvement, established in 2000, is currently the major NHS regulatory authority. Its aim is to improve the quality of patient care in the NHS and to raise standards by
Assessing every NHS organization and making the findings public
Investigating whenever there is a serious failure
Checking that the NHS is following national guidelines
The National Care Standards Commission, established on April 1, 2002, is responsible for regulating social care and independent health care services in accordance with statutory regulations and national minimum standards issued by the Department of Health.
On April 17, 2002, the Department of Health announced that these two organizations are to be disbanded. Instead, there will be two new independent inspectorates: the Commission for Social Care Inspection and the Commission for Healthcare Audit and Inspection.
The work of the Commission for Social Care Inspection (CSCI) will encompass that of the former Social Services Inspectorate (which assisted ministers in carrying out their responsibilities for personal social services and exercised statutory powers on behalf of the Secretary of State for Health) as well as substantial responsibilities that had belonged to the National Care Standards Commission. CSCI will have responsibility for the inspection of all social care organizations—public, private, and voluntary—as well as all local-authority social service departments.
The Commission for Health Care Audit and Inspection (CHAI) will bring together the functions of the Audit Commission (which was responsible for ensuring that public money was used economically, efficiently, and effectively) with the private and voluntary health care role of the National Care Standards Commission and the work of the Commission for Health Improvement. This new body will be responsible for inspecting both the public and independent health care sectors and for explaining to the public how resources have been deployed and the impact that these resources have on improving services and raising standards.
The process of establishing the PCTs is consuming the energies of health and social care managers, and social service departments appear to be bearing the brunt of the implementation of the new assessment procedures. The establishment of Commission for Social Care Inspection and Commission for Health Care Audit and Inspection represents another stage in the changing relationship between health care and social care in the United Kingdom.
Most recently, the relationships between the central government and the public sector at large appear to be changing, with moves to reduce the extent of central control. These developments and changes will continue to have a major impact on what happens next in the United Kingdom with respect to assessment and performance monitoring.
REFERENCES
Carpenter, G.I., A. Main, and G.F. Turner. 1995. Case-Mix for the Elderly In-Patient: Resource Utilisation Groups (RUGs) Validation Project. Age and Ageing 24:5–13.
Carpenter, G.I., and M. Perry. 2002. Nursing Hours: Identifying the Level of Registered Nursing Care Provided to UK Nursing Home Residents. York, Eng.: Joseph Rowntree Foundation.
Carpenter, G.I., G.F. Turner, and R.W. Fowler. 1997. Casemix for Care of the Elderly: Post Acute and Rehabilitation. Age and Ageing 26:123–31.
Challis, D.J., G.I. Carpenter, and K.J. Traske. 1996. Assessment in Continuing Care Homes: Towards a National Standard Instrument. Canterbury, Eng.: Joseph Rowntree Foundation/Personal Social Services Research Unit.
Challis, L., S. Fuller, P. Henwood, R. Klein, W. Plowden, A. Webb, P. Whittingham, and G. Wistow. 1988. Joint Approaches to Social Policy: Rationality and Practice. Cambridge, Eng.: Cambridge University Press.
Challis, D.J., K. Stewart, D. Sturdy, and K. Worden. 2000. UK Long Term Resident Assessment Instrument Manual (MDS/RAI UK). York, Eng.: interRAI-UK/Joseph Rowntree Foundation.
Cm555. 1989. Working for Patients. London: Her Majesty's Stationery Office.
Cm849. 1989. Caring for People: Community Care in the Next Decade and Beyond. London: Her Majesty's Stationery Office.
Cm4169. 1998. Modernising Social Services: Promoting Independence, Improving Protection, Raising Standards. London: Department of Health.
Cm4192-I. 1999. With Respect to Old Age: Long Term Care—Rights and Responsibilities. London: The Stationery Office.
Cm4818-I. 2000. The NHS Plan. London: The Stationery Office.
Department of Health. 1995. NHS Responsibilities for Meeting Continuing Health Care Needs. London.
Department of Health. 1997. Better Services for Vulnerable People. London.
Department of Health. 2001. National Service Framework for Older People. London.
Fries, B.E., D.P. Schneider, W.J. Foley, M. Gavazzi, R. Burke, and E. Cornelius. 1994. Refining a Case-Mix Measure for Nursing Homes: Resource Utilization Groups (RUG-III). Medical Care 32:668–85.
Fries, B.E., L.R. Shugarman, J.N. Morris, S.E. Simons, and M. James. 2002. A Screening System for Michigan's Home- and Community-Based Long-Term Care Programs. Gerontologist 42:462–74.
Griffiths, R. 1988. Community Care: Agenda for Action. London: Her Majesty's Stationery Office.
Levine, S., and P. White. 1961. Exchange as a Conceptual Framework for the Study of Inter-Organizational Relationships. Administrative Science Quarterly 5:583601.
Organisation for Economic Co-Operation and Development (OECD). 2002. OECD Health Data 2001. Paris.
Office of National Statistics. 2001. Key Population and National Statistics. London: Her Majesty's Stationery Office.
Schmidt, S., and T. Kochan. 1977. Inter-Organizational Relationships: Patterns and Motivations. Administrative Science Quarterly 22:230–3.
Stewart, K., D.J. Challis, G.I. Carpenter, and E. Dickinson. 1999. Assessment Approaches for Older People Receiving Social Care: Content and Coverage. International Journal of Geriatric Psychiatry 14:147–56.
Van de Ven, A.H. 1976. On the Nature, Formation and Maintenance of Relations among Organizations. Academy of Management Review 2:24–36.
Warren, M. 1946. The Care of the Chronic Sick. The Lancet (March 17):383–4.


---

The Authors
Introduction
Brant E. Fries, PhD, is a Professor of Health Management and Policy at the University of Michigan School of Public Health and founder and President of interRAI. A health services researcher, he focuses on the use of large-scale databases of assessments for designing practical assessment, payment and regulatory systems, and setting long-term care policy.
Msgr. Charles J. Fahey, Marie Ward Doty Professor Emeritus from Fordham University, is a program officer for the Milbank Memorial Fund. As a Roman Catholic priest in the diocese of Syracuse, New York, he served in Catholic Charities there and at Fordham University's Third Age Center. He has held many national and international posts. He chaired the federal Council on Aging during the Carter administration and was a leader of three White House Conferences on Aging and two United Nations World Assemblies on Aging. He has been president of Catholic Charities USA, the American Society on Aging, and the American Association of Homes and Services for the Aging.
United States
Catherine Hawes, PhD, is Professor of Health Policy and Management and Director of the Southwest Rural Health Research Center at the School of Rural Public Health at the Texas A&M University System Health Science Center. Her research has focused on quality assurance on long-term care, with a particular emphasis on nursing home quality, studies of assisted living and residential care facilities, and the effects of regulation on quality. She also served on the Institute of Medicine Committee on Nursing Home Regulation.
Bruce C. Vladeck, PhD, is Senior Vice President for Policy and Professor of Geriatrics and Health Policy at Mount Sinai Medical Center in New York. From 1993 through 1997, he was Administrator of the Health Care Financing Administration. The author of Unloving Care: The Nursing Home Tragedy (1980), he served on the Institute of Medicine Committee on Nursing Home Regulation, whose recommendations led to the OBRA '87 nursing home reforms.
John N. Morris, PhD, is the Co-Director of HRCA Research and Training Institute of the Hebrew Rehabilitation Center for Aged (Boston) and Director of Social and Health Policy Research. He has been endowed the Alfred A. and Gilda Slifka Chair in Social Gerontological Research at HRCA, the nation's first faculty chair in social gerontological research. Morris has been at HRCA for more than 30 years, and during that time has participated in a wide variety of federally funded long-term care studies. Over the last few years he has received funding for studies looking at issues of vulnerable elderly in the community, on the path to institutional placement, and in the nursing home. Grant and contract support has come from HCFA, AHCPR, ASPE, NIA, and NINR.
Charles D. Phillips, PhD, MPH, is Professor of Health Policy and Management and the Director of the Health Services Research Program at the School of Rural Public Health at the Texas A&M University System Health Science Center. His research and teaching interests are in health services research and in gerontology. His work in gerontology focuses on measuring quality of care and understanding the effects of innovations aimed at enhancing quality of life in residential settings. He has received funding from a number of federal agencies and foundations. He currently serves on the editorial board of The Gerontologist.
Helene Fredeking, BA, MEd, recently retired from the U.S. Department of Health and Human Services. During her federal service she was the manager within the Health Care Financing Administration who had direct responsibility for the development and implementation of an assessment instrument that was required to be used by all Medicare and Medicaid-certified nursing homes in assessing the care needs of all residents. She also led in the establishment of a national database of assessment information on all residents in nursing homes. Other responsibilities included the development of the survey and certification process for nursing homes as required by the nursing home reform provisions of OBRA '87.
Canada
John P. Hirdes is a professor in the Department of Health Studies and Gerontology at the University of Waterloo and Scientific Director at the Homewood Research Institute in Guelph. He holds a Canadian Institutes for Health Research (CIHR) Investigator Award in Health and Aging, and is a Fellow and board member of interRAI. His current research interests include health information management, international comparisons, assessment systems, funding, quality, outcomes research, and health service utilization.
Duncan G. Sinclair, presently Professor Emeritus of Physiology and Visiting Fellow in the School of Policy Studies of Queen's University, retired in 1996 as Vice-Principal (Health Sciences) and Dean of Medicine at Queen's. He had served previously in a number of senior administrative roles including Vice-Principal (Institutional Relations), Vice-Principal (Services), and Dean of Arts and Science. He chaired Ontario's Health Services Restructuring Commission from 1996 to its sunset in 2000 and served as founding chair and acting CEO of Canada Health Infoway/Inforoute Santé du Canada from January to June 2001.
John King has been Executive Vice President for hospital services at St. Michael's Hospital in Toronto since July 2002. He is a certified health executive with 20 years of experience in the health care field, chiefly in the western provinces. He was the Alberta director on the board of Canadian College of Health Service Executives as well as Senior Vice-President of the Alberta Healthcare Association and Senior Operating Officer of several Alberta hospitals under the umbrella of the Calgary Regional Health Authority. From May 1999 to June 2002, the period during which this case study was written, he was the Assistant Deputy Minister for Health Care Programs in the Ontario Ministry of Health and Long-Term Care.
Paul Tuttle is Director of Long-Term Care Facilities in the Health Care Programs Division of the Ontario Ministry of Health and Long-Term Care. He has been with the ministry since 1990, previously as a Policy Analyst in Community Services. Prior to joining the ministry, he was the Executive Director of Durham Region Community Care Association. He was also the founding President of the Ontario Home Support Association (now a part of OCSA). He has worked at the Canadian Mental Health Association and the Canadian National Institute for the Blind, and has served as a member of various community boards.
John McKinley is Executive Director of the Health Care Programs Branch of the Ontario Ministry of Health and Long-Term Care. He is responsible for long-term care facilities, community care access centers and children's treatment centers, and finance and information management of the Health Care Programs Division. He came to this position from his role as Director of the Finance and Information Management Branch. He has extensive experience in the ministry in a variety of operational, policy, and financial positions that crossed many program areas. He studied business administration at the University of Ottawa, where he graduated in 1985.
Iceland
Pálmi V. Jónsson is Chief of Geriatrics at Landspitali-University Hospital in Reykjavík and an Associate Professor of Geriatrics at the University of Iceland School of Medicine. He has served on several committees for the Ministry of Health, including the IceRAI committee; he is also on the board of interRAI. He is currently involved in several research groups, including the AGES study, which is a cooperative study on healthy aging between the Icelandic Heart Association and the U.S. National Institute of Aging.
Hrafn Pálsson is the Chief of Elderly Affairs at the Ministry of Health in Iceland, where he is the director of a special fund within the ministry to improve the conditions and care of the elderly. He holds an MSW degree from Adelphi University in New York. He has promoted the use of systematic and electronic documentation of elderly assessment in various health care settings, including the Nursing Home Preadmission Assessment.
Israel
Jacob Gindin is a physician with a specialty in internal medicine and geriatrics. He heads the Geriatric Institute for Education and Research at the Kaplan Medical Center in Rehovot, and is the chair of the center's geriatrics departments. Among his present activities are Head of the master's degree program in gerontology for physicians at Haifa University, and member of the Israel Geriatrics National Council. He was previously a member of the board of the Israel Geriatrics Society (1992–2002) and Director of the Department of Institutional Services for the Aged in the Ministry of Health (1995–99). In 2003 he was nominated member of the steering committee of the World Health Forum.
Sara Levi is the chief national geriatric nurse at the Israel Ministry of Health, Geriatrics Division. Her work focuses on policy, establishing geriatric nursing standards of care, professional development, and creation of professional tools such as functional assessment for the elderly, quality assurance, and assessment of elderly abuse. Prior to that, she was the Director and Associate Dean of the Hadassah-Hebrew University School of Nursing. She received her PhD from the University of Pennsylvania, her MA at Hunter College in New York, and her BA at Tel Aviv University.
Orna Intrator, an applied statistician and health services researcher, is an Assistant Professor (Research) at the Center for Gerontology and Health Care Research at Brown University in the United States. She studies health care utilization of older adults residing in nursing homes, especially hospitalizations, with particular emphasis on the effects of nursing home organizational structure and market and public policies. She utilizes state-of-the-art statistical methods such as Markov Chain Monte Carlo estimation of multilevel models, and has been developing methods to jointly study different service utilization in models that use informative censoring due to death. She has been developing research of Israeli older adult populations in nursing homes and receiving ADL assistance at home using MDS instruments.
Jochanan Stessman currently serves as Director General of the National Insurance Institute, the Israeli social security organization, on leave from his position as Chairman of the Department of Rehabilitation and Geriatric Medicine at Mt. Scopus Hadassah University Hospital in Jerusalem. He received his MD from the Hebrew University's Hadassah Medical School in Jerusalem in 1973, and is a specialist in internal medicine and geriatric medicine. He established many of the geriatric services in Jerusalem in both general and geriatric hospitals as well as in the community, such as home hospitalization and geriatric assessment units. He is also an associate professor in the Hebrew University Hadassah Medical School (clinical) and is the head of the Jerusalem Longitudinal Study, a major epidemiological geriatric study.
Italy
Roberto Bernabei is Professor of Internal Medicine and Geriatrics at the Catholic University School of Medicine in Rome and Chief of the Geriatric Day Hospital and outpatient clinics at the Centro Medicina dell' Invecchiamento of the "A. Gemelli" University Hospital. He is the Executive Vice-President of interRAI. As a member of the Consiglio Superiore di Sanità, the Italian advisory committee to the Ministry of Health, he is currently serving on several national committees including those on Alzheimer's disease and on disability. He is the coordinator of the AD HOC Project, a research funded by the Fifth EU Framework Programme with the aim of identifying the best model for home care.
Marina Panfilo is Regional Healthcare Manager for Pfizer Italy. In the last ten years she dealt with public health systems in Italy as well as elsewhere in Europe. She was responsible for valued-added programs to support health authorities and local health care providers in managing health care services to improve quality. Among the projects she has launched and coordinated for Pfizer is the Silvernet project: in cooperation with interRAI and the Catholic University of Rome, Silvernet aims to educate operators in the use of multidimensional assessment tools in elderly care.
Giuseppe Panio served as Director General of the Venosa National Health System's Health Agency between 1993 and 2000 and is presently administrative director of the Vibo Valentia Health Agency. He has taught health law at the Bari School of Nursing for the past 20 years.
Japan
Naoki Ikegami is Professor and Chair of the Department of Health Policy and Management at the Keio University School of Medicine, from which he received his MD and PhD. He also received an MA in health services studies with distinction from Leeds University (UK). During 1990–91, he was a visiting professor at the University of Pennsylvania's Wharton School and Medical School, and has continued to be a Senior Fellow at Wharton. He has been a board member of interRAI since its formation. In Japan, he is Chair of the Japan interRAI Committee and President of the Japan MDS Society.
Masanori Nishiyama is Director of the Medical Economics Division, Health Insurance Bureau, Ministry of Health, Labor and Welfare. He has served various posts within the ministry, including Director of the Division of Health for the Elderly at the time of the implementation of the public long-term care insurance. He received his MD in 1997 from Keio University.
Spain
Elaine Duncan is Research, Management, and Community Program Coordinator in the Health and Social Care Coordination Program for the Galician Ministry of Health in northwest Spain. Originally a family physician and a member of the Royal College of General Practitioners (UK), she has worked in the field of elderly care at both a clinical and management level and holds a master's degree in health promotion. She teaches postgraduate courses throughout Spain in the field of geriatric assessment and information systems for the long-term care sector and undertakes applied research in the field of community care.
Enrique Castellón is currently an independent consultant. He trained both as a physician and an economist and undertook postgraduate studies in health policy in the United States. His professional experience encompasses many aspects of the health policy and health management arena. He has held a number of key positions in Spain, including General Director of the Clinical Division of the Galician Health Service and Deputy Minister of Health for Spain.
United Kingdom
Iain Carpenter is Reader and Associate Director (older people) at the Centre for Health Services Studies at the University of Kent, Senior Lecturer in Health Care of the Elderly, GKT School of Medicine and Dentistry, and Consultant Physician at the East Kent Hospitals NHS Trust. Until 1995 a full-time NHS geriatrician, his research has included screening the elderly in the community, case-mix for elderly, and evaluation of services for older people in acute care, long-term care, community care, and intermediate care (see http://www.ukc.ac.uk/CHSS).
David Challis is Professor of Community Care Research and Director of the PSSRU at the University of Manchester. The PSSRU has long term funding from the Central Policy Divisions of the Department of Health in England. The programs of work include integration of health and social care, assessment of older people, coordinated care, and care management. This work has been influential in shaping government policy in community-based and long-term care (see http://www.pssru.man.ac.uk).


---
To see a complete list of Milbank reports, click here.
Be sure to specify which report you want,
your name, mailing address, and phone number.)
Milbank Memorial Fund
645 Madison Avenue
New York, NY 10022

(c) 2003 Milbank Memorial Fund
The Milbank Memorial Fund is an endowed national foundation that engages in nonpartisan analysis, study, research, and communication on significant issues in health policy. In the Fund's own publications, in reports or books it publishes with other organizations, and in articles it commissions for publication by other organizations, the Fund endeavors to maintain the highest standards for accuracy and fairness. Opinions expressed by individual authors, however, do not necessarily reflect opinions or factual determinations of the Fund.
This file may be redistributed electronically or in print as long as it remains wholly intact, including this notice and copyright.
Online producer: Stephanie Moe-Quiggle
---