There are two basic ways to look at health workers—by what they do and where they do it.* In 2000, according to the Bureau of Labor Statistics, approximately 10.8 million Americans were employed as health professionals, including nurses, physicians, therapists, and health aides and assistants. About 8.6 million of them worked in health facilities, such as hospitals, nursing homes, and doctors' offices. The other 2.2 million worked outside of health facilities; they included professionals who worked as independent contractors, nurses who worked in schools, and physicians who worked for insurance companies.
In addition to the 8.6 million health professionals that worked in health settings, another 4.1 million people performed other kinds of jobs in health settings, like accountants working in hospitals, maintenance workers at nursing homes, and receptionists in doctors' offices. Figure 1 summarizes the overlap of the professions and the settings. All together, it is estimated that nearly 15 million workers (10.5 percent of all nonmilitary workers in the United States) are health professionals or perform other work in a health facility.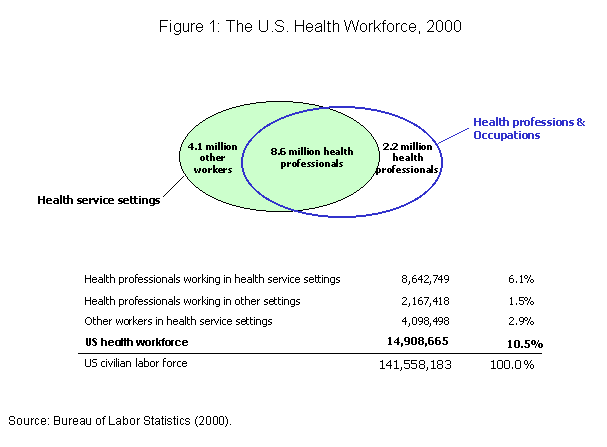 Distribution by Occupation
As Figure 2 shows, registered nurses (RNs) are the largest group of health professionals in the health sector. In 2000, they comprised 16 percent of the health workforce. The second largest health group reported by the BLS is nurses' aides, orderlies, and attendants, who represent 10 percent of the health workforce. The third largest is licensed practical nurses (LPNs), with 5 percent of the health occupations. Thus nursing and nursing-related professions represent nearly a third of all U.S. health workers.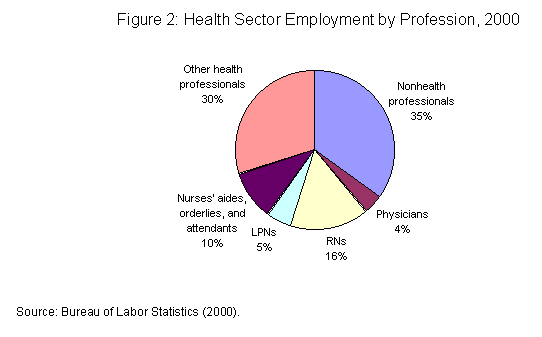 Distribution by Setting
As indicated in Figure 3, hospitals are the major setting for health care employment. Within the health sector, 45 percent of all workers are employed in hospitals. Although hospital employment has been relatively stable in absolute numbers, the percent of the health workforce employed in hospitals has dropped during the past two decades and risen in other settings, like offices, clinics, and home health agencies.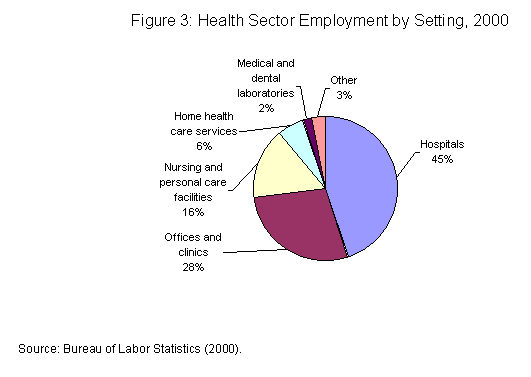 Employment by profession varies significantly by setting. Within hospitals, nursing homes, and home health agencies, Figure 4 shows that, when combined, registered nurses, nurses' aides, home health aides, and LPNs comprise the largest category of health professionals in each setting. In nursing homes and home health agencies they comprise well above half the percentage of health professionals.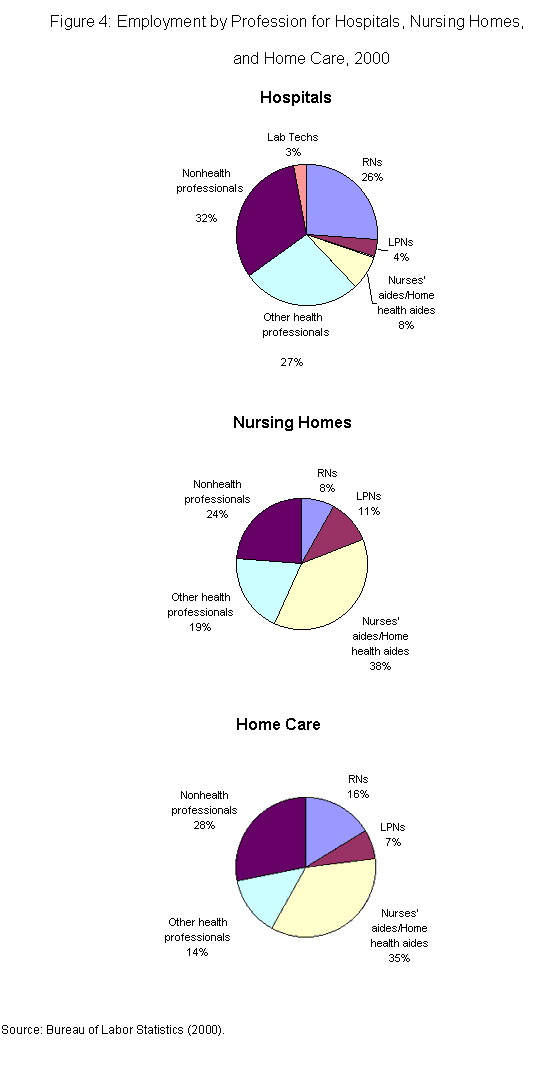 The vital role of nurses in health care facilities makes the importance of nursing shortages obvious. On the other hand, shortages in a wide range of professions, even those with relatively few workers, can create major problems for facilities and patients. For example, a shortage of lab technicians with specific skills can lead to costly, dangerous delays in treatment.
The Demographic Characteristics of the Health Workforce
Although the health workforce in general is very diverse in the types of professions and their demographic composition, many professions are predominantly female and white, such as nursing and several allied health professions (see Tables 1 and 2). Most dentists are white men. Other professions, such as nurses' aides and home health aides, have a high percentage of minorities. In the long run, overlooking much of the population will make it harder to recruit enough health professionals. On the other hand, the absence of men and minorities suggests that there may be a major potential pool of workers to help meet future needs if they can be encouraged to enter these professions in which they are now underrepresented.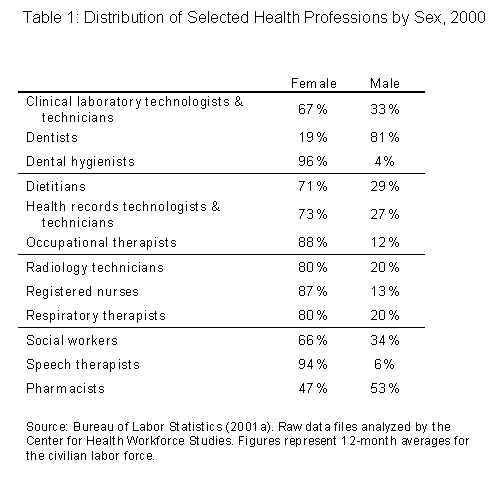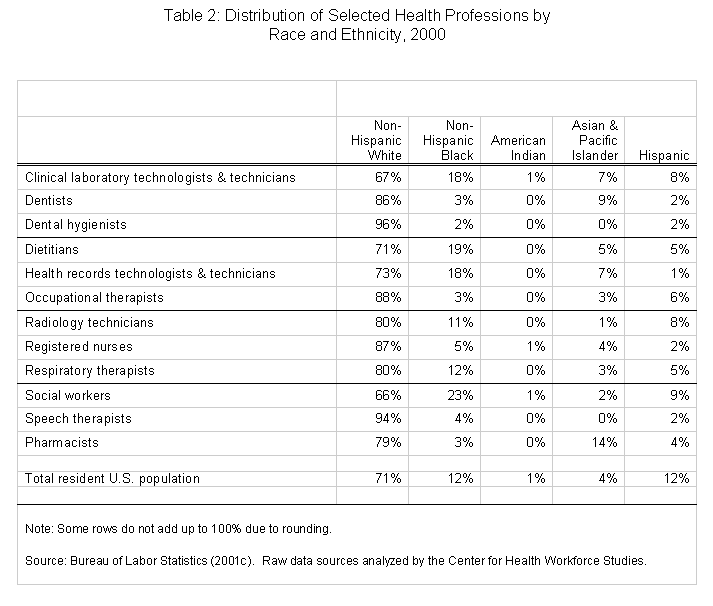 The Aging of the Health Workforce
The aging of the American workforce is particularly significant in the health professions. They are being affected by the aging of the baby boom generation and the decrease in new entrants into the health workforce over the past few years. As indicated in Table 3, the median age in several health professions increased by five years or more between 1989 and 1999, compared to the national increase of three years. Furthermore, the median age is above 40 in a number of health professions; the median age of registered nurses rose to nearly 43 by 1999. The consequences of aging are of particular concern in health professions that are physically and emotionally stressful, such as bedside nursing. Aging also raises serious concerns about the likely impact of seasoned professionals' retirements over the next 20 years.
In many professions, such as nursing, the median age appears to be rising because new workers are entering the profession at older ages than current workers entered at, and the number of new workers is decreasing. In addition, many faculty members in several professions' educational programs are approaching retirement age.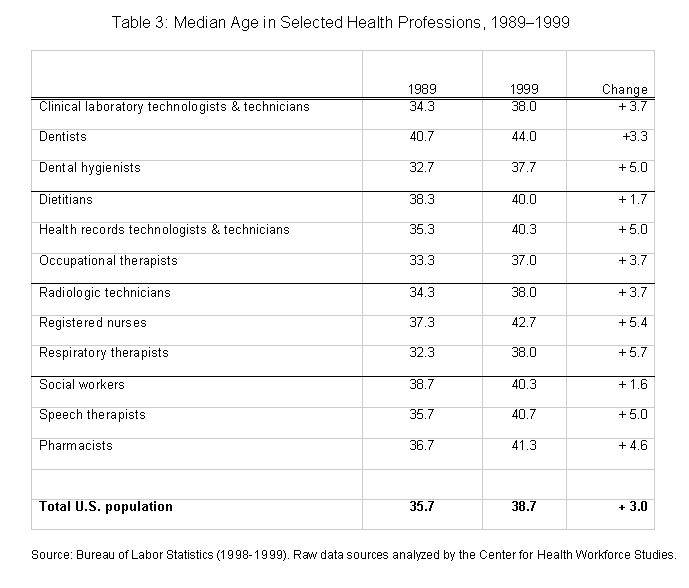 ---
Health Workforce Shortages
Health workforce shortages are widespread across the nation, across settings, and across professions. A growing number of health facilities report that they are denying or delaying services due to shortages (American Hospital Association 2002). Another problem, which is harder to measure, is the potential decline in the quality of care by workers who are spread too thin, caring for too many patients, or trying to do too many procedures due to staff shortages.
A recent survey, conducted by the Center for Health Workforce Studies at the University at Albany, State University of New York, found that nearly all states were concerned about shortages in a wide range of professions (U.S. Dept. of Health and Human Services 2002). Figure 5 shows which professions the states are concerned about.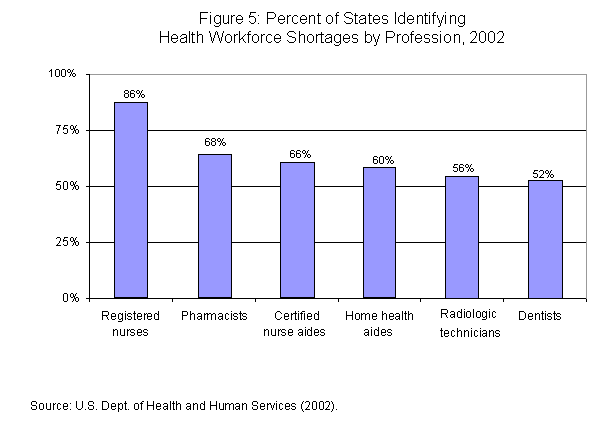 Figure 6 presents the results of a 2001 survey of hospitals conducted for the American Hospital Association. Differences between the professions with shortages identified by hospitals and those cited by states probably reflect the differences between hospitals' staffing patterns and the distribution of health professions in the community as a whole.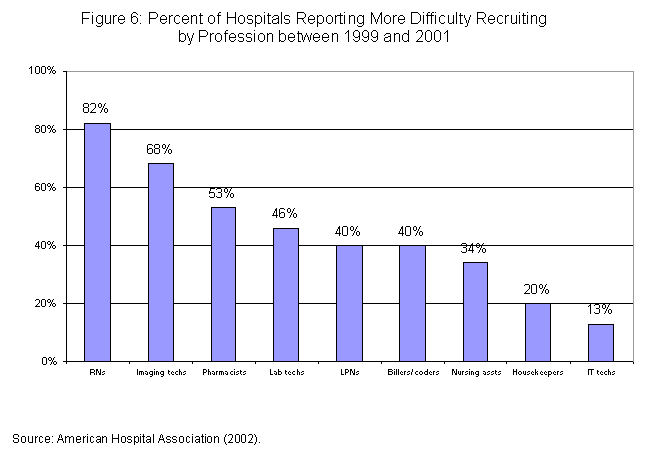 The shortages occur among professionals required to have advanced education, such as dentists and pharmacists, and among those who receive very little formal training, such as nurses' aides and home health aides. The shortages affect both "hands-on" clinical jobs involving extensive contact with patients, such as nursing, and more technical jobs that do not involve contact with patients, such as laboratory technology. The shortages are found in hospitals, nursing homes, home health agencies, and almost every other setting where health care is provided.
The Causes of Health Worker Shortages
In order to develop new programs and policies to address shortages, it is critical to understand their nature and causes. For most health professions, the current shortages have been due to a growing demand that outpaces the supply. In some cases, the supply has been flat. In some professions, education and training enrollments are down, a sign of potential future decreases in supply. Despite the central role of demand in creating shortages, most public and private responses have been designed to stimulate the supply, not to lessen demand.
Current shortages result from short-term, long-term, and workplace factors. The key factors can cause shortages in many professions or affect certain professions more than others. Most of the factors play at least some role in most states.
Short-Term Factors
Competition for workers, a full economy, and other macroeconomic factors. As the number of health workers continues growing more rapidly than employment in the rest of the economy, the percent of U.S. workers in health care continues to rise. This is particularly problematic in a full economy, like that of the late 1990s. During the current recession, enrollments in several health professions education programs began to increase, although program closures and decreases in educational capacity in the late 1990s are now limiting such increases.
Educational system response lags. It usually takes several years for schools to add capacity for professions that require higher education. First, academic programs must secure funding and approval from the college or university if they involve a new program or new faculty. Since public colleges and universities provide most of the education for the health professions, new programs often require action by state budget offices and legislatures as well. New faculty and students must be recruited. Then students must complete the program and graduate. Even then, new graduates have only a marginal impact on supply. It can take several more years before the new educational programs begin to have a real impact on the supply of professionals. During this period of development, health facilities take steps to continue operating despite the continued shortages. Ironically, demand therefore often levels off after a few years of shortages.
The lack of good data and good forecasts of supply and demand contribute to slow responses by the education and training sector. Figure 7 shows the number of nursing program graduates over two decades. There were major shortages of RNs in the late 1980s and in 2000 through the present. Yet the mid-1990s saw a surplus, when new nurses had a very difficult time finding jobs.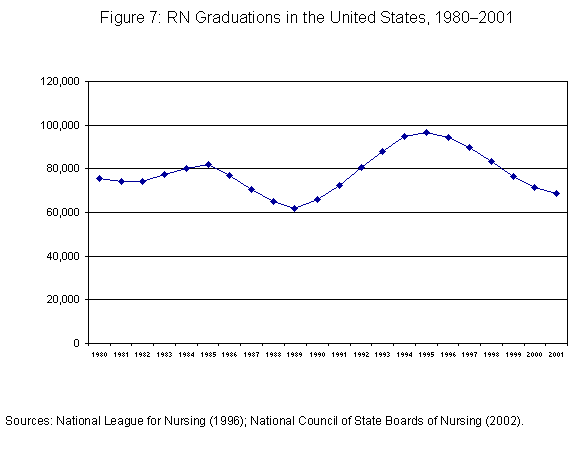 Rising demand. Over the decade of the 1990s, employment of health professionals grew by more than 2 million workers. This demand was driven by a variety of factors, including the success of the health care system in helping prolong the lives of people with chronic and disabling conditions. More complex and sophisticated health care technologies have also increased the demand for more skilled professionals.
Decreased interest in health professions. During the 1990s, interest in health careers fell. Applications to nursing schools and most allied health professions schools dropped. While there is no clear explanation for this drop, many young people were drawn into more lucrative technology and business careers. More recently, with the economic recession, and perhaps public reports of health workforce shortages, enrollment in many health professions education programs is rising, although for the most part, enrollment is still lower than it was during the early 1990s.
Long-Term Factors
The aging of America and increased demand for health services. It is well documented that the elderly use more health services and that this use increases with age. People over 65 use more services than those under that age, and people 75 and over use more than those aged 65 to 74. As indicated in Figure 8, the number of older individuals will grow rapidly as the baby boom generation begins to reach 65, starting in 2010. Figure 9 shows the significant impact of age on the use of long-term care services. The aging of America will also affect the demand for almost every other kind of health care, including that provided by physicians, nurses, aides, therapists, and technicians.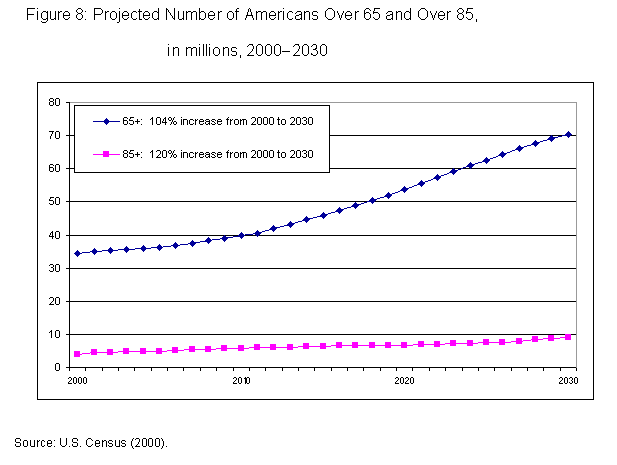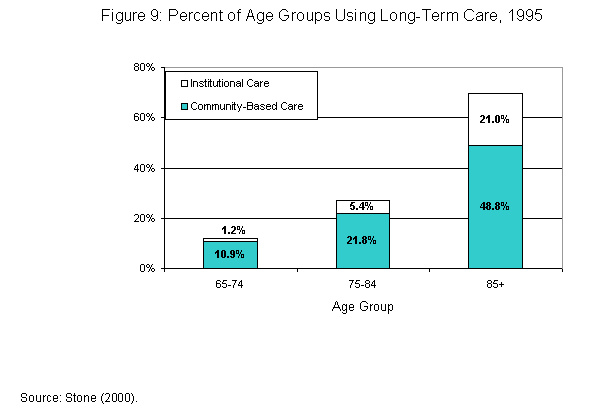 The aging health workforce. While the impact of aging upon the demand for health workers is generally recognized, its impact on the workforce itself is less well known. A large number of baby boomers in many health professions are nearing retirement. Yet the decrease in new entrants in the 1990s has made many professions more dependent on older workers.
Changing race and ethnicity. Some racial and ethnic groups, such as African Americans and Hispanics/Latinos, are underrepresented in many health professions. These groups will become the majority of the population in several states over the coming decades. As their number and percent of the population increase, so does the potential for shortages, unless successful efforts to recruit these groups are made, especially in states where "minorities" will become majorities.
Competition for female workers. Expanded career choices for women have significantly increased their percentage in medicine and dentistry. As Table 1 showed, women represent 80 percent or more of the workforce in other health professions. Clearly, unless these traditionally "female" professions become competitive with other careers, the professions may face serious shortages. Some professions have not only relied on women but on a subset of them. Historically, nurses have mainly been white women. Nursing is unlikely to grow to meet the future demand unless the profession draws from a broader population. Similarly, the growing percent of minority women attending college may contribute to shortages of direct care paraprofessionals, like nurses' aides and home aides, jobs that have often been filled by minority women who have not attended college.
The economy, new medical interventions, and public expectations. As a nation or community becomes wealthier, its citizens demand increased access to health services. As the wealth of the nation continues to grow, the demand for services and for health workers will grow, too. A related factor is the continual development of new medical interventions and therapies, in which the United States has invested very heavily. While some developments may decrease the need for services, many will increase longevity and keep people with chronic or life-threatening conditions alive longer, thereby increasing the demand for services and workers. Over the next 30 years, many of the aging baby boomers who expect much from the health care system will be able to pay for the services. All of these factors are likely to stimulate the demand for health workers.
Increased credential requirements. During the past 20 years, the educational requirements to enter many health professions have increased. For example, a pharmacist must have a doctorate, and a physical therapist must have a master's degree. Many increased educational requirements are warranted by the expansion of knowledge and information in the field. However, some requirements may reflect a profession's desire for more prestige and higher income while contributing only marginally to improved health outcomes. Further, increased educational requirements increase the money and time it takes to enter a field, putting the profession out of reach for some potential students. Such controls on supply can lead to better wages for a profession but also to higher costs for society. It is very difficult for elected officials to assess counterclaims about educational requirements and disagreements over scope of practice, especially because research on these issues lags far, far behind assertion and advocacy.
Workplace Factors
Beyond the short- and long-term factors, some aspects of the health care system itself present challenges for recruiting and retaining health workers.
Physically and emotionally demanding work. Many health care jobs are physically and emotionally demanding. Despite the rewards of caring for people in need, many jobs are fast-paced, high-pressure work. For example, bedside nursing requires hours of standing and walking. One error can have catastrophic consequences. Many jobs involve dealing with grave sickness, disability, death, and dying.
Job design and working conditions. Hospitals and nursing homes must operate 24 hours a day, seven days a week. While the nation has invested heavily in new medical technologies, little has been invested in designing jobs to reduce the physical and emotional demands on workers. Mandatory overtime in occupations predominantly held by women of child-bearing age, for example, can contribute to worker dissatisfaction.
Paperwork and lack of information systems. A common frustration among health workers is the time required for paperwork and other documentation. Paradoxically, one factor contributing to poor health outcomes is the difficulty of getting essential information rapidly to those who need it.
Noncompetitive wages and benefits. While many health workers are compensated well, others are not paid competitive wages and benefits, particularly aides and other paraprofessionals. It is ironic that large numbers of home health aides and other direct-care health workers themselves lack health insurance. Since health facilities depend on public and private reimbursement policies and efforts to contain their costs, their ability to raise fees in order to pay higher wages and benefits is often limited.
Poorly trained managers. Most supervisors and many managers have come from the ranks of health professionals. Time pressures and limited resources rarely permit skilled health professionals to be trained as effective managers. A great deal of frustration and turnover result. In long-term care at nursing homes and individuals' homes, job satisfaction and retention are greatly affected by how well aides are treated.
Future Growth in Demand
It is very difficult to forecast the future demand for health services and health workers accurately. Every two years the Bureau of Labor Statistics, using the best available information, projects job growth for the next decade for health professions and other sectors of the economy. Whatever their limitations, the BLS projections are the most widely cited and recognized. As seen in Figure 10, the BLS projects that employment in health professions will grow nearly 29 percent between 2000 and 2010—twice the rate of job growth for nonhealth care occupations. This translates into more than 3 million new health care jobs. Replacements will also be needed for workers who retire or leave their profession for other reasons. All told, the nation will need more than 5 million new health workers by 2010.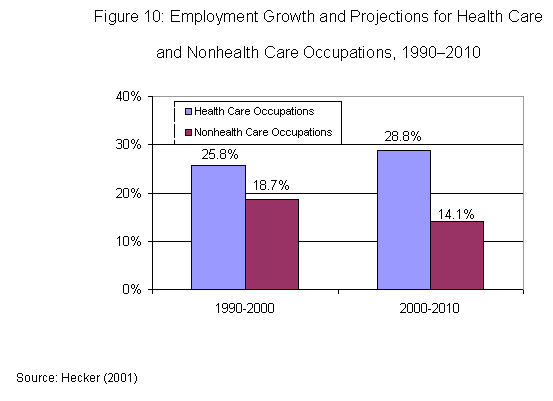 Table 4 shows the ten health professions that are expected to need the most new and replacement workers by 2010. The BLS projects more than 1 million new job openings for nurses; nearly 500,000 for nurses' aides, orderlies, and attendants; and 370,000 for home health aides. Filling these jobs will be a tremendous challenge for the nation.
---
Roles and Responsibilities for the Health Workforce
While government plays several important roles in educating and training health professionals, the United States does not do detailed workforce planning in health care or any other sector. Instead, the nation has generally relied on the marketplace to produce the number and types of workers the economy needs.
Under our pluralistic system, many groups influence the supply of health workers:
Government—federal, state, and local
Health facilities and their associations
Universities, colleges, and other educational institutions
Associations representing health professionals
Unions representing health workers
Consumer and advocacy groups and patients
The general public
While each group plays a role, no one group can assure an adequate supply of health workers. These groups clearly need to collaborate.
Federal Responsibilities and Activities
The federal role in the health workforce is limited and mainly indirect. Federal activities include the following responsibilities.
Medicare and Medicaid Reimbursement and Regulatory Policies
Medicare and Medicaid are major drivers of the nation's workforce policy. Decisions as to what services to cover, and how much to reimburse for them, have a major impact on the use and financial viability of a health care profession. Staffing and training regulations for nursing home and home care aides have a significant impact on the direct-care workforce. Policies regarding Medicare and Medicaid funds for training current workers can also have a great impact on providers' willingness to further educate them.
The largest source of federal funding for health professions education and training is Medicare reimbursement for hospital services, which includes funding for graduate medical education. This funding evolved from cost-based reimbursement policies that provided higher funding to teaching hospitals, due to their higher costs. Current policy annually provides teaching hospitals with approximately $8 billion from Medicare and $2 billion from Medicaid for costs associated with training physicians. (An estimated $300 million of the higher reimbursement to the teaching hospitals is for costs associated with clinical training for nurses.)
Data Collection and Analysis and Workforce Projections
Bureau of Labor Statistics information, the major source of data on employment trends and projections, is extremely valuable for the marketplace. The BLS also maintains extensive information on jobs and the job market at a health careers Web site.
But BLS data have limitations. Projections at the state level usually lag several years behind its national projections, and national projections may not apply to states or localities. In addition, the BLS forecasts jobs and job openings but does not assess the current or future supply in a profession. Thus it is not possible to compare job projection to the likely supply with BLS data alone.
Within the U.S. Department of Health and Human Services (DHHS), the National Center for Health Workforce Analysis in the Bureau of Health Professions is responsible for health workforce data analysis. The center also supports a variety of studies and one major survey, the National Sample Survey of Registered Nurses, conducted every four years. Reports produced by the center include health workforce profiles and forecasts of nursing supply and demand on a state-by-state basis. The center is also preparing a report for the DHHS, to be released in 2004, on the status of 30 health professions that will include information on supply and demand.
Grants to Stimulate the Supply of Workers with Specific Skills
The Bureau of Health Professions in the DHHS provides grants to encourage training in professions and subject areas where gaps in education or in the supply of workers have been identified. The bureau makes grants to expand education and training and to improve the curriculum in fields like geriatrics, primary care, and interdisciplinary care. The bureau's grants also promote greater diversity in the health professions. While the grants are very important, they are designed to support new and model programs, rather than to educate large numbers of individuals. For example, the Nurse Reinvestment Act, signed by President George W. Bush in 2002, provides grants for faculty development, scholarships, and loan repayment and establishes a National Nurse Service Corps. Congress authorized approximately $21 million for these programs in fiscal year 2003.
Support for Training
The federal government provides extensive funding for training, particularly for unemployed or displaced workers in various sectors. Most of these funds go from the U.S. Department of Labor to states, and a substantial amount then goes on to agencies within state and local government. The Work Incentive Act (WIA) provides funds to states and localities that support training and supports local boards that direct the use of the money at the local level. Another important source of federal training funds is the Temporary Assistance for Needy Families (TANF) program.
Within federal guidelines, local and state agencies have some flexibility to direct these funds to occupations that the local community needs filled. However, it is difficult to use most of the training dollars for professions requiring several years of education. States and local agencies are under pressure to have the maximum number of individuals complete training programs. This discourages investments in health professions that require several years of education. However, some states, notably California, are using part of their WIA funds for nursing education (U.S. Dept. of Health and Human Services 2002).
Another problem is that some health occupations that are eligible for federal funds and do not require several years' education, such as nurses' aides and home health aides, often pay poorly and provide limited benefits to workers. Many local agencies therefore hesitate to invest their limited training funds in these occupations.
Studies and Evaluations
The DHHS supports a wide range of studies through such entities as the Agency for Healthcare Research and Quality (AHRQ) and the Centers for Medicare & Medicaid Services (CMS). These agencies have not focused on workforce issues, although the AHRQ, as part of its interest in patient safety and the quality of care, has recently funded several studies of the relationship between the number of nurses and the outcomes of care (Aiken et al. 2002; Needleman et al. 2001).
State Responsibilities and Activities
The health workforce is primarily a state responsibility. States have vast responsibilities related to the health professions.
Licensing and regulating health professionals. While workers in some other sectors of the economy, like teachers and real estate agents, are licensed, state licensing is far more pervasive in the health care sector. State boards often defer to the various professional associations in establishing minimum educational requirements and examinations for entry into a profession as well as in defining its scope of practice. Nevertheless, states do have the authority to determine licensing and practice requirements and to resolve controversies over the scope of practice. Many state boards are also responsible for professional discipline. State licensing boards have become somewhat less captive to the professions they oversee.
Regulating health facilities. Most health workers are employed in hospitals, nursing homes, home health agencies, and other settings that states regulate. State policies on staffing directly influence the demand for workers in general and for workers with specific skills or credentials. While a state can mandate minimum staffing levels or credentials, mandates are usually resisted by facilities that prefer flexible hiring and staffing.
Regulating educational programs. In many states, private academic institutions as well as state colleges and universities must obtain state approval in order to offer degree-granting programs. States may use varied criteria for deciding whether to approve a proposed new program, but they rarely use this authority to promote programs in specific professions.
State colleges and universities. States make a large investment in higher education systems, which educate individuals in most health professions. However, states do not routinely assess health workforce needs in order to direct or encourage these systems to increase educational opportunities for health professions facing shortages.
Medicaid reimbursement policies and regulation of private insurance. State policies on Medicaid reimbursement and private insurance greatly affect the finances of health facilities and individual professions. For example, expanded coverage for mental health services increases the demand for mental health professionals.
Employment and labor department training programs. In cooperation with federal agencies, all states provide some support for training workers for a wide range of jobs. Many states have invested part of their U.S. Labor Department funds in training for health occupations.
State employment of health professionals. Many states are major employers of health professionals in state-sponsored institutions and programs. These can include state and local medical care facilities, like hospitals and nursing homes, public health agencies, and programs for the mentally ill and the developmentally disabled.
Data collection and analysis. A small number of states collect and analyze health workforce data to help guide their state policies and programs. In response to current shortages, many states are expanding such efforts, recognizing that the lack of data makes it hard for policymakers to help meet health workforce needs.

---
State Policy Options
There are a wide range of possible state responses to health worker shortages. But assuring an adequate supply of health professionals also requires the involvement of other groups already noted, especially the health and education sectors. State government is best suited to adopt and implement certain strategies. For others, state government can be helpful while other parties take the lead. Options include increasing the supply through education and training, increasing supply by improving retention, moderating demand for health professionals, and other strategies.
Increasing the Supply through Education and Training
States commonly seek to increase workforce supply through education and training. If designed well, these education and training policies can let states vary the amount of funds committed, depending on the size and nature of the shortages, and reduce funding as shortages lessen. The first six strategies listed below are the most commonly used.
Scholarships and Loan Repayments
Scholarships and loan repayment programs for students in a specific profession or group of professions often stimulate interest in them and help academic programs increase enrollment. While scholarships provide funds for education expenses when a student enrolls in a program, loan repayment programs provide support to pay off educational debt after a student has completed his or her education. These measures signal prospective students that the state values these professions.
Scholarships are more effective than loan repayments in increasing educational access for the financially disadvantaged. Low-income individuals may not have the money for tuition or may be reluctant to assume the burdens of tuition, even if there is an opportunity to obtain support to repay loans after graduation. Loan repayment is least helpful for the economically disadvantaged when tuition is high, when the educational program takes several years, or when loan repayment is highly competitive or limited and uncertain. Scholarships may be particularly important if a state wants to assist underrepresented minorities who are also in financial need.
On the other hand, loan repayment can more easily be linked to a service obligation, like practice in an underserved area or a state facility. While scholarships can also be made contingent upon service obligations, they can be cumbersome to administer.
States may be tempted to focus on a single profession whose shortages are much publicized. But it is more effective in the long run to provide scholarships or loan repayment to several health professions and to let the administering agency move funds between professions annually, as the state's needs change.
Grants for Faculty, Capacity Expansion, New Programs, or Curriculum Reform
If a lack of educational capacity is contributing to shortages, direct appropriations or grants can provide an incentive for program development or expansion. Many faculty members in the health professions, such as nursing, are approaching retirement age, and enrollment may be limited by the lack of faculty. However, if enrollment in a given profession is already dropping, creating unused capacity, grants for faculty will be less effective in increasing supply. In nursing and many allied health professions, for example, decreased enrollments from the mid-1990s until recently led to unused capacity. In some cases, faculty retired or were let go. Now that enrollment in those professions has begun to rise, the educational capacity, including the number of faculty members, in many communities is insufficient to meet the growing demand. Faculty support can be limited to expansion and start up, making it relatively easy to limit a state's obligation to a short time period.
Another area of concern is the relevance of educational curricula to actual practice. Grants could support assessments of, and modifications to, curricula in order to improve the competence of newly trained health professionals. There is much national debate on whether the 75-hour certified nurses' aide (CNA) curriculum adequately prepares CNAs for their jobs. Evaluating the CNA curriculum may lead to more relevant training and improve the recruitment and retention of CNAs.
High School and Middle School Health Careers Programs
Programs for high school and middle school students have several benefits, including keeping teenagers in school and improving the learning experience. Some states focus these programs on inner-city schools and include support for summer and after-school jobs. Often a school or school system becomes a partner of a health facility or a consortium of health facilities. While there are many secondary benefits to these programs, they may require continuing state financial support. Moreover, school guidance counselors often offer erroneous advice regarding health careers. These programs can educate them.
Marketing and Public Service Announcements
Marketing can stimulate interest among people who are not aware of opportunities for careers in health care. This strategy can be relatively low cost, particularly if a state produces its own public service announcements or uses advertisements prepared by other states or by corporations or professional associations. The recent campaign to promote nursing careers that was sponsored by Johnson and Johnson is a good example of effective marketing. (See, for example, http://www.discovernursing.com/ and http://www.jnj.com/news/jnj_news/20020418_1532.htm [accessed Aug. 18, 2003].) Such campaigns can also enhance the recognition and status of individuals already working in a field, increasing their job satisfaction and reducing turnover. Yet if basic problems in a profession make it unattractive, such as low wages for home health aides or poor working conditions for registered nurses, marketing alone is unlikely to draw significant numbers of people to it.
Promoting Partnerships between Health Providers and Educational Institutions
In the long run, encouraging partnerships between the health and education sectors will have many benefits. Schools and colleges need clinical training sites, internship opportunities, faculty, and access to the latest technology and equipment. Health facilities can often provide these in return for access to prospective staff members and well-prepared health professionals. In addition, health facility employees need continuing professional education or want career advancement, and facilities can often pay their tuition. While it is not easy to foster collaboration between sectors, states can conduct best practices conferences and provide grants as incentives for collaborative programs.
Use of U.S. Department of Labor and Other Funds for Training
States can tap a variety of funds for training health professionals. Sources include the Work Incentive Act (WIA) and Temporary Assistance for Needy Families (TANF) program. Medicaid funding can be used by providing higher levels of reimbursement to health facilities that train their employees. As noted above, however, it is difficult to use these sources of funding for professions that require several years of education. Among the more creative states are California, which uses WIA funding for its nursing initiative, and New York, which uses TANF funds for health worker education. Several other states have allocated part of their training funds for health professions.
Support for Educational Innovations, Such as Distance Learning, Computer-Assisted Learning, and the Internet
One barrier to entering a profession may be the lack of convenient educational opportunities in many parts of a state, particularly in rural communities. Educational institutions may also have high entry requirements and not recognize potential applicants' life experience. While it is difficult and perhaps inappropriate for a state to determine educational requirements and methods, many schools and colleges would welcome support for innovations. Certainly, the Internet and personal computers offer tremendous opportunities for innovative education.
State grants and best practices conferences could provide funds and stimulate expanded access and new teaching methods. In some states, like Iowa, fiber optic networks that include colleges can greatly expand educational opportunities.
Support for Increased Minority Recruitment and Retention and Increased Bilingualism
In addition to the underrepresentation of African Americans and Hispanics/Latinos in many health professions, there are substantial shortages of bilingual health care workers. Recruiting new entrants from underserved communities, where shortages may be especially acute, could increase the number of bilingual and minority workers. In some instances, health workers can be recruited to work in their own communities to improve access to care for the underserved. These efforts will open up potential new sources of workers, create a workforce more reflective of the community, and enhance the cultural competence of the health workforce, thereby contributing to more effective care. Such efforts often include creating health career-oriented high schools and middle schools in inner city communities; building career ladders for current entry-level workers; and developing mentors, educational support, and remedial services for educationally and financially disadvantaged students.
Mandates or Incentives for Educational Programs
A state can require local colleges and universities, especially state institutions, to increase their capacity in occupations that have shortages. In that case, the higher education system is likely to require and seek long-term support from the states for expanded capacity. Schools often resist being told how to allocate their resources and will usually fight against unfunded mandates. A more effective alternative may be providing funding as an incentive, rather than mandates. Community colleges are usually very responsive if funding is available.
Support for Foreign Health Professionals Already Living in the United States
Many immigrants to the United States were trained as health professionals in their native countries. The immigrants may need help to become licensed health professionals here. In nursing, professionals trained abroad can obtain U.S. licenses if they can pass the licensing exam. For many, the greatest barriers are limited English language skills and unfamiliarity with American health care. English language classes, refresher courses, and examination preparation can increase the supply of health professionals and the cultural diversity of the workforce.
Support for Efforts to Bring Nontraditional Groups into the Health Professions
A number of population groups could be a source of more health professionals. They include more men in the professions that are still overwhelmingly filled by women and more minorities in many occupations. Members of still other groups could become health professionals if jobs can be modified and if educational opportunities can be expanded. This may take a series of grants from states to encourage innovation and demonstration projects. Among the groups to consider are:
Early retirees and older Americans interested in part-time jobs, if the jobs are less physically demanding and retirement benefits are continued
High school and college students seeking part-time jobs
People who are physically disabled or mentally retarded, if jobs can be appropriately designed
Parents who may be available part-time when their children are in school
Children of undocumented immigrants, if delays in processing papers can be cut
Selected former convicts, if education can be made available and licensing restrictions waived
Improving Retention
Improved retention is extremely important. Addressing workers' concerns about their working conditions will not only increase supply by retaining workers, but will facilitate recruitment of new workers by making health professions more attractive. Today's workforce may be the most important sales force for tomorrow. Conversely, marketing efforts will be ineffectual if current professionals are unhappy and discourage people from entering the field. Interviews with nurses, nurses' aides, home health workers, laboratory technicians, and others indicated that many of them are deeply dissatisfied. Although this can be a difficult area for state intervention, states can pursue a number of strategies.
Increased reimbursement by public payers to support higher wages and benefits. One reason for high turnover is the lack of wages and benefits commensurate with the educational level of the profession. States can support higher wages and benefits for health workers through increased reimbursement from Medicaid and the State Children's Health Insurance Program (SCHIP). While most people do not become health professionals primarily to make money, if wages and benefits are not competitive with other professions requiring similar education and training, the health field will remain at a serious disadvantage.
Many states have increased reimbursement levels for home health aides and nursing home aides. In some cases, higher reimbursement rates have been directly tied to higher wages; this is often called a "wage pass through" (Paraprofessional Healthcare Institute 2003). Several states have also fostered the development of public authorities for home health workers, to create a structure for providing benefits to these workers.
Support for career ladders for existing workers. Many current health workers would be interested in professional advancement if they could obtain the necessary education or training. However, they cannot afford to take time off to go to school for several years. Many workers have family responsibilities, and many need remedial education and financial assistance and guidance. In theory, career ladders can open up health professions to large numbers of existing workers, make entry-level jobs more attractive, and redress some of the current racial and ethnic imbalances. The challenge is to find the resources and vehicles to implement career ladders in practice. To develop such programs, states can provide grants to health facilities and educational programs and can use Medicaid funds and U.S. Labor Department training funds under some circumstances.
Prohibit mandatory overtime. Many facilities, faced with shortages on a shift, have the authority to mandate overtime. Workers often resent this, particularly when a high percent of them are women with children and other family responsibilities. While several states have passed legislation banning mandatory overtime, health provider groups have argued that it is a labor-management issue and not appropriate for state legislation. Furthermore, facilities argue that they do their best to avoid mandatory overtime but sometimes have no choice if they are to assure high-quality care to patients. It can also be difficult to write statutes or regulations that define the circumstances when mandatory overtime is permissible—perhaps due to an emergency—and when it is not.
Mandate minimum staffing ratios. In an effort to protect patients and workers, California has passed, and several other states are considering, mandatory minimum staffing ratios. There is concern, however, that these requirements could decrease services if workers are not available. For instance, a unit might have to close if a facility could not maintain the minimum. There is also concern that the "floor" for staffing would become the "ceiling"—that is, that facilities would staff only to the level required by law, even if a higher level was preferable for a particular group of patients. The determination of appropriate staffing levels can be quite complicated and should be based on patients' needs. It can be extremely difficult to write a statute or regulation that takes all of the appropriate variables into account. Moreover, improved working conditions in one setting (like hospitals) could have adverse impacts on other settings by drawing workers away from nursing homes, where minimum ratios are not required.
Funding for demonstration projects and evaluations of initiatives to improve working conditions and redesign jobs. A state could provide grants to health facilities to improve working conditions and redesign jobs in order to increase workers' satisfaction. The design of registered nursing jobs, where attrition is highest, could be studied. Ways to encourage registered nurses who have left clinical nursing to return to patient care could be developed. This process might include funding to evaluate innovations in health care delivery. New York recently authorized a major increase in nursing-home reimbursement rates for the Medicaid program tied directly to commitments by nursing homes to improve job design and worker retention.
Encourage and support management and supervisor training. Although states have not been involved in management training, they could encourage it through grants to health facilities. It may be possible to use Medicaid funds to cover some of the costs.
Reimbursements and grants to encourage improved benefits for workers. Some health workers lack adequate benefits, particularly health insurance and pensions. Even workers with good benefits have little portability if they change jobs within the field. The lack of benefits may be greatest for home health aides, many of whom work part-time or are considered independent contractors. Some states, like California where home care workers are independent contractors, have begun to develop public authorities to employ some health workers in order to create a structure for offering benefits.
Support the development of labor-saving technology. Grants could stimulate the development of technologies that assist workers. These might include improved information systems, voice entry of data, or technology to help lift patients. It may be possible to foster partnerships between technology companies and other businesses with health facilities in the state. Successful products would not only help health facilities and workers but promote the state's business development.
States might also use their bonding authority to raise funds for the development and purchase of expensive new technologies. This could foster collaboration between the health sector and business and reduce the cost of new technology to the health field through economies of scale and allowing health facilities to leverage reduced prices. It would also promote collaboration among health facilities.
Moderating the Demand
The nation may not be able to meet all of its future workforce needs solely by increasing supply. Demographic pressures and other developments will limit the ability of government and industry to decrease the demand for health services and health professionals. But steps can be taken to improve efficiency so as to slow down the growth in demand for workers. Furthermore, cost pressures on health facilities may force the health sector to improve efficiency.
Demonstrations and evaluations of alternative job designs and use of workers. A state could provide grants to health facilities that test new ways to use health professionals. These demonstrations might test different staff configurations as well as new technologies and job designs. A state could seek authority to waive existing facility requirements if a facility establishes an appropriate mechanism to monitor quality and outcomes of care. Similarly, a state could expand its data collection on health facilities' staffing and services to assess productivity and to compare facilities.
Modify health facility requirements and regulations. Health facilities frequently complain that they are overregulated and that government requirements limit their flexibility. While this is likely to be less controversial than flexibility on scope of practice, it can be difficult to obtain a consensus on ending an individual regulation. For example, eliminating a requirement that the director of social work or discharge planning in a hospital have a master's degree in social work can increase a facility's flexibility but can also draw opposition from professional associations.
Regulatory changes on scope of practice and use of workers. To explore new approaches to delivering services, a state could allow health facilities greater flexibility in how they use health workers and whom they use. This can be a very controversial strategy. Professional associations are likely to oppose letting other professions or groups carry out activities now reserved for them. Nevertheless, the scope of practice for many professions is a major obstacle to finding new workers and new ways to use existing workers.
Aggressively promote technology to increase efficiency and effectiveness. Promoting new technologies, such as information systems that can reduce time spent on paperwork, could free valuable professionals' time and reduce the number of workers that are needed. As noted earlier, states could use their bonding authority to encourage new labor-saving technologies. States could also convene meetings of the health industry and the technology sector to identify promising new technologies and to foster collaboration.
Dissemination of information and best practices conferences on efficient, productive care. Many health facilities are eager to learn how to make better use of their limited supply of health professionals. States could partner with health facility associations and others to sponsor best practices conferences at a very low cost. Some health facilities have been more successful than others in retaining workers. A state could sponsor best practices conferences on retention, as well.
Other Strategies
Several additional strategies can prove valuable.
Better data collection and needs assessments. With more than one in ten American civilians either working in the health sector or employed as a health professional, it is surprising how few data are available on the supply and demand for health workers. Expanded, prompt data collection is essential for the public and private sector. Otherwise, educational institutions and the public cannot respond to workforce shortages. Although forecasting future supply and demand is still very difficult, without better data collection and analysis it is impossible to understand current needs or predict future needs and costs.
Establishment of temporary task forces, commissions, and committees. While committees can be time consuming and can sometimes be used to avoid action, solutions for workforce shortages require collaboration among the health, education, and training sectors and between government and the private sector. Task forces can be an effective way to develop policy and to form the alliances needed to implement recommendations.
Establishment of a permanent structure in state government to monitor health workforce supply and demand. While temporary structures can focus attention, develop important initiatives, and build consensus, in the long run state governments need a permanent framework for monitoring the health workforce.
The use of immigration policy. States can take a position on the immigration policies set by the federal government. In the past, America has relied on foreign-trained health workers to fill gaps in the workforce, from physicians to home health aides to laboratory technicians. However, the use of immigrants raises complex questions, about whether immigrant workers let health facilities and others avoid fundamental issues of what makes a profession unattractive; about whether less developed countries are being drained of their educated and skilled professionals; and about whether relying on immigrants discourages investments in people who are already in the United States and who would like to become health professionals.
Support for unpaid family caregivers. The majority of elderly and disabled Americans are cared for by family members and other unpaid caregivers, primarily women. Our society provides these caregivers with little support. The patient and the society are far better served by home care with family and friends when that is possible instead of institutional care. Current political priorities make it highly unlikely that the nation will replace these caregivers with formally trained health professionals in the foreseeable future. A number of states have begun to implement programs of support, including education and training, technical assistance, and respite care for unpaid caregivers (Family Caregiver Alliance 2002).

---
The Opportunity
The health workforce presents a tremendous challenge for state governments. But challenges are also opportunities to address a range of issues that concern the public. Effective health workforce policies can:
Increase the supply of health workers and facilitate access to care
Improve the quality of care and reduce medical errors
Promote a more effective delivery system
Limit increasing health care costs
Create opportunities for nontraditional workers without lowering standards
Increase worker satisfaction and the quality of life of health workers
Create a more culturally diverse workforce
Provide employment opportunities for economically disadvantaged people
In considering the range of possible state responses and the opportunity to improve and reform health systems through workforce initiatives, members of the Reforming States Group identified the measures it found most promising:
Career ladders. Opportunities should be built all along the career continuum, from steps for entry-level workers to steps for advanced professionals. Ladders also include opportunity for advancement and recognition within an occupation, so that a nurses' aide who enjoys being a nurses' aide can advance within that occupation.
High school and middle school programs. These programs, which often match a high school, middle school, or school district with a health facility or several facilities, can meet health and education goals and increase the diversity in many health professions.
Innovative and flexible educational programming. There are many opportunities to expand educational opportunities for those interested in health careers.
New technologies. Workers and patients can benefit greatly from new labor-saving technologies, particularly improved information systems. In collaboration with industry and health professionals, states could identify promising technologies and explore using state bonding authority for technologies with high capital costs.
Increased use of training programs. WIA, TANF, and other training programs have great potential to increase the workforce in many health professions. Strategies to permit the use of these funds in professions requiring several years of education should be explored.
Increased worker education and training. To be well-qualified, health professionals need a commitment to lifelong learning. This can be best assured by committing funds from existing reimbursement sources—like Medicare or Medicaid—to worker education and training.
Scope of practice regulations should be evidence-based. States should insist that limitations on the scope of practice be based on evidence. Federal support for research into how changes in the scope of practice affect quality of care and outcomes would be very helpful.
Train recent immigrants living in the U.S. who were educated as health professionals. With limited assistance, these immigrants can become health professionals and add to the cultural diversity of the workforce. The increased diversity of the patient population requires that bilingual nurses and other health workers be recruited.
Supervisor and manager training. Competent health professionals do not automatically make competent supervisors. The lack of effective management is a major contributor to worker dissatisfaction, high turnover, and ineffective care. Improving management skills will increase retention of workers, improve quality of care, and control costs.
Expanded data collection on workforce supply and demand. For the marketplace to work and to target programs that support education and training, additional information on the supply and demand for workers must be available regularly and quickly.
The most pressing health worker shortages may moderate in the next few years in response to public and private sector initiatives and marketplace responses. While this is good news, the demographics of America will make it very difficult to avoid shortages over the next several decades, when demand will rise rapidly as the baby boom generation ages. It is critical, therefore, that health workforce needs be assessed. The development of systems to address the issue must be viewed as a long-range commitment that will require continuing attention and policymaking to assure an adequate supply of health workers.
It is also important for states to benefit from each other's experience in dealing with health workforce shortages. A clearinghouse of the states' most successful policies would be an extremely valuable resource. Health workforce issues are likely to be important for decades to come. Responsibility for dealing with them must be shared by the health, education, and labor sectors of the economy and the government.
Endnote
* The data in this section are from the Bureau of Labor Statistics (BLS). The BLS bases its count of the titles of the positions on paychecks that employers report. Thus, a nurse with a management title is counted as a manager. Full-time and part-time employees are counted the same, that is, as one worker. Since some workers may hold more than one job, the BLS count of jobs may exceed the number of workers. Despite these shortcomings, the BLS data are the only data consistently collected across professions, across the country, and over time.

---
References
Aiken, L., S. Clarke, D. Sloane, J. Sochalski, and J. Silber. 2002. Hospital Nurse Staffing and Patient Mortality, Nurse Burnout, and Job Dissatisfaction. Journal of the American Medical Association 288:1987–93.
American Hospital Association. 2002 (April). In Our Hands: How Hospital Leaders Can Build a Thriving Workforce. Chicago.
Bureau of Labor Statistics, Bureau of the Census. 1988–1999. Current Population Survey. Annual Demographic Supplement, 1988–1999. Machine-readable data files collection conducted by the Bureau of the Census for the Bureau of Labor Statistics. Washington: Bureau of the Census (producer and distributor). Santa Monica, Cal.: Unicon Research Corporation (producer and distributor of CPS Utilities), 1999.
Bureau of Labor Statistics. 2000. 2000 National Industry-Specific Occupational Employment and Wage Estimates. Available at http://www.bls.gov/oes/2000/oessrci.htm (accessed May 23, 2002).
Bureau of Labor Statistics, Bureau of the Census. 2001a. Current Population Survey, Basic Monthly CPS. Available at http://www.bls.census.gov/ferretftp.htm (accessed January 26, 2001).
Bureau of Labor Statistics. 2001b. Employment by Occupation, 2000 and Projected 2010. Available at http://www.bls.gov/emp/emptab21.htm (accessed December 10, 2001).
Bureau of Labor Statistics, Bureau of the Census. 2001c. Current Population Survey. Annual Demographic Supplement, 2000. Available at http://www.bls.census.gov/ferretftp.htm (accessed: December 19, 2001).
Family Caregiver Alliance. 2002. Family Caregiver Support: Policies, Perceptions and Practices in 10 States Since Passage of the National Family Caregiver Support Program. San Francisco.
Hecker, D. 2001. Occupational Employment Projections to 2010. Monthly Labor Review 124:57–84.
National Council of State Boards of Nursing. 2002. Examination Pass Rate and Licensure Statistics, 1996–2001. Available at http://www.ncsbn.org/public/regulation/licensure_stats.htm (accessed February 25, 2002).
National League for Nursing. 1996. Graduations from Basic RN Programs and Percentage Change from Previous Year, by Type of Program: 1975–76 to 1994–95. Nursing Data Review. New York.
Needleman, J., P. Buerhaus, S. Mattke, M. Stewart, and K. Zelevinsk. 2001. Nurse Staffing and Patient Outcomes in Hospitals. Available at http://bhpr.hrsa.gov/nursing/staffstudy.htm (accessed August 18, 2003).
Paraprofessional Healthcare Institute and the Institute for the Future of Aging Services. 2003 (April). State Wage Pass-Through Legislation: An Analysis. Workforce Strategies 1. Available at http://www.paraprofessional.org/publications/WorkforceStrategies1.pdf (accessed Sept. 3, 2003).
Salsberg, E., and R. Martiniano. 2002 (January). Health Care Employment Projections: An Analysis of Bureau of Labor Statistics Occupational Projections, 2000-2010. Rensselaer, N.Y.: Center for Health Workforce Studies, School of Public Health, State University of New York, Albany.
Stone, R. 2000. Long-Term Care for the Elderly with Disabilities: Current Policy, Emerging Trends, and the Implications for the Twenty-First Century. New York: Milbank Memorial Fund.
U.S. Census. Population Projections Program, Population Division. 2000. Population Projections of the United States by Age, Sex, Race, Hispanic Origin, and Nativity: 1999 to 2100. Available at http://www.census.gov/population/www/projections/natdet-D1A.html (accessed Jan. 13, 2000).
U.S. Department of Health and Human Services, Health Resources and Services Administration, Bureau of Health Professions, National Center for Health Workforce Analysis. 2002 (November). State Responses to Health Worker Shortages: Results of 2002 Survey of States. Available at http://bhpr.hrsa.gov/healthworkforce/reports/stateresponse/default.htm (accessed Aug. 15, 2003).

---
To see a complete list of Milbank reports, including Electronic Reports, click here.

Milbank Memorial Fund
645 Madison Avenue
New York, NY 10022

(c) 2003 Milbank Memorial Fund
The Milbank Memorial Fund is an endowed national foundation that engages in nonpartisan analysis, study, research, and communication on significant issues in health policy. In the Fund's own publications, in reports or books it publishes with other organizations, and in articles it commissions for publication by other organizations, the Fund endeavors to maintain the highest standards for accuracy and fairness. Opinions expressed by individual authors, however, do not necessarily reflect opinions or factual determinations of the Fund.
This file may be redistributed electronically or in print as long as it remains wholly intact, including this notice and copyright. The Fund will freely distribute this document in its original published form on request.
Copyeditor: Marie Shear
Online producer: Stephanie Moe-Quiggle
ISBN 1-887748-55-5
---