Policymakers from Four States Gather to Learn about Reforming their Medicaid LTSS Systems
March 29, 2018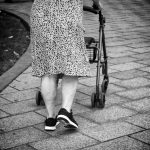 Low-income adults who need and use long-term services and supports (LTSS) are among the most complex, expensive, and fast-growing populations covered by Medicaid. State officials face challenges in organizing and paying for these services. In light of the new federal policy environment and interest in improving LTSS, the Fund, in partnership with the SCAN Foundation and the Center for Health Care Strategies, is sponsoring a project to help policymakers in Ohio, Alabama, Massachusetts, and the District of Columbia with their efforts to reform their Medicaid LTSS systems.
To kick off this year-long project, the Fund convened officials from participating states to hear about potential federal strategies and opportunities, learn about one another's successes, challenges, and future priorities, and discuss key requirements for systems change. The project builds on the evidence of successful state LTSS strategies captured in the toolkit compiled by the Center for Health Care Strategies and Manatt Health for the Fund and SCAN.
"As evidenced by the diversity of states participating in this project, state health care officials continue to test and implement significant reforms that work for their communities," said Christopher Koller, president of the Fund. "This kick-off meeting and subsequent technical assistance will provide an opportunity to elevate LTSS in these states' conversations and, as a result, will strengthen their systems of care."
Later this year, the Fund will recruit a second round of states interested in technical assistance. If your state is interested, please contact Rachel Block at rblock@milbank.org.