New Reports Published on State Population Health Strategies that Make a Difference
October 12, 2017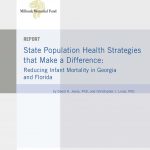 What happens when you identify specific improvements in population health in several states—and then ask, "How did they do that?" You gain a better understanding of what it really takes to make progress in population health.
That's what we did in a series of reports by researchers David Jones and Christopher Louis from Boston University School of Public Health. They analyzed three prominent state health scorecards to identify states that had significant, sustained improvements—verified in several of the scorecards—in one or more key population health outcome measures. We then had them visit the state to find out exactly what happened.
Their findings show how Georgia and Florida reduced infant mortality rates and how Delaware and Iowa diminished the burden of chronic disease. The insights into how leaders in these states improved population health are presented in two companion reports and a summary of the project and its findings. They describe a common pathway for public and private sector leaders—one that can be applied in different settings for different population health challenges.