With Focus on Evaluation, Multi-State Collaborative Hosts Annual In-Person Meeting
November 29, 2017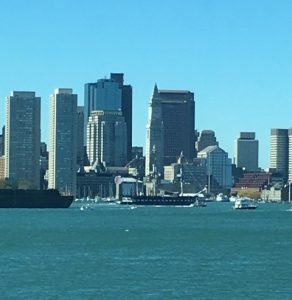 What is the impact of multi-payer primary care transformation programs like Medicare's Comprehensive Primary Care Plus (CPC+) on health care quality and value? That was one of the many questions addressed in late October when the Milbank Memorial Fund Multi-State Collaborative (MC) held its annual in-person meeting in Boston.
Forty individuals from 16 regions or states involved in multi-payer or all-payer primary care transformation efforts participated in the day-and-a-half event. The meeting, held every year since 2015, gives MC members an opportunity to learn from one another, create new working relationships and enhance existing ones with peers from around the country. Notably, 14 of 18 CPC+ regions were represented, including eight people from Round 2 CPC+ projects, which do not officially begin until 2018.
The focus of this year's meeting was on evaluation—gaining an understanding of the impact of programs like the CPC initiative and the CPC+ on health care quality and value. Erin Fries Taylor of Mathematica Policy Research, a lead evaluator of the CPC Initiative (2012-2016) and co-author of the recent Milbank Quarterly article, Strengthening Multipayer Collaboration: Lessons from the Comprehensive Primary Care Initiative, described important lessons from the CPC initiative that can be applied to the ongoing CPC+ program. Presenters explained that, in order to succeed, a region's payers should have a demonstrated commitment to primary care transformation, payer 'champions,' an effective neutral convener, good prior working relationships, and a strong sense of community.
Yalda Jabbarpour of Georgetown University's Department of Family Medicine and a primary author of the Patient-Centered Primary Care Collaborative's report, The Impact of Primary Care Practice Transformation on Cost, Quality, and Utilization, consisting of more that 40 evaluations published in 2016, provided an overview of the mounting body of evidence supporting primary care as the foundation of a high-performing health system. The analysis showed positive results in terms of cost, quality, and utilization, although not uniformly.
As a new feature of the meeting, the MC Steering Group and CPC+ conveners held a pre-meeting session, which focused on how best to assess the regions' progress in achieving the goals of CPC+.
Attendees got a thought-provoking look at opportunities and challenges that arise when entities such as accountable care organizations and primary care transformation programs like CPC+ are ongoing in the same markets. This topic was presented by Anthem's Hoangmai Pham, previously chief innovation officer at CMS, now vice president of provider alignment solutions, and her colleague, Brent Higgins, director of value-based payment models.
"By bringing together national payers, policymakers, and provider organizations, Milbank has created an invaluable opportunity to explore key issues fundamental to transforming primary care, as evidenced by the discussion about the challenges of overlapping transformation initiatives," noted Lisa Letourneau, former executive director of Maine Quality Counts. "The experience and insights gained from the CPC experience are key to informing ongoing national experiments to advance delivery system and payment change, and are essential to keeping a focus on how we can best support primary care even when they are part of wider improvement efforts."
Finally, three brief presentations from leaders in regions that have made significant headway in crucial CPC+ implementation steps were followed by topic-focused breakout sessions. Participants had the opportunity to ask detailed questions of their peers in other regions about challenges and strategies for success.
As new CPC+ regions have joined the MC, the group composition has shifted to include a larger number of representatives from payer organizations, including state Medicaid agencies, Medicaid managed care organizations, and both regional and national commercial insurers. "I found the meeting to be a great opportunity to network and learn from the experiences of the other payers," remarked Bonnie Sunday, the director of health care quality improvement and reporting at HealthNow, a Round 2 payer from Buffalo, New York.
"This shift in our participants' backgrounds reflects the level of commitment required to do the hard work on the ground, as well as the complexity of that work. The practices are still the primary care delivery 'front line,' but the payers are primarily responsible for creating the alignment infrastructure for a successful CPC+ project," said Lisa Dulsky Watkins, Multi-State Collaborative director.
The meeting was briefly interrupted by the sight of the USS Constitution making its way across Boston Harbor, her first trip in three years. The world's oldest commissioned warship was sailing in celebration of the Navy's birthday and the anniversary of its first launch. The group stood by the windows to watch together.