Evolving Models of Behavioral Health Integration in Primary Care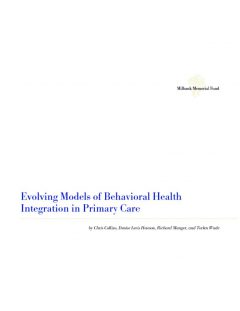 Integrating mental health services into a primary care setting offers a promising, viable, and efficient way of ensuring that people have access to mental health services. Over the past several decades, examples of coordinated care service delivery models—that connect behavioral and physical health—have led to promising approaches of integration and collaboration. Evidence from a variety of care models has stimulated the interest of policymakers in both the public and private sectors to better understand the evidence underpinning these models.
This report examines eight models that represent qualitatively different ways of integrating or coordinating care across a continuum, from minimal collaboration to partial integration to full integration. The report was commissioned to provide policymakers with a primer on integrated care that includes both a description of the various models—and a useful planning guide for those seeking to implement an integrated care model in their jurisdiction.
Download